Cryptarithmetic questions by questionsgems.
What is Cryptarithmetic Questions?
–
Cryptarithmetic questions are most asked questions in the Infosys recruitment and eLitmus exam. The most repeated Cryptarithmetic questions and answers are discussed here.
–
Cryptarithmetic is a mathematical puzzle which involves the replacement of digits with alphabets, symbols and letters. Only through certain practice, one can become an expert in solving the cryptarithmetic questions.
Rules:-
-Each letter should have a unique and distinct value.
-Each letter represents only one digit throughout the problem.
-Numbers must not begin with zero. i.e. 0937 (wrong), 937 (correct).
-You have to find the value of each letter in the Cryptarithmetic.
-There must be only one solution to the problem.
-After replacing letters by their digits, the resulting arithmetic operations must be correct.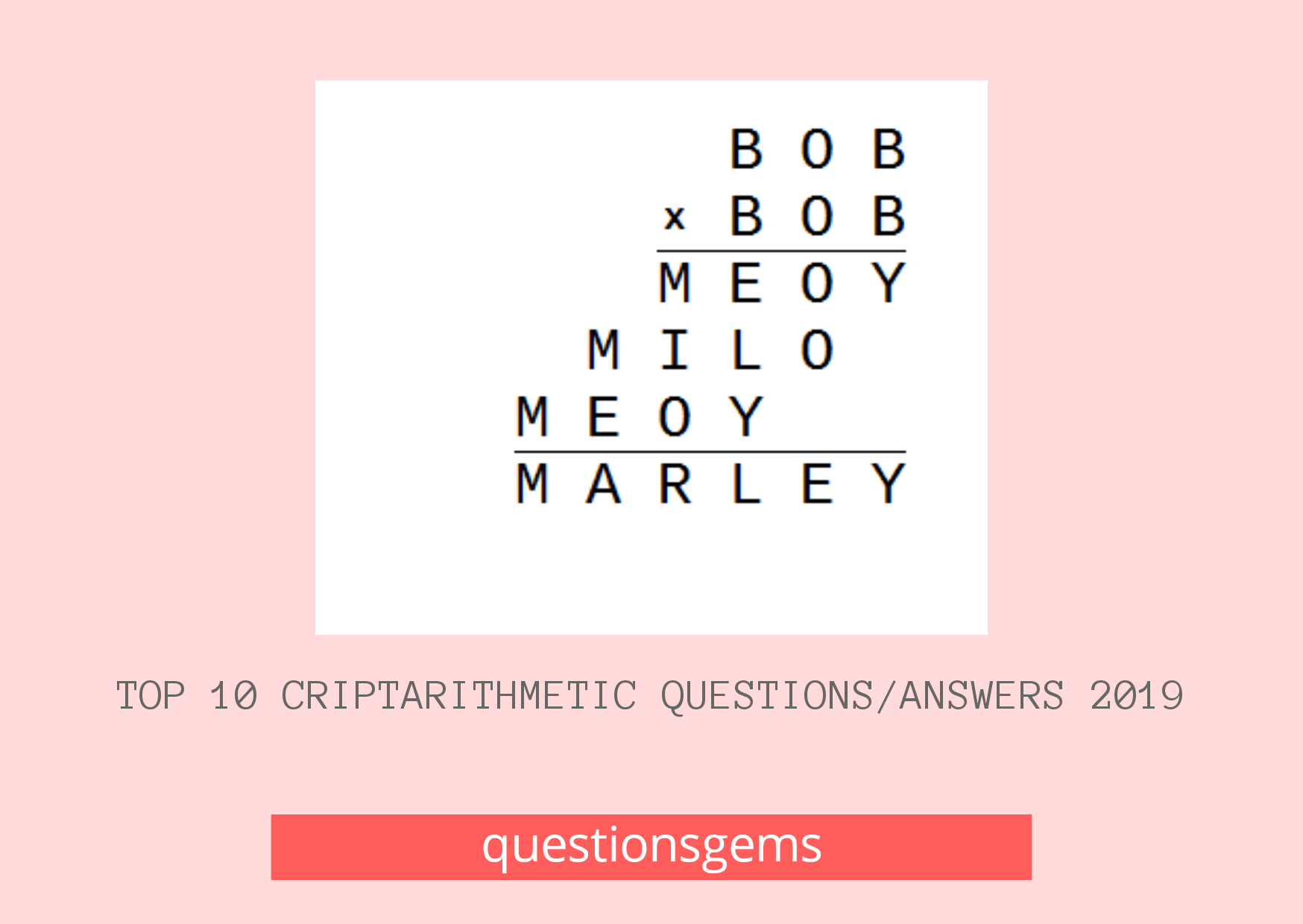 Cryptarithmetic Addition Questions And Answers For Infosys
1.YOUR + YOU = HEART (Assume O = 4). Find the value of Y + U +R +E.

15

16

17

18

Ans:  3

Explanation:

       Y   O  U  R

+          Y  O  U

———————–

   H  E  A   R  T

————————

Given the value of O as 4, Y and E cannot be the same, so there should be a carry-over 1. 1 + Y = 10, so E will take 0 and H as 1.  O + Y = A (4 + 9 = 13) i.e. A = 3. Now, U + O (4) =R (which can only be a single digit number), U cannot take 5, 3, 4 and only possibility will be 2. If U is 2, then R will be 6. R + U = T, 6 + 2 = 8(T = 8). Hence, the value of Y + U + R + E = 9 + 2 + 6+ 0 = 17.

Answer is 17
Q2. TOM + NAG = GOAT, find the value of G+O+A+T.

15

12

14

Cannot be determined

Ans: 4

Explanation:

          T    O    M

     +   N    A    G

  ————————-

    G   O    A    T

  ————————

Adding two single digit number the maximum carry it can have is 1, so G=1.

O + A = A, from this we can tell that O = 0. T + N = O (O should be a two digit number ending in zero, only then G will be 1). Sum of T and N should be 10 i.e. T (6) + N (4) = 10.  M + G = T, from this we will get the value of M as 1.

O=0, G=1, N=4, M=5, T=6 and the left out numbers are 2, 3, 7, 8, 9, from this A can take any value. There is no definite value for A.

Answer is: Cannot be determined
Q3. FORTY + TEN + TEN = SIXTY, find the value of T+E+N.

11

22

31

24

Ans: 2

Explanation:

       F   O   R   T   Y

                  T   E   N

        +       T   E    N

—————————-

      S   I    X    T   Y

From the rightmost column i.e. Y + N + N = Y, which means N =0.  And the next column T + E + E = T here T cannot be zero but E + E if it gives the sum of ten then 10 + T will give the unit digit as T. So 2E = 10, E = 5.

The letter O should have a carry to give the value I  i.e. O + carry = I, and in turn the I value should be a two-digit number because the leftmost column needs a carry (F + carry = S) to get the value S.

The sum of O + carry = I, where I  should be a two digit number. In order to get I as 2 digit number O has to take the maximum value 9, and let the carry be 1 (9 + 1 = 10) here the unit digit is I, but I cannot take the value 0 because zero is already assigned to N. So, let's keep the carry as 2, 9 + 2 = 11 then unit digit 1 is the value of I, and one's digit will be a carry for the next column i.e. F (F + 1 = S).

Next, R + T + T + carry = X (here the sum of these three numbers should give you the value in the range of twenty's because 2 has been taken as a carry to the next column). So R and T should be taken the maximum value in order to get a number in the range of twenty's.

Let R = 7 and T = 8, R + T + T + carry = 7 + 8 + 8 +1 = 24. Then, T + E + E = T (two digit number) –> 8 + 5 + 5= 18.

The values: O=9, T=8, R =7, E=5, X=4, I=1 and the left out numbers are 6, 3, 2.  We know F + 1 = S i.e. F and S will take 2 and 3, and at last, the Y will take 6.

The value of S +I +X +T + Y = 3 + 1 + 4 + 8 + 6 = 22

Answer is 22
Q4. If AA + BB = ABC, then what is the value of A+B+C= ?

15

18

21

12

Ans: 2

Explanation:

     A  A

     B  B   +

     C  C

———–

A  B  C

————

The digits are distinct and positive. Let's first focus on the value A, when we add three 2 digit numbers the most you get is in the 200's (ex: AA + BB + CC = ABC à 99 + 88 + 77 = 264). From this, we can tell that the largest value of A can be 2. So Either A = 1 or A = 2.

Now focus on value B, let's take the unit digit of the given question: A + B +C = C (units). This can happen only if A + B = 0 (in the units) à A and B add up to 10.

Two possibilities: 11 + 99 + CC = 19C  à (1)   or    22 + 88 + CC = 28C  à (2)

Take equation (2), 110 + CC = 28C

Focus on ten's place,   1 + C = 8, here C = 7. Then 22 + 88 + 77 = 187

Thus, Equation (2) is not possible.

From Equation (1), 11+99+CC = 19C à 110 + CC =19C à 1 + C = 9, then C = 8.

11 + 99 + 88 = 198  à hence solved A = 1, B = 9 and C = 8

A + B + C = 18

Answer is 18
Q5. HERE = COMES – SHE, (Assume S = 8). Find the value of R + H + O.

15

18

14

12

Ans: 3

Explanation:

HERE = COMES – SHE which can also be written as HERE + SHE = COMES

     HERE

+     SHE

———

COMES

———

C = 1, O = 0, H = 9, E + E = S = 8, 2 E =8, And E=4.

So, COMES – SHE = HERE, 9454 + 894 = 10348

R + H + O = 5 + 9 + 0 = 14

Answer is 14
Cryptarithmetic Questions And Answers
Q6. N O + G U N + N O = H U N T, find the value of HUNT.

1082

1802

1208

1280

Ans:  1

Explanation:

              N  O

    +   G  U  N

              N  O

     ————-

     H  U  N  T

     ————-

Here H = 1, from the NUNN column we must have "carry 1," so G = 9, U = zero. Since we have "carry" zero or 1 or 2 from the ONOT column, correspondingly we have N + U = 10 or 9 or 8. But duplication is not allowed, so N = 8 with "carry 2" from ONOT. Hence, O + O = T + 20 – 8 = T + 12. Testing for T = 2, 4 or 6, we find only T = 2 acceptable, O = 7. So we have 87 + 908 + 87 = 1082.

Answer is 1082
Q7. MAC + MAAR = JOCKO, find the value of 3A + 2M + 2C.

31

36

33

38

Ans: 1

Explanation:

            M A C

    + M A  A  R

     ——————

      J O  C  K O

     ——————

Here J is carry, J=1 when J=1, O=0 with carry 1 and M=9 C+R=O à 0 with carry 1. So, C=2 and R=8 M+A=C à 2 with carry 1, A=3, A+A+1= K, 3+3+1=K=7, 932+9338=10270 so, finally A = 3, M = 9, C = 2, = 3A + 2M + 2C = 9 + 18 + 4 = 31

Answer is 31
Q8. SEND + MORE = MONEY, find the value of M+O+N+E+Y.

15

14

16

18

Ans: 2

Explanation:

         S E N D

    +  M O R E

    —————–

     M O N E Y

    —————–

From the given data, the value of M will be 1 because it is the only carry-over possible from the sum of 2 single digit numbers in column 4. M = 1, S + 1 = a (two digit number). So S = 1 and O cannot be 1 but 0. Also E and N are consecutive. With trial and error possibilities, we get SEND   = 9567, MORE = 1085 and MONEY = 10652.

So, M + O + N + E + Y = 1 + 0 + 6 + 5 + 2 = 14

Answer is 14
Q9. If "EAT + THAT = APPLE", what is the sum of A+P+P+L+E?

13

14

12

15

Ans: 3

Explanation:

           E A T

    +  T H A T

    ——————

     A P P L E

    ——————

From the given data, the value of A will be 1 because it is the only carry-over possible from sthe um of 2 single digit number. T maximum it can take only 9 and there should a carryover for T to give sum as 2 digit number. So T =9, P = 0, A = 1. T + T = 18, the value of E is 8 and 1 will be a carry over to the next column. That is 1 + A + A= L = 3. And finally H = 2. Hence, 819 + 9219 = 10038. A+P+P+L=E = 1+0+0+3+8 = 12.

Answer is 12
Conclusion:

These are Cryptarithmetic questions. I hope you guys like it. If you have any question or suggestion just comment below or contact us.

Thanks