There are only a few times when we agree to attend a family function, and a lot of them are because there would be your cousins. We have to agree on the fact that cousins are so important because, without them, it would be impossible to bear a family function. They are truly the unsung heroes that are not appreciated enough. But not everyone is lucky to have the best cousins and some of us do struggle to get along with them especially if we never met them before.
But there are a few ways which can help you get to know them better. I am sure you are all ears now. So here is the deal, you do have to make the effort sometime and get to know them better. And the only way to do so is to get them to know better and keep the conversation going on. And for that, you need to have some amazing questions in your hand so that you can ask them and get to know them better.
Now the bigger questions are, where would you find the perfect questions to ask your cousin? Well lucky for you, you are at the right place already. Because we have happened to have the best questions to ask cousins. Take a look at the list of questions to ask cousins and pick the best questions for your cousins.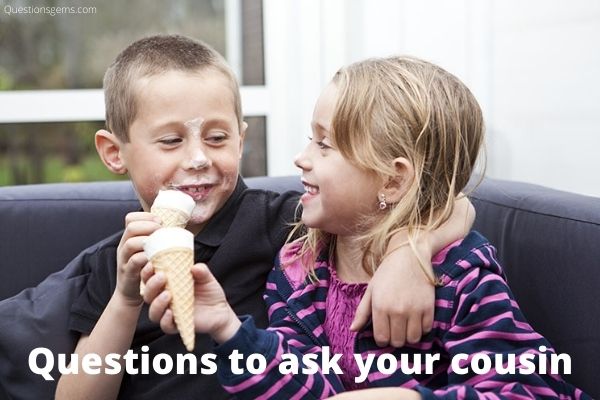 Questions to ask your cousin brother
1. What event in your life has had the most significant impact on you?
2. What is your biggest worry these days and why?
3. Where's a place you wish you could live for a few months?
4. Do you consider yourself successful?
5. What's your hidden talent?
6. What's one healthy thing you do to manage stress? And one unhealthy thing?
7. Do you believe in God or a higher power?
8. What's something you wish more people knew about you?
9. What's the social or political cause you're most passionate about?
10. Who would you want to give the eulogy at your funeral?
11. What would you change, if anything, about our experience growing up?
12. What do you admire most about Mom and/or Dad?
13. In what ways did Mom or Dad let you down?
14. What's something you wish you could have told me when we were kids? Why didn't you tell me then?
15. How could I have been a better sibling to you when we were growing up?
16. What's your favorite childhood memory of us?
17. What's the worst fight we've ever had?
18. Who was the first person to break your heart?
19. Were you ever bullied? Did you ever bully anyone?
20. What's my most annoying habit or quality?
21. What memory of us still makes you laugh?
22. Do you think our parents had a favorite kid? If so, who and why?
23. What was your biggest insecurity as a teenager?
Questions to ask your cousin sister
24. Do you have trouble accepting compliments?
25. Who is the strongest woman that you personally know?
26. Where do you escape to when you want peace and quiet?
27. Do you believe in miracles? Have you ever experienced one?
28. If you wrote a book, who would you dedicate it to?
29. Which emojis do you use the most?
30. Do you feel comfortable in silence?
31. Does your family have any nicknames for you?
32. What do you think about more than you should?
33. Do you consider yourself a romantic or a skeptic?
34. What is the kindest thing another person has ever done for you?
35. What is your favorite candle scent to fill your home with?
36. What is the most surprising item on your bucket list?
37. Do you believe you have a greater purpose?
38. When was the last time you told someone you loved them?
39. Which day from your childhood do you wish you could relive?
40. How many people would you trust with your life?
41. What do you take the most pictures of (food, your pet, yourself, etc.)?
42. What do you consider the most beautiful thing about your personality?
43. What is your spirit animal?
44. Which season do you look forward to all year long?
45. What qualities do all of your closest friends have in common?
46. What song would you love to hear on your wedding day?
47. Which memory do you wish you could erase from your mind?
48. When was the last time you cried inside of a bathroom stall?
49. What have you been putting off for far too long?
50. Which person never fails to put a smile on your face?
51. Which book have you reread again and again?
52. What is the most romantic proposal story you have ever heard?
Conclusion – So these are some of the best questions to ask your cousin. They sound fun, right? I am sure you find them interesting and are waiting to ask them your cousin as well. So go ahead and ask them and have fun with your cousin. There are a variety of questions on our list so you won't be having any problem picking the right kind of questions for your cousins!