Are you going on a first date? Well, you must be nervous and excited about your first date. We can understand, first dates are always a big deal. You want to make them feel special and want them to remember the date as well. And for that, you would have to come up with a great first date idea! And that's the hard part actually. We never realize the importance of first date ideas until we are going on one.
If we look around, we have got plenty of first date ideas, it's just that it didn't occur to us when we are the one going on a first date.
Just in case you don't know, the first date ideas should consist of the following things;-
Your first date should be fun and memorable so that you both can remember with happiness

You should be able to make a conversation with your date and that too freely, that is you shouldn't care about others and you should be able to talk freely without any worries. That means cut the loud places.

You should get a face to face time, that you should be able to see each other face to face, regardless of what activity you are doing.

Don't do something that you guys do on a normal basis like going to bar.

The date should be affordable, you don't want to impress them by spending tons of money on them, this shouldn't be the case. So no matter what you decide make sure it's affordable and convenient
So that's what the ideal first date should be like. And thankfully it's not hard to find the perfect first date ideas. So let's start our article for the best first date ideas and get you something to make your first date memorable.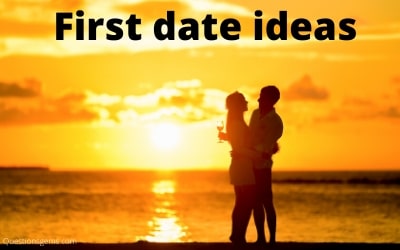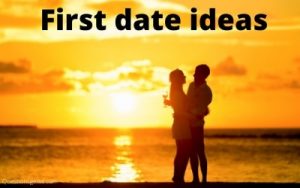 First date ideas
1. Go for outdoor movies

This one is a cliche but it will do a nice job when it comes to making your date a memorable one. The indoor movie might be a good idea since you will be too invested in the movie and there would be a lot of people around you. You might not get a chance to have a conversation either. On the other hand,  outdoor movies like a drive in a movie theater would be a great idea as well. It will make you feel cozy and you can have a good conversation even when the movie is not so great or you find each other even more interesting! You can consider this idea for your first date or you can also use it for future dates as well.
2. Museum

If they are interested in the museums then this one might be the best first date idea. There are a number of reasons why this one would be a successful date plan. Here you can have a great time and know what the other person thinks about certain things.

See there will be ample time to talk to them face to face. And there will be a number of topics for you to talk about as well. They might not like it that much but still, you will be able to make conversations with them. So if there is a museum near you and you know that they might be interested in it then feel free to take them.
3. Picnic

This one is also a nice first date idea that you can use. There are so many things that would impress your date when you take them for a picnic. First of all, you will get to pick a nice cozy place which you both like. You can be your own and out in the open as well. This adds another chance to build an attraction between you two.

You can bring your own food (cooked by yourself) or you can have takeaway food from your favorite restaurant and enjoy the food together while having a meaningful conversation. You can be with them as long as you want and since it's outside you can schedule it whenever you want. You will be surrounded by nature (if decided to go to a park or beside the river or something) which will give you a positive effect. It's an affordable and cozy idea to have a date.
4. Volunteer kitchen

This isn't a popular idea for a first date but it's surely is an impressive one. You can actually ask them if they are willing to go for volunteer work. It may sound a bit dull or boring to some people but others would love to help the community. You both will surely have a great time and also do something worthwhile.

You can easily search for a place where they can use some help and there would be plenty of places where you can go to. It's not just about the kitchen but there is plenty of other volunteer work present as well. Overall this one is definitely making them like you even more and as we said you will do something good too.
5. Visit a place that your partner has never been too

See even if we have lived in the town for a long time now, still, there are some places that are undiscovered by us. So you can dig up a little bit and find a good place in your town to visit and have a great time. You will be surprised to know that there are plenty of places where you have never been and it will very cool to take your date to one of the places.

You both can discover the places together and have fun with one another. And if you find out the place isn't that fun then you can come with other quick ideas and keep the conversation going as well. It might be a cliche but it's a play it safe first date idea that you can use.
6. Take a cooking class together

This one is also a popular first date idea that you can use. Many people go for a cooking class for their first date and they end up having fun. Although it's necessary that the other person likes cooking or interested in it. So if you get a chance then ask them out for a date and see if they are interested.
7. Pottery painting

Pottery painting is another popular first date idea that you can use. Here if anyone of you is interested in art and craft or paintings or pottery then you will love this session. It will a full-on fun session where you can make something together and take it home as well. It's surprisingly fun and it will be perfect for the people who are more of an introvert or shy person. You can have a decent conversation and end up knowing a lot about each other.
8. Go to karaoke

If you both are a fun-loving person then karaoke might seem like the best first date idea to take on. It doesn't matter if you are a good singer or not, you can have a chance to make them laugh and go crazy as well.
9. Watch a sunrise together

This one is for morning persons. See there is a different kind of charm about the sunrise that makes us love it so often. Here you both can wake up early go to a nice spot where the sunrise looks good. This is something that will make you love it. This one is for those who want to do something different and go somewhere less crowded. We would totally recommend this idea for a first date.
10. Take a Brewery or Winery Tour

This one is also a popular first date idea to take up. There has to be a brewery or winery shop near you that you can explore together it will be definitely something that you should do.
Some tips for the first date:-

Don't be late: it's a commonly known fact about the dates but when it's your first date, you should be extra careful. Although don't be too early either. Just be on the time and prevent yourself from embarrassment or making a bad impression either.

Wear something nice: it doesn't have to be an expensive outfit but it has to be nice. So wear something that compliments your body and don't forget to wear a nice perfume either.
Conclusion –

So these are the best first date ideas that can use for your first date. We are pretty sure your partner will like these ideas. Some of them are cliche and others are unique, so you can go for either one. But make sure you know the taste of your partner and plan the date according to them. You can easily pick any of the first ideas from the aforementioned ones and we hope they would like it and you two will end up having a good time.

Thank you for visiting us and keep coming for more such articles in the future as well.