Child Labour is the ugly truth of society that still exists. It's so unfair to take childhood from a child and burden him with the responsibilities of supporting their family economically.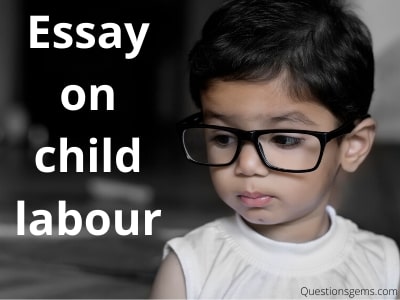 Also check- Essay on education system in india / Essay on my mother
Essay On Child Labour
As per the International Labour Organization, children who are under the age of 15, should not be forced to work. But even after this norm, many countries all around the world facing the problem of child labor.
Child Labour defined as involving children to work at an early age to support their families economically. When a child work at an early age, he is deprived of the right education and lacks proper physical and mental health. Child Labour is the dark side of a society which snatches away the bright futures and healthy lifestyle of a child.
There are many reasons which cause the Child Labour in a country. We have listed a few of them here:-
Unemployment remains the first cause of child labor. If the father/ of children is jobless then they will face poverty which creates a situation where their child had to work. Right now approx ¼ pollution of word is living below the poverty line.
Not having enough education is also results in child labor. And here the education we are talking about goes for both parent and child. Uneducated people that have no or little knowledge about their basic rights. Which ultimately leads to their exploitation. If make parents aware of the seriousness of child labor and what it can do to a child then maybe they would understand it better and make informed decisions.
The exploitation of weaker section also count as the cause for child labor as there are many people around the globe who are practicing bondage labor which also includes the children of the family.
Although the list of causes would be long but there are some solutions also present and if implemented them right, they can bring a change in the society. And these solutions are:-
Even though the Constitution of several countries prohibit child labor but there is still a need for a stronger law. Unions and organizations should be made with an explicit law that defines the practice of child labor and the punishment for it.
Parents of remote areas and weaker sections should be aware of their rights and given the right education so that they can save their children from child labor. Lastly, social awareness about the child labor should be our first priority.
Government's focus should be on child trafficking as well. After all, there are many children who are forced to beg or work for the people who are not even their guardian.
Conclusion:
If we want to fight against the heinous act of child labor then we have a member of civilized society should come forward. So next time whenever you see a child working for a restaurant or anywhere else, just come forward and try to help him any way possible (by providing legal and economical help).