If you are looking for some Christian sayings than you are at the right place because we have rounded up some of the best Christian sayings that you can share with your friends and family!
[toc]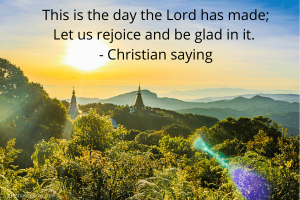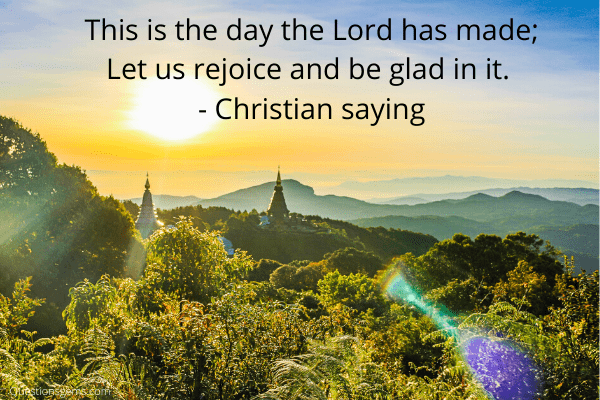 Christian Sayings
In the beginning, God created the heavens and the earth.
Keep my commands and follow them. I am the Lord.
This is the day the Lord has made; Let us rejoice and be glad in it.
Your word is a lamp to my feet and a light for my path.
I have hidden your word in my heart that I might not sin against you.
Give thanks to the Lord, for he is good. His love endures forever.
I praise you God, for I am fearfully and wonderfully made.
Let everything that has breath praise the LORD!
The Lord is my light and my salvation—whom shall I fear?
Hatred stirs up strife, but love covers all sins.
A honest witness does not lie; a false witness breaths lies.
Trust in the Lord forever, for the Lord God is an everlasting rock.
Do onto others as you would have them do onto you.
In Him was life, and the life was the light of men.
For all have sinned and fall short of the glory of God.
Love must be sincere. Hate what is evil; cling to what is good.
Whatever you do, do everything for the glory of God.
Children, obey your parents in the Lord, for this is right.
I can do all things through Christ who strengthens me.
Rejoice in the Lord always. Again, I will say, rejoice!
Let the word of Christ dwell in you richly.
Set your minds on things above, not on earthly things.
Jesus Christ is the same yesterday, today, and forever.
Every good gift and every perfect gift is from above.
Therefore submit to God. Resist the devil and he will flee from you.
Draw near to God and He will draw near to you.
We love because he first loved us.
This is love for God: to obey his commands.
What section would you prefer in the afterlife? Smoking or non-smoking?
If you are more fortunate than others, build a longer table, not a taller fence.
Can't sleep? Counting sheep? Talk to the Shepherd!
Eternity is a long time to think about where you went wrong.
Forecast for tomorrow: God reigns, and the Son shines.
Download your worries and get online with God.
Give Satan an inch and he'll become your ruler.
God wants full custody, not just weekend visits.
Dust on your Bible leads to dirt in your life.
Faith tells me that God guards my path.
Beautiful Christian Sayings
Be still and know that I am God.
Whenever I am afraid, I will trust in You.
Blessed Assurance, Jesus Is Mine!
Let go and let God.
Fear ends where faith begins.
I will praise thee with my whole heart.
The Lord gives wisdom.
Trust in the Lord with all your heart.
Every word of God proves true.
Fear God and keep his commandments.
Pray more, worry less!
Trust God! He's got you!
You are the God who sees.
God is my first priority.
Pray without ceasing.
Do not quench the Spirit.
And do not grieve the Holy Spirit.
Be kind to one another.
The struggle is real, but so is God.
Children, obey your parents in all things.
Brethren, pray for us.
God is my wireless provider!
Faith over Fear
Amazing grace!
The Lord is good to all.
Jesus Loves Me!
I have decided to follow Jesus.
Jesus Is My Rock!
Peace Be with You
The Lord Be with You
We must obey God rather than men.
The heavens declare the glory of God.
There Is No One Like Jesus!
Christ Is Coming!
Do not be afraid for I am with you.
The joy of the Lord is your strength.
For my yoke is easy and my burden is light.
You are the light of the world.
You shall love your neighbor as yourself.
He is not here, he is risen!
I am with you always.
I Will Walk with God!
What a Friend I Have in Jesus!
God's Will Be Done!
Skip rope, not church.
Exercise daily. Walk with the Lord.
Jesus: Your get-out-of-hell-free card.
Get rich quick! Count your blessings!
The Lord bless you and keep you.
The best vitamin for a believer is B1.
I'm rich! My Father owns the world.
God's promises have no expiration date.
God is good all the time.
It Is Well with My Soul!
The Man upstairs, came downstairs.
I was going to waste, but Jesus recycled me.
God loves you whether you like it or not.
Love one another.
Funny Christian Sayings
I want to be so full of Christ that if a mosquito bites me, he flies away singing, "There's power in the blood."
God teaches us about love by giving us difficult people to deal with.
God, help me to be the person my dog thinks I am.
Don't give up! Moses was once a basket case!
God didn't create anything without purpose, but mosquitoes come close!
Adam blamed Eve, Eve blamed the serpent, and the serpent didn't have a leg to stand on.
Life isn't about waiting for the storm to pass. It's about learning to dance in the rain.
Going to church doesn't make you a Christian any more than going to the garage makes you a car.
Jesus said, "I'll be back" way before Arnold did.
Our church is like fudge: sweet with a few nuts.
Give all you can; no one ever saw a hearse pulling a U-Haul!
Ketchup with Jesus and relish his love!
Cremation is your last chance for a smoking hot body.
Funny humans; they think God is dead and Elvis is alive!
God wants spiritual fruit, not religious nuts.
God recycles. He made you from dust.
Let your faith be bigger than your fear
Need a lifeguard? Jesus walks on water.
Acting up in church is like dressing up for an X-ray.
Always remember that Hell is un-cool.
If God is your copilot, switch seats.
Some people are like buttons, always "popping" off when they don't need to.
Get connected; upload a prayer.
Forbidden fruit creates many jams.
Pray anywhere because God is everywhere.
God will wreck your plans, when He sees our plans are about to wreck you.
Today's forecast: The Son shines and the Lord reigns!
Honk if you love Jesus; text if you want to meet Him.
Read the Bible. It will scare the Hell out of you!
Store your Bible in your heart, not on a shelf.
A Bible that's falling apart usually belongs to someone who isn't.
God loves us the way we are, but too much to leave us that way.
Wrinkled with problems? Go to God for a faith lift.
Church Welcome Sign: ATM inside. Acceptance, truth, mercy. No card needed.
Adam and Eve: The first people not to read the Apple terms and conditions.
Life is change. Growth is optional. Choose wisely.
Practice thanking God for more than elastic waistbands.
I do my best; God does the rest.
The Bible is rated E for everyone.
More of Jesus, less of me.
Spend your time with God's Book, not Facebook.
The fact that there is a highway to hell and only a stairway to Heaven says a lot about expected traffic.
Sometimes God will put a Goliath in your life, so you can find the David within you.
Good Christian Sayings
Anywhere with Jesus.
Where God guides, He provides.
Don't panic, just pray.
FROG – Fully Rely on God
PUSH! – Pray Until Something Happens
Life is fragile; handle with prayer.
My lifeguard walked on water.
W.W.J.D. – "What would Jesus do
With God, all things are possible
I'm blessed, so not stressed.
Jesus take the wheel.
Instead of complaining, ask God!
Son screen prevents sin burn.
Jesus is God's selfie.
When life gets too hard to stand, kneel.
God, bless this mess!
Sin fascinates, then assassinates
GOSPEL – God's Only Son Provides Eternal Life

a.s.a.p. – Always Say a Prayer
Happiness is a cup of coffee and my Bible.
Let go and let God.
If anyone needs an ark, I know a guy.
Don't give up; Moses was once a basket case.

His life saved mine!
Prayer changes everything – including me.
I may not be perfect, but Jesus thinks I'm to die for.
If you have time to worry, you have time to pray!
The manger was the first king-sized bed.
God grades on the cross, not the curve.

Faith it 'til you make it!
T.G.I.F. – Thank God I'm Forgiven
T.G.I.F. – Today God Is First
1 cross + 3 nails = 4 given.
Transformed, not conformed.
BIBLE – Basic Instructions Before Leaving Earth
FAITH – Full Assurance in the Heart
Every day above ground is a good one.
If God brings you to it, He will bring you through it!
Coffee gets me started; prayer keeps me going.

God is good all the time.
God loves everybody – even me (you)!
Life is good, because God is great!

God is my real BFF
JOY – Jesus, Others, Yourself
I love you to the cross and back.
Not perfect, just forgiven.
Jesus's death gave me life.
Spoiler Alert – God wins!
Prayer. The original wireless connection.
When life is not a bed of roses, remember who wore the thorns.
Plan ahead. It wasn't raining when Noah built the ark.
Don't tell God you have a big problem; tell your problem you have a big God.
Free Christian Sayings
When all you have is God, you have all you need.

Dennis Fisher
Our Lord has written the promise of the resurrection, not in books alone, but in every leaf in spring-time.

Martin Luther King
God has given us two hands, one to receive with and the other to give with.

Billy Graham
God sends no one away empty except those who are full of themselves.

Dwight L. Moody
A dog barks when his master is attacked. I would be a coward if I saw that God's truth is attacked and yet would remain silent.

John Calvin
The Christian life is a life of paradox's. We must give to receive, realize we are blind to see, become simple to be wise, suffer for gain, and die to live.

unknown
Christian life consists of faith and charity.

Martin Luther
If a man cannot be a Christian in the place he is, he cannot be a Christian anywhere.

Henry Ward Beecher
We must be global Christians with a global vision because our God is a global God.

John Stott
The Christian life is not slightly better, but completely different.

Clarence Sexton
God loves each of us as if there were only one of us.

Augustine
I believe in Christianity as I believe that the sun has risen. Not only because I see it, but because I see everything by it.

C S Lewis
I like your Christ, I do not like your Christians. Your Christians are so unlike your Christ.

Mahatma Gandhi
What the Christian sees as important, the world looks at with contempt, and what the world considers important, the Christian considers utterly meaningless.

unknown
Fiery trials make golden Christians.

Charles Spurgeon
If you are a Christian, you are not a citizen of this world trying to get to heaven; you are a citizen of heaven making your way through this world.

Dr. Vance Havner
We are more wicked than we ever feared, yet more loved than we ever dream.

Mark Driscoll
Christianity is not a theory or speculation, but a life; not a philosophy of life, but a living presence.

Samuel Taylor Coleridge
What the world requires of the Christians is that they should continue to be Christians.

Samuel Adams
Let God's promises shine on your problems.

Corrie ten Boom
No two Christians will ever meet for the last time.

unknown
Nothing shall be lost that is done for God or in obedience to Him.

John Owen
The Christian on his knees sees more than the philosopher on tiptoe.

D.L. Moody
The measure of a Christian is not in the height of his grasp but in the depth of his love.

Clarence Jordan
The story of every great Christian achievement is the history of answered prayer.

E. M. Bounds
Expect great things from God, attempt great things for God.

William Carey
I had rather be in hell with Christ, than be in heaven without him.

Martin Luther
I have a great need for Christ; I have a great Christ for my need.

Spurgeon
God is most glorified in us when we are most satisfied in Him.

John Piper
A Bible that's falling apart usually belongs to someone who isn't.

Charles Spcontact
Conclusion:

These are the best Christian sayings. I hope you guys like our collection of Christian sayings. If you have any question or suggestion then just comment below or contact us.

Thanks