Welcome your favorite season, fall with these popular sayings. It's always great to feel the cool breeze and leaves falling, wearing those cool outfits that gets us lots of compliments. We have selected some of the best fall sayings that we think you will love!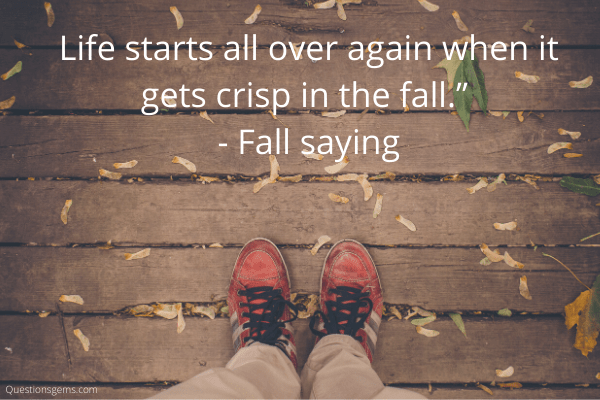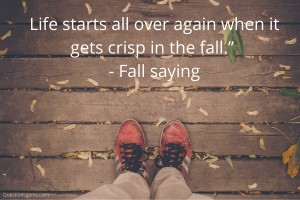 Also check-
Horse sayings
/
Beach sayings
Fall Sayings
Life starts all over again when it gets crisp in the fall." – F. Scott Fitzgerald
"Autumn shows us how beautiful it is to let things go." – Unknown
"If a year was tucked inside of a clock, then autumn would be the magic hour." – Victoria Erickson
"Autumn carries more gold in its pockets than all the other seasons." – Jim Bishop
"Anyone who thinks fallen leaves are dead has never watched them dancing on a windy say." – Shira Tamir
"And all at once, summer collapsed into fall." – Oscar Wilde
"Autumn is the season that teaches us that change can be beautiful." – Unknown
"Autumn is a second spring where every leaf is a flower." – Albert Camus
"Every leaf speaks bliss to me, fluttering from the autumn tree." – Emily Bronte
"Autumn, the one season that God seemed to put there just for the beauty of it." – Lee Maynard
"I'm so glad I live in a world where there are Octobers." Anne of Green Gables
Fall Sayings For Crafters
Hello, Fall!
It's Fall Y'all
Happy Fall Y'all
Happy Harvest
Pumpkin spice and everything nice
Pumpkin spice and everything nice, that's what fall is made of
Falling leaves are summer waving goodbye
Beautiful, glorious fall
I've fallen for you
Faith, Family, Fall
Faith, Family, Football
It's sweater weather
Gourd-geous
Fall time is my favorite time
Apples – 5¢ or Pumpkins 5¢ or Pumpkin Seeds (or choose another price)
Leaves are falling, autumn is calling
Fresh Apple Cider
Harvest Blessings
Frost on the pumpkins, leaves everywhere, fall is in the air
Hoodies, hot cocoa, boots, jeans, crisp air. It's fall.
Pumpkins, Apples, Hayrides
Autumn Greetings
Fall Greetings
Pumpkin Kisses and Harvest Wishes
May all your pumpkins be plump
Caramel apples, pumpkin pie, fall is here (my, oh my!)
I love you more than pumpkin flavored anything
Autumn, the year's last smile
And the leaves come tumbling down
Apple of my eye
Pick of the Patch
It's Pumpkin Time
Pumpkin Patch Princess/Diva/Prince
Welcome to our patch
Autumn days are here again
Crisp days of fall
Pumpkin farm
Fall into autumn
A festival of fall color
Mommy's/Daddy's Little Pumpkin
Mommy's/Daddy's Lil' Pumpkin
Cutest/Silliest pumpkin in the patch
Never fear, autumn is here
Turn over a new leaf, everyday.
Leaves abound from all around
Happy pumpkin spice season
Celebrate Fall
Pumpkin spice, leggings, and hoodies oh my!
Fall is when nature turns to gold
Falling/Fallin' for you
Happy Pumpkin Season
October Fest
Silly as a scarecrow
Also check – Golf Sayings / Jamaican Sayings
Funny Fall Sayings
Oh My Gourd I Love Fall!
Hello Gourdgeous!
Apple-y Ever After
In pie we crust
Excuse me while I kiss this pie
Let's give 'em pumpkin to talk about
I love pumpkin spice a latte
Go big or gourd home
Oh my gourdness, it's autumn!
Life is gourd.
Creep it real
Pumpkin Spice season is finally here, better latte than never!
Famous Fall Sayings
It looked like the world was covered in a cobbler crust of brown sugar and cinnamon.
For man, autumn is a time of harvest, of gathering together. For nature, it is a time of sowing, of scattering abroad.
I cannot endure to waste anything as precious as autumn sunshine by staying in the house. So I spend almost all the daylight hours in the open air.
The leaves fall, the wind blows, and the farm country slowly changes from the summer cottons into its winter wools.
Falling leaves hide the path so quietly.
No spring nor summer's beauty hath such grace as I have seen in one Autumnal face.
Autumn is a second spring when every leaf is a flower.
Nothing is more fleeting than external form, which withers and alters like the flowers of the field at the appearance of autumn.
Delicious autumn! My very soul is wedded to it, and if I were a bird I would fly about the earth seeking the successive autumns.
Autumn, the year's last, loveliest smile.
I've never known anyone yet who doesn't suffer a certain restlessness when autumn rolls around… We're all eight years old again and anything is possible.
In the garden, Autumn is, indeed the crowning glory of the year, bringing us the fruition of months of thought and care and toil. And at no season, safe perhaps in Daffodil time, do we get such superb colour effects as from August to November.
Winter is an etching, spring a watercolor, summer an oil painting and autumn a mosaic of them all.
October is a symphony of permanence and change.
The autumn always gets me badly, as it breaks into colours. I want to go south, where there is no autumn, where the cold doesn't crouch over one like a snow-leopard waiting to pounce.
Autumn arrives in the early morning, but spring at the close of a winter day.
Autumn is a season followed immediately by looking forward to spring.
Action must be taken at the first signs of disruption or decay, otherwise disaster will follow as ice-bound water follows brief autumn frosts.
Youth is like spring, an over praised season more remarkable for biting winds than genial breezes. Autumn is the mellower season, and what we lose in flowers we more than gain in fruits.
A wind has blown the rain away and blown the sky away and all the leaves away, and the trees stand. I think, I too, have known autumn too long.
Autumn burned brightly, a running flame through the mountains, a torch flung to the trees.
How beautifully leaves grow old. How full of light and color are their last days.
Autumn carries more gold in its pocket than all the other seasons.
Now Autumn's fire burns slowly along the woods and day by day the dead leaves fall and melt.
Bittersweet October. The mellow, messy, leaf-kicking, perfect pause between the opposing miseries of summer and winter.
The autumn leaves blew over the moonlit pavement in such a way as to make the girl who was moving there seem fixed to a sliding walk, letting the motion of the wind and the leaves carry her forward.
A few days ago I walked along the edge of the lake and was treated to the crunch and rustle of leaves with each step I made. The acoustics of this season are different and all sounds, no matter how hushed, are as crisp as autumn air.
Fall has always been my favorite season. The time when everything bursts with its last beauty, as if nature had been saving up all year for the grand finale.
Conclusion:
These are the best fall sayings. I hope you guys like our collection about fall sayings. If you have any question or suggestion then just comment below or contact us.