Photography is one of the most artistic experiences ever. It is always refreshing to capture the bounties of nature. The sweet and beautiful moments of life are frozen and kept to reminisce time and time again. Photography is bliss in life that captures the time alike. You keep a track of your journey, age, experiences and people. The eternal fountain of life is preserved and rested in your photography that reminds you of time and moments. Some may have symbolic meaning, some may be spiritual while for others, it may be a personal memory of importance. They love to behold the time, memories and nature.
Photography for all the reasons is an all-round perspective. It can be on many themes, genres, colour or meaningful. Every picture holds symbolic importance, spiritual value, personal belonging and an enigma of memories. Photography is like a museum, full of memories, thoughts, collection and moments. It is an amazing experience and you can say as if it is time stopped or froze to be relived again. Your photography has high personal importance and value. It can be materialistic, emotional or a mixed emotion. Photography is not as simple a someone thinks.
Essence and Value –
Everyone in life can pick up a nice camera and phone and call it photography. But actually, that is just a raw piece of work of a layman. A good photographer needs precision, timing and emotions to feel the moment and the right capture of those emotions. Your picture should have mixed elements of meaning, symbol, spiritual and beauty. Every picture has to be clear, beautiful and explaining. A good picture is the one that is taken at perfect timing with full precision leading to clarity and conveys a meaning. There can be many photography bloggers and they have a large choice of material to choose from.
Photography can be on varied concepts, travel photography, spiritual photography, photoshoots, promotional photography or a personal memory. The most important thing is to know the right essence and put into it. Your photography should be a piece of art and unique ideology. It should be something that is not at all common or similar. Although you click same photographs as others at same locations, featuring same characters but still, you should have something unique to add to it. Make something that would appeal directly to viewers eyes. You can sell your photographs be it travel, nature, monuments or whatever. Your photography skills are not only your talents or hobby but they can be your source of income. Value for your efforts and art to extol.
So, how can you exactly make money through photography? What are the procedure and need? Well, there are numerous ways to make money through photography. You can sell your pictures, merchandise, etc to some organizations or online employers. You can work on a particular theme and sell it as an album to the party interested in the project and willing to pay money for it.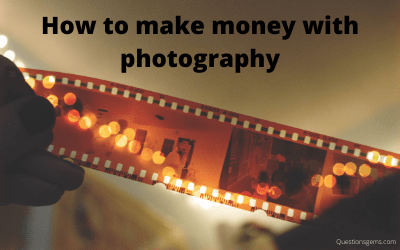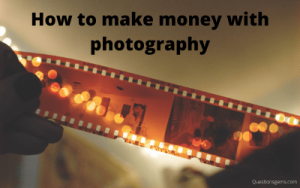 Also check – How to start photography business / How to start web design business
How To Make Money With Photography
1. Artwork and Blogging

You can sell your photographs online on photography sites or you can create your public website. You can be a blogger, travel blogger, animal photographer, tourist destination pics, etc. You can earn money by selling your photography online to some popular photography sites or you can post your photography online and attract a larger fan base and earn money based on your following, fans or likes. Make sure your photographs are worth admiring and have a unique element in it. You should have fine skills that could capture the eye of others and make them adore your work.

You can act as a wildlife photographer, tourist destinations photographer, travel blogger, etc. Set up a blog that would inspire the art and harbor the people with natural art acceptance. You can also sell your pictures to the photography sites or popular pages as it would give you an already built and established platform and give value to your talent.
2. Merchandise and gifts

You can sell your pics in many ways and many forms or mediums. You can sell printed merchandise with some theme pics or simple view. You can sell cups, t-shirts and other accessories printed with photographs. You can also work for calendars by launching a series of themes for calendars and also you can do calendar photography. Notebooks and journals can feature your amazing photographs as the cover page. You can also provide material for printed bags, laptop cases, phone cases and other accessories.

You can also have beautiful landscape pics, scenery, etc and put it into the frame and it can be used by people to decorate their walls in offices or house. You can make many greeting cards, postcards, pamphlets and many other things for some occasions or functions and sell them accordingly.
3. Event Photography and photoshoots

You can also work as an event photographer in child functions like Birthday parties, cultural fest and many more. You can shoot for the cultural programs, award ceremonies, sports day functions, marriages and pre-wedding. Well, this could make you good money for startup and you will gain a good experience. Following your previous success, you may even get more offers of events and thus can pursue your photography and get paid for your skills and talents.

You can also set up small photoshoots of common people, kids and small budding models unless you get some bigger breakthrough. You can also do pre-wedding or post-wedding photoshoots that are quite an in trend these days.
4. Photography Competitions or events

Participate in photography competitions or events. Usually, many photography events are conducted by schools, colleges or independent organisations. It is also sometimes conducted by well-established photographers and can provide you with a breakthrough in your career.
Many competitions have an award prize and also some offers of shooting or chance at featuring your photos in top albums. Thus, it is very good to start a career and earn good money. This system works both for a long time and short time.

Competitions can usually be held online or offline, all you have to do is participate and give your best. These events or competitions are very opportunistic and worth try. You must never miss this opportunity and participate in your full spirit. Make sure you work hard, your photography should be aesthetic, beautiful, convincing, explaining and meaningful. Make sure you grab the attention of judges as well as audience and give your best.

These competitions can be a wonderful experience and would make you realise the competition in the field and you can also learn the technical aspects of photography.
5. Online workshops and courses

If you are a professional photographer you can earn good money by organizing and conducting workshops and training. You can also conduct online sessions of training and offer to teach technical aspects of photography and usage of camera and lens. You can also organize workshops in schools or by private agencies and for a registration fee teach them photography concepts and earn a good amount of money.

You can make ties with e-education and e-learning sites or applications like Udemy, Allison, Linked-in learning and many others to form a full-fledged online course. This would help you wider your base and reach more population also beyond domestic reach. You can earn a pretty good amount from it and can impart knowledge with this.
6. Magazines and Newspapers

Another thing that you can do is work for a magazine or newspaper and do photography for them. Other than that you can also sell them your photographs without being permanently employed with them. This can be done by clicking photographs in the form of a complete series embracing one single theme. You can work for a travel magazine and your pictures can be a compilation of travel destinations, scenic views, tourist spots and beautiful places worth visiting. You can sell your series to your magazine or newspaper or you can directly work under them unless you love to work independently and by your rules.

You can also do wildlife photography, theme photography, photographs or wedding couples or venues. This way you can work for different magazines like wildlife paper, wedding magazine, women's magazine, etc. There can be different themes like wedding venues, buffet plans, watches, women accessories, house plans, etc.
Conclusion –

Therefore, your photography can be pursued both as your hobby or career. You can earn money for your skills and talents and get your work valued and noticed. You must remember to make your photography better and appealing. Be careful of the background, theme, location or character you have chosen for your photography can collectively give a unique impact.