Applying for citizenship? Well, you must be aware that it's not just a mere documentation process where you will just fill the forms and they will grant you the citizenship! Every country takes the immigration process very seriously and that's why they will hold an interview for you.
In this interview, they will going to ask many personal stuff and see if you actually deserve the citizenship. There is no need to be nervous because they are gonna ask you some personal questions and see if you for the criteria or not. At the same time, the interview is really important and your future in the country will depend on how you do with the interview.
In this article, we have bought you a guide where we have listed some commonly asked questions in the immigration interview by the officials so that you can easily prepare yourself for the interview and confidently answer them!
But before starting our list of Immigration interview questions we have come up with some questions that may be on your mind about immigration interview, so let's take a look at that as well.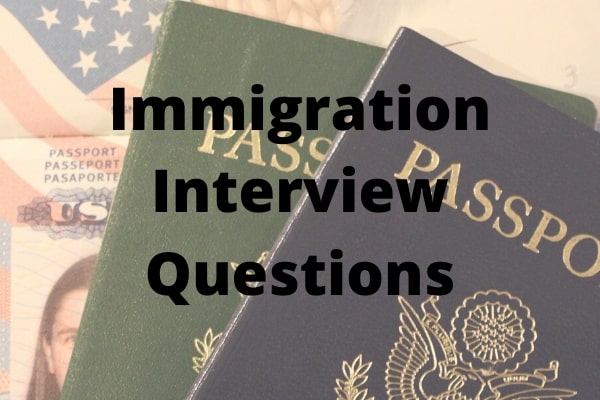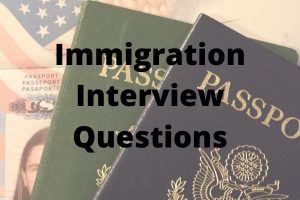 Also check-
Green card interview questions
/
Residency interview questions
How long is an immigration interview take?
The interview itself will last about half an hour where the officials will ask the questions and you will have to answer them. But you may have to wait at the office until you are called upon!
How do I prepare for an immigration interview?
You don't need to prepare something special for the immigration interview question but you do need to keep a few things in mind before taking the immigration interview! And these are-
Take all the necessary documents with you- your documents are the most important thing if you are about to take the interview. So it is advised that you bring all the copies as well as the original documents with you that has been asked by the officials. Prepare the file of your documents a night before you are going for the interview so you don't forget anything at the last minute.
Follow all the instructions that have been given to you.
Listen carefully – its important that you properly listen to what the are asking and answer their question correctly.
Prepare the questions- it's important that you know what kind of questions they are gonna ask so you can be ready with an answer.
Dress appropriately so that you can have a nice first impression.
Don't be nervous and answer with confidence!
Also check – Motivational Interviewing Questions / Best Programming Fonts
What happens if I fail the immigration interview?
If you have failed your interview then you will be given only more chance to take the immigration interview again. The second interview will happen in the next 60-90 days so that you can prepare for the immigration test and take it again.
The officials will notify you if you have failed the interview or passed it after the interview. Don't lose hope if you have failed your first interview as you will get the second chance!
General Immigration Interview Questions
What is your name?
How old are you? Age?
Where are you going? Which country are you flying to?
Who are you going with? Friends / Family or alone?
If going alone, why?
What is your marital status? Single or married?
Questions about family members.
Where do you stay in your home country?
Where are you going to stay in the country you are visiting? Hotel/Hostel/Others!
Do you have confirmed hotel/hostel bookings?
Where do you work? Questions about the place you work
What is the purpose of your visit? Going for work or holidays?
How much money do you have?
What will be the duration of travel?
When are you coming back? Date of Return flight?
Do you have relatives living outside your home country?
Immigration Interview Questions For Married Couples
What was your wedding like?
Who attended your wedding?
What food was served?
Were there any special rituals performed? If so, what kind?
Did you go anywhere for your honeymoon? If so, where?
Conclusion:
These are the best Immigration Interview Questions. I hope you guys like our collection of interview questions about immigration. If you have any question or suggestion then just comment below or contact us.