Jawaharlal Nehru was a great leader and the architect of our India that we live in today. He has always shown patriotism and love towards his country. From struggling for our country to becoming the first prime minister of India, he has done some incredible work. And not to forget his dedication to work towards our country after the independence.
He loved kids and that's why his birthday is celebrated as national children's day! Kids also loved him and call him as 'Chacha Nehru'. Let's talk about this personality and know his journey from a freedom struggle to the prime minister!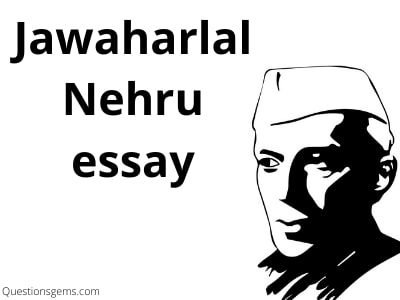 Also check- Sardar vallabhbhai patel essay / Apj abdul kalam essay
Early Life
Jawaharlal Nehru was born in a Kashmiri Pandit family on 14th November 1889, Allahabad. He came from a well-known family as his father, Motilal Nehru was a famous lawyer and also a prominent personality of his time, while her mother also comes from a well-known Brahmin family.
He got his early education from home and went to England for higher education. He studied law there but wants much interested in, as he returned to India he worked at Allahabad High Court and took interest in politics.
At the age of 24, married to Smt. Kamla Devi and they gave birth to a daughter, Indra, who later become the first female Prime Minister of the country. She was a fierce lady and live up to her father's reputation.
Jawaharlal Nehru's contribution to India's freedom struggle-
Jawaharlal Nehru was greatly influenced by Gandhiji. And he also joined Indian National Congress. He was highly interested in politics so he work wholeheartedly to lead India to the path of freedom from Britishers.
Due to his active participation in the national freedom movement, he was sent jail many times but every time he went out, he became stronger and worked harder to get freedom for his country. Just like Gandhi he also was on the path of non-violence and truth. He even became the president of Indian National Congress in 1929.
Also check – Essay On Air Pollution / Mahatma Gandhi Essay
Jawaharlal Nehru as India's Prime Minister-
When India got freedom from Britishers, Jawaharlal Nehru was the obvious choice for the post of Prime Minister of India. He did some great work to lead India on the path of progress and development. He laid the foundation of democracy in our country.
He even underlined the significance of scientific temper and wanted to end the superstitious practices in the country as well as change thinking of its citizens from superstitious beliefs to more technology and educated beliefs. During his time as a prime minister, he started many educational, technical, and medical institutes.
He also builds industrial factories and many irrigational, agricultural and power projects. He even gave the famous slogan 'Aram Haram Hai', as he wanted the youth of India to participate in the development and progress of the country and contribute their efforts to their nation.
The most famous agreement 'Panchsheel' was signed by him. It was between India and China. The agreement was appreciated worldwide. His relation with the UN was also worthy as it strengthens our relationship with other countries.
He died at the age of 74, on 27th May 1964.