There is no secret that ever big company has once started on a small scale and become a successful enterprise over time with hard work and dedication. And if you too think that you can pull this off with the right idea and your smart execution then this article is for you!
In this article, we are gonna talk about some manufacturing business ideas on a small scale which anyone can start with minimal capital and space. With "Make In India" initiative and with the growing economy of this nation, you can too play a part by planting a successful business and get yourself an empire of your own!
There are thousands of ways from which you can start up your company and manufacturing business trumps them all. People actually look for these kinds of business as they are easy to start and require a little investment and the best part? You can do it from home too.
In this list, we have listed out some of the best manufacturing business ideas which you can take from this list (which suits you the most!!), and become a part of this growing economy and create jobs for people!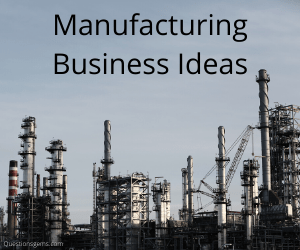 Manufacturing Business Ideas
1. Manufacturing of handmade chocolate!

Who doesn't love chocolate? I think almost everyone loves chocolate and no one can say no to it. And the best thing about chocolate is everyone wants to try a new flavor with some exotic species or fruits or even nuts. So if you have got some culinary skills this might be one of the best idea to start as your new manufacturing business.

–

This one won't even take much space so you can totally start it from your home. For marketing your homemade chocolate you can tie up with any local bakery shop or set your one little shop (if you have lots of variety of different flavors). With social media, you can always popularize your chocolate.
2. Hair Oil Production

Now, this is another great manufacturing idea that you can go for. People always find low scale hair oils healthier and better than those big corporate brands which are partly filled with chemicals. The cost would be not much either.

–

Production of coconut oil would be a great option since it won't cost much and it's already very popular among people. With the social awareness of organic and chemical-free products, you can totally in cash coconut oil if you will keep the quality up to the mark.
3. Manufacturing soaps

Soap production is too very profitable and it surely is an affordable manufacturing idea. You can go for manufacturing some natural exotic soaps with natural herbs and ingredients, which will be good for the skin and will be good for almost everyone.

–

Here too the idea of natural soaps will attract more customers. Although you will need to do some research and even get training for soap manufacturing but once you will have the right idea you will be good to go. You can tie up with local general stores and sell your soaps in your locality and then market it!
If experimenting with chocolate is not your thing then try out making biscuits and cookies ( if you are good with baking). Just like chocolate, everyone loves biscuits and cookies and if they are handmade and freshly baked it adds a little more value to them!

–

This is one of the popular manufacturing business ideas in India, even though there are popular biscuit and cookie brands available, no one can say no to freshly baked cookies. Here again, you can tie up with local bakery or sell from home and you can even take orders online! The investment is pretty low and you won't require a bigger space (maybe a big oven though).
5. Manufacturing candles

Candles are pretty popular too if they are customized with some unique scents and handmade and that's why it has become one of the best manufacturing business in India! The scope of getting profit from candle making is really high since people don't really care about the brand. And as long as your candles smell good and come at a reasonable price people will be more than happy to buy them. This one too won't require a big space you can totally do this at your home and the equipment will be inexpensive too.
6. Soda and flavored drinks

With summers coming up, you will can easily make a lot of profit with the production of sofa or even some flavored drinks. Soda and flavored drinks has become one of the best manufacturing business in India (small scale). The cost of production is really cheap and almost everyone can start this one on their own.
7. Papads and fritters

Making papads is one of the best manufacturing business ideas with low investment and in India, it's really profitable with everyone wanting a papad on their plate during lunch. You can also come up with lots of different flavors and market them in your locality.
8. Paper manufacturing

It may be not a really popular manufacturing business idea but surely it is one of the best as we all need papers in some form or other. Paper manufacturing too requires a low investment and it can be highly profitable.
9. Production of cottage cheese and butter

This one is too a great manufacturing business with low investment and if you own cattle then this can turn into a great business since everyone prefers fresh cottage cheese and butter rather than spending money on a popular branded cottage cheese or butter.
10. Homemade Candies

Well, we have done chocolate and cookies so why don't include candies as well after candies are too very popular among kids and you can also give them as gifts too. Candies can be easily made in a regular space and once you have got grasp of candy making you can explore different kinds of candies and sell them.
Conclusion:

So these are the best manufacturing idea in our opinion that you can take up to. All they will require is a few equipments and machinery and raw material to start the business and you will be good to go!

Just remember that you can totally do it and the demand for small scale industries also rising since their quality is great and that too at a reasonable price! If you don't have enough space at your home to start this, you can easily rent a place in your locality!

Hope you have found our article helpful, thank you for visiting our page and coming for more such ideas!