We all have written some lines on the topic "My Best Friend". However they were just a few lines and when it comes to writing a whole essay, we may get confused. So we have written an essay for My Best Friend from which you can take inspiration for your essay writing on the same subject. Let's get started with our essay for My Best Friend.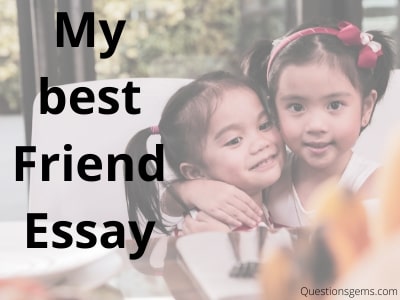 Also check- Essay on friendship / Teachers day essay
My Best Friend Essay
Friends are the family we choose and this quote is one of the best quote which makes us realize the importance of a good friend. We all deserve a friendship where we support each other and pull each other up when things go to the south. In our life we make many friends at the different stages of our life but the best friend will be the one which is there for us through all phases of our life.
But what makes a person the best person in our life? How do we decide who is our best friend among many of our friends? How do we decide to trust and rely on? All these questions have just one answer, we just find good people in our lives and makes them a big deal in our life. We care about them and they care about us. And eventually we realize, okay this person will always be there for me and that's why they are our best friend!
But what are the qualities of a best friend that makes them different from other friends? Let's discuss the qualities of a best friend!!
A best friend isn't the one who supports you in everything but the one who knows when you stop! He/she will stop supporting you in the things that are not good for you and make you see the difference between right and wrong. A best friend also be the one who gets happy for your success and cherish it with you. He should also be the one whom you can trust with your life.
A best friend should be the one who has always got your back no matter what. So if you have a friend who possesses these qualities, then you are really lucky. And if you wanna be someone's best friend then you should also show these qualities towards them.
If I talk about myself, then yeah I am also among the lucky ones who have a best friend for life. I have a friend from 3rd grade and we are still together. And it not like that we never fought over anything but we have always found each other in the end. No matter how dark things get, she is the person I can always turn to and she will always be there for me. My understanding with my best friend is the reason we lasted this long.
We all have a best friend even though we are not aware of it at this moment but when you look back after a few years you will know that you have got a friend for life too!