Well, there is no about of words that can express the love of a mother towards her children. As soon as we come into the world, she is the first person with whom we are most safe. In this article, we are writing an essay on mother, which you can use for your school's assignments, essay, or to give the speech on my mother. You can also find words in our essay to write a card for your mother. Take a look at our essay, which might be useful for you.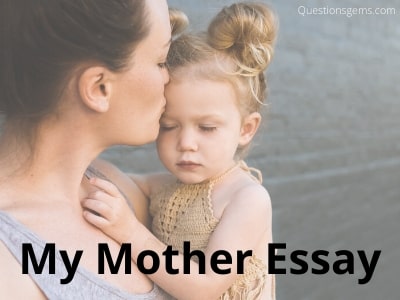 Also check- Essay on my father / Jawaharlal nehru essay
Essay On My mother
Someone has said there is no greater love than a mother's love and that's the most true words I have ever heard. The moment we step in the world, she become our superhero and savior. A mother is one, who will love us forever no matter what the conditions are. Because her love for us is unconditional and it can never be enough for us to pay her back with our efforts.
She rises before the sun and does all the stuff that we require throughout the day and she is the one who sleeps the last after everyone has slept peacefully in the house. She is the one who eats at last after feeding everyone in the family. The thing is she works tirelessly 24*7 without any holidays or break and do you know what a mother gets in return? Nothing! And more importantly, she spent even want anything in return, because for her, the biggest happiness would be to see her child happy and healthy.
To celebrate the love of a mother we get a mother's day every year, which falls on the second Sunday of May. So that's the day we get to celebrate her efforts for us. So make sure you put even the 1% of her effort for this day.
It would be wrong to not describe My Mother in the essay. Here is how my mother is.
My mother is the busiest person in the house, we never see her relaxing or having fun, she only works. She must have superpowers to handle every person in the family and taking care of their needs, whether it's preparing lunch for us or taking care of grandma's medicines. And she does all that as well as handle her office work and that too without complaining.
She is indeed the superwomen and strongest women in my life. And no matter, I can't imagine what would be my life without her.
Also check – Gender Equality And Women Empowerment Essay
I am sure that's the story of every mother in the country. And that's why we call our mother the strongest creature on the planet.
Our mother is our first teacher, our first friend and the first person we rely on, from the day we were born. Although we can never pay her back for her love and support in our life but we can promise ourselves to make her world better and when she needs anything we will be there for her.