We are really fortunate that we get to go the school and learn the basic fundamentals of life. Because there are kids who are deprived of this opportunity. In this article we are gonna write the essay on My School. The essay can be helpful for your school assignments, essay writing, speeches, etc. Go on and read the essay and we hope you find it helpful.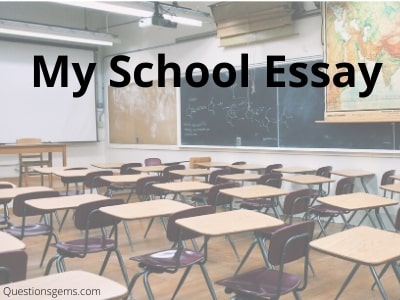 Also check- Education system in india essay / Teachers day essay
Essay On My School
Do you know that around 1 billion children can't go to the school? And around 57 million children in our country are deprived of this right due to various reasons!
Our school is the most important thing in our life and it's the first place where we learn so many things, including writing and reading. In our country schooling education lasts from 1st to 12th classes (generally).
Our school also thought us the discipline, respecting the teachers, teamwork and of course our inner passion and strengths. If you go to the school, you should consider yourself as lucky and never disrespect it or take it for granted.
Here are some things about My School that I would like to share with you-
My school is in the central city area and I have to take a bus to reach there. It starts at 7 in the morning and last till 1 pm in the afternoon. I study in a senior secondary school that means it's up to the class 12th. The first thing we do in the school is prayer, as we go to the prayer assembly, which huge and big enough for 500 students in our school. There we sing the prayer, followed by the national anthem and share the good thoughts.
Then we all for back to our classes and start taking the classes one by one. Our first period is for subject Hindi, which is taken by our class teacher, after she takes attendance. After the 4 such periods, we finally get the lunch break for 20-30 minutes. Our school also got a little canteen where we can buy some snacks of we like. After the lunch break, we get back to the schedule.
Apart from this, our school also got a big playground, where we can play our favorite games such as badminton, volleyball, cricket and many more.
In our school, we celebrate many festivals as well as the national festivals, independence day and republic day. Where many cultural programs are held and we get to showcase our talent. Apart from this, our school also celebrates the teachers day and students day with zeal. Everyone takes part in these functions and take some responsibilities to make these events special.
But all the students wait for the annual day celebration where many games and competitions are held. Prize distribution to the students who were good in academics as well as sports is done.
Conclusion:
We learn so much from our school and experience so many great stuff. We find our first friend in our school and we also find what we wanna do in our lives through the school.