Did you know someone who just graduated? Or are you the one who is graduating next? In either of the cases, you must be thinking a lot about graduation. And you might wanna congratulate your friend who is just graduating or you might wanna know what it feels like to be graduated or start living life as you might have imagined after graduation. In simpler words, you might have a lot of questions to ask graduate students. Or at least you want to ask them lots of questions that can help you as well.
Overall you would need a bunch of questions to get the answers. But finding the right kind of questions to ask graduate students is not an easy task. And that's why you must be wondering what questions you should ask or which questions would be absolutely important to ask to graduate students.
Well, we are here to help you out and get you the best questions to ask graduate students. Here we have a collection of a bunch of questions that you can easily ask the students you have been graduated from or is about to graduate. So go ahead and take a look at the list of questions to ask graduate students.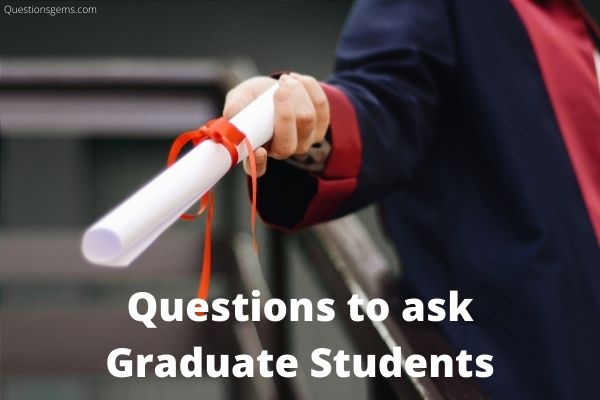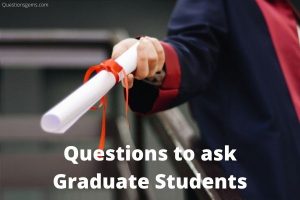 Related:
Education Quotes
/
Icebreaker Questions For Students
Questions to ask graduate students
1. How intense are classes/exams? (hrs/week?)
2. Do you feel there is a collaborative environment with other students?
3. What do you think about [professor you're interested in]?
4. Is your lab a good one to join?
5. Is the culture here more cooperative or competitive?
6. Why did you choose this program?
7. Do most people join their first choice lab? What does the program do if someone doesn't find a lab to join by the deadline?
8. Is the program supportive of people switching labs?
9. Does the program do anything in the beginning to help new students to transition into grad school?
10. How much do grad students TA?
11. What do grad students do in their free time?
12. Do most students have a good work/life balance?
13. What kind of social events do people in the program tend to do?
14. Do grad students in this program hang out with each other?
15. Does the program do anything in the beginning to help grad students to bond with each other?
16. What kind of resources does the program offer (e.g. for mental health, career development, learning new skills, etc.)?
17. Does the program check in with grad students even after the first few years?
18. What age range are most grad students?
19. Are most grad students in relationships or single?
20. Do any grad students you know have kids?
21. Do social events tend to be clique-based or is everyone welcome?
22. Are there a lot of international students in the program? If so, are they welcomed by native students?
23. Is there any sort of training for people who want to be better TAs or to go into teaching?
24. Is the program supportive of "alternative careers"?
25. What do you think of the classes? (Were they valuable, did you learn a lot, did they take a lot of effort, etc?)
26. Are there any nightmare professors to avoid?
27. Do you know people who have left the graduate program? Is there support for that?
28. Is there a "central" study area? Or do students mostly work in their offices?
29. How many classes are typical per semester/term? How much time is left for research? Am I expected to do research my first year?
30. What kind of electives do students take?
Related: Funny Interview Questions / Restorative Circle Questions
Conclusion –
So these are the questions that you should be asking to graduate students. These questions are pretty good and won't make you look bad if you ask them. And at the same time, graduate students won't feel overwhelmed if you ask these questions.
We hope these questions are everything you have been asking for and you should be happy with the kind of questions that we have provided to you. So thank you for being here and visiting our page and we hope you found everything you have been looking for.