Thinking of booking a cruise for your next adventure on the high seas? Before setting sail, it's crucial to ask the right questions to ensure a smooth and memorable journey. Whether you're a seasoned cruiser or a first-timer, these inquiries can make all the difference in selecting the perfect cruise for you. From onboard amenities to itinerary specifics, let's explore the ten essential questions to ask when booking a cruise.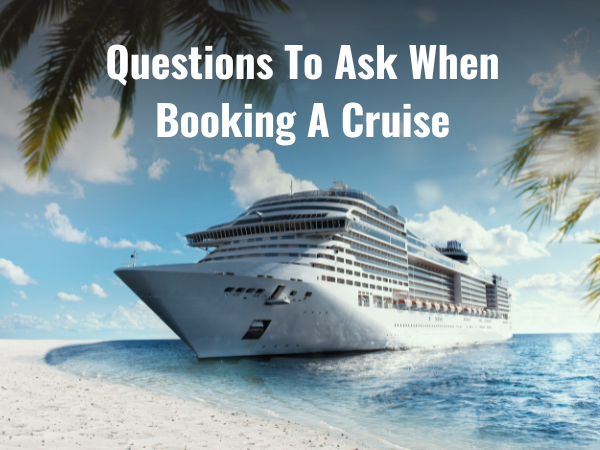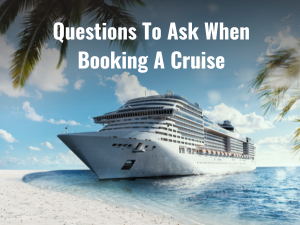 Also check – Questions To Ask Wedding DJ / Ways To Make Money From Your Phone
Questions to ask when booking a cruise
1. **What are the Itinerary Highlights?**
Knowing the cruise itinerary's highlights helps you understand the destinations and activities you'll experience during the trip. Inquire about the ports of call, shore excursions, and any unique experiences that may be offered during the voyage.
2. **What Onboard Amenities are Included?**
Ask about the cruise ship's amenities and facilities to ensure they match your preferences and interests. From dining options and entertainment to spa services and fitness centers, understanding what's included will help you plan your onboard experience.
3. **What Cabin Options are Available?**
Learn about the different cabin types available on the ship, such as interior, oceanview, balcony, and suites. Inquire about cabin sizes, views, and locations to find the one that suits your budget and comfort requirements.
4. **What is the Cruise Pricing and Inclusions?**
Be clear about the total cost of the cruise, including any additional fees, gratuities, or taxes. Also, inquire about the inclusions, such as meals, beverages, Wi-Fi, and onboard activities, to avoid unexpected expenses during the journey.
5. **What are the Cancellation and Refund Policies?**
Life can be unpredictable, and it's essential to be aware of the cruise line's cancellation and refund policies. Inquire about penalties, deadlines, and the possibility of travel insurance to protect your investment in case of unforeseen circumstances.
6. **What Dining Options are Available?**
Inquire about the dining choices on the cruise ship, including specialty restaurants, casual eateries, and room service options. Knowing the variety and quality of dining options will allow you to savor delicious meals that cater to your tastes and dietary preferences.
7. **What Onboard Entertainment and Activities are Offered?**
Ask about the entertainment lineup, such as live shows, music performances, comedy acts, and themed parties. Additionally, find out about onboard activities like fitness classes, workshops, sports facilities, and kid-friendly programs to ensure there's never a dull moment during your cruise.
8. **What is the Cruise Duration and Departure/Arrival Ports?**
Understanding the cruise's duration and the ports of departure and arrival is crucial for planning your travel logistics. Confirm the embarkation and disembarkation points to arrange flights or transportation accordingly.
9. **What Safety Measures are in Place?**
Inquire about the cruise line's safety protocols and health measures to ensure a secure and worry-free journey. Get information about medical facilities, emergency procedures, and any health guidelines that may be in effect.
10. **Are There Any Special Offers or Promotions?**
Check if there are any current promotions, discounts, or special offers available when booking the cruise. This could help you save money or receive additional perks like onboard credits or complimentary amenities.
11. **What is the Dress Code on Board?**
Understanding the dress code for various occasions and dining venues will help you pack appropriately and feel comfortable during your cruise. Some cruises may have formal nights, while others adopt a more casual approach.
12. **What Documentation is Required for Travel?**
Inquire about the necessary travel documents, such as passports, visas, and health certificates, depending on the cruise destinations. Ensure your paperwork is up-to-date and in order to avoid any last-minute travel complications.
13. **How Flexible are Dining Times and Seating Arrangements?**
If you prefer dining at specific times or with particular companions, ask about the flexibility of dining arrangements. Some cruises offer traditional assigned seating, while others provide open seating options.
14. **What are the Age-Specific Activities for Children and Teens?**
If you're traveling with kids or teenagers, find out about age-specific activities, play areas, and clubs available on the cruise ship. Knowing that your young ones will have fun and be engaged will contribute to a stress-free family vacation.
15. **Is there Wi-Fi and Internet Access on Board?**
Inquire about the availability of Wi-Fi and internet access during the cruise. This is especially important if you need to stay connected for work, social media, or communication with loved ones back home.
16. **What is the Onboard Currency and Payment Options?**
Learn about the onboard currency and payment options available on the cruise ship. This will help you plan how much cash to bring and understand the payment methods accepted for onboard purchases.
17. **Are there Special Accommodations for Accessibility Needs?**
If you or someone in your group has mobility challenges or other accessibility needs, ask about the special accommodations available on the ship to ensure a comfortable and enjoyable experience for all.
18. **What Shore Excursions are Recommended?**
Seek recommendations for shore excursions at each port of call. The cruise line may offer guided tours or local experiences that allow you to make the most of your time at each destination.
19. **What is the Cruise Line's Environmental Responsibility?**
If you're environmentally conscious, inquire about the cruise line's sustainability initiatives and efforts to minimize the environmental impact of their operations.
20. **What Past Passenger Benefits or Loyalty Programs are Available?**
Check if the cruise line offers any loyalty programs or benefits for past passengers. These programs may include discounts, exclusive events, or priority booking privileges for future cruises.
21. **What is the Cruise Line's Health and Safety Record?**
Research the cruise line's safety history and check for any past incidents or issues. It's essential to have confidence in the cruise line's commitment to passenger well-being and safety.
22. **Is Travel Insurance Recommended or Provided?**
Inquire whether the cruise line recommends or provides travel insurance options. Travel insurance can offer protection against unforeseen events and give you peace of mind during your trip.
23. **Are there Any Age or Medical Restrictions?**
Ask about any age or medical restrictions that may apply to certain activities or shore excursions. Understanding these limitations will help you plan your activities accordingly.
24. **What is the Cruise Line's Cancellation Policy Due to Weather Conditions?**
Find out about the cruise line's cancellation policy in case of adverse weather conditions or itinerary changes. Understanding the options available will help you prepare for unexpected circumstances.
25. **Are Gratuities Included or Expected?**
Inquire about the cruise line's gratuity policy to understand whether gratuities are included in the fare or if they are expected to be added to your onboard expenses.
26. **What is the Size of the Cruise Ship?**
Learn about the size and capacity of the cruise ship, as larger ships may offer more amenities and entertainment options, while smaller ships may provide a more intimate and personalized experience.
27. **What Languages are Spoken on Board?**
Check the languages spoken on the cruise ship to ensure effective communication with the crew and fellow passengers.
28. **Is there a Medical Center on Board?**
Find out if the cruise ship has a medical center and the available medical services. It's crucial to know what medical assistance is available in case of emergencies or health concerns.
29. **What is the Policy on Bringing Alcoholic Beverages on Board?**
Inquire about the cruise line's policy regarding bringing alcoholic beverages on board, as some cruises may have restrictions or corkage fees for personal drinks.
30. **What are the Embarkation and Disembarkation Procedures?**
Familiarize yourself with the embarkation and disembarkation procedures to ensure a smooth transition on and off the ship.
In conclusion, asking the right questions when booking a cruise is the key to unlocking an extraordinary experience. By delving into the details of the ship, destinations, activities, and policies, you can make informed decisions that align with your preferences and expectations. Take the time to gather all the necessary information from the cruise line or your travel agent, so you can embark on a voyage filled with joy, relaxation, and unforgettable moments. Bon voyage!