Looking for Redneck sayings, we have down that for you. Check out these popular redneck sayings and slangs that you could use once in a while!
[toc]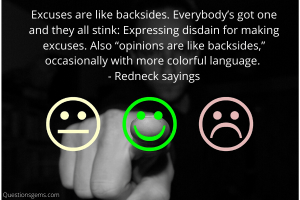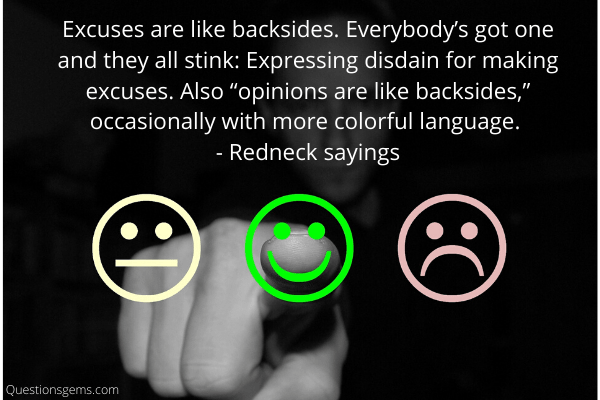 Redneck Sayings
About as useful as a trap door on a canoe: Useless, unhelpful.
As happy as a tick on a fat dog: Satisfied, comfy.
As nervous as a long-tail cat in a room full of rocking chairs: Worried, twitchy.
Busier than a one-legged man at a butt kickin' contest: Overworked, worn out. Also, "About as much use as…" with the meaning "useless."
Excuses are like backsides. Everybody's got one and they all stink: Expressing disdain for making excuses. Also "opinions are like backsides," occasionally with more colorful language.
Happier than a tornado in a trailer park: Cheery and comfortable. Redneck humor can get dark.
Tornado Alley, right down the middle of the United States from Texas to the Dakotas, is rich in rednecks, trailer parks and, alas, tornadoes too.
If everything is coming your way, you're in the wrong lane: A classic redneck joke: silly with a dash of wisdom. Rednecks know when things look too good to be true, they generally are.
If his brains were dynamite, he couldn't blow his nose: Clueless, doesn't know anything.
He's so rich, he buys a new boat every time one gets wet: As with many cultures made up mostly of working folks, there is a rich vein of redneck humor making fun of the wealthy.
Mad as a mule chewing on bumblebees: Thoroughly ticked off. Angry.
One fry short of a Happy Meal: Clueless, crazy or both of the above
Redneck Sayings With Their Meaning
What a southerner says: "I ain't seen him since he was knee-high to a grasshopper!"

What they really mean: "I haven't seen him since he was very young!"
What a southerner says: "Don't go gettin' your knickers in a knot."

What they really mean: "There's no need to get mad."
What a southerner says: "I gotta hit the bushes."

What they really mean: "I need to use the restroom."
What a southerner says: "If his brains were leather, he wouldn't have enough to saddle a June bug."

What they really mean: "He's not very smart."
What a southerner says: "That sign is all caddywhompus."

What they really mean: "That sign is all sideways."
What a southerner says: "I'm happier than a tornado in a trailer park!"

What they really mean: "I'm so happy!"
What a southerner says: "Well, bless your heart …"

What they really mean: "You're really not very bright …"
What a southerner says: "That baby is cute as a sack full of puppies."

What they really mean: "That baby is adorable."
What a southerner says: "After she lost the game, she was feeling lower than a doodle bug."

What they really mean: "After she lost the game, she was really depressed."
What a southerner says: "He's nuttier than a squirrel turd!"

What they really mean: "He's crazy!"
What a southerner says: "You ain't got the sense God gave an ant."

What they really mean: "You don't have any common sense."
What a southerner says: "I'm more nervous than a long-tailed cat in a room full of rocking chairs."

What they really mean: "I'm extremely nervous."
What a southerner says: "You ain't got no home trainin'."

What they really mean: "You don't have any manners."
What a southerner says: "It's about two miles, as a crow flies."

What they really mean: "It's about two miles across that field, but if you take the roads, it's a bit farther."
What a southerner says: "That's the pot calling a kettle black."

What they really mean: "That person's just being hypocritical."
What a southerner says: "She's so pretty she could make a hound dog smile."

What they really mean: "She's really beautiful."
What a southerner says: "Don't put your cart before your horse."

What they really mean: "Don't make plans before you know this is going to happen."
What a southerner says: "I'm as busy as a one-legged cat in a sandbox!"

What they really mean: "I'm so busy!"
What a southerner says: "I was as happy as a dead pig in the sunshine."

What they really mean: "I was elated."
What a southerner says: "That man is lower than a snake's belly in a wagon rut."

What they really mean: "That man has no morals."
What a southerner says: "I haven't seen her in a coon's age!"

What they really mean: "I haven't seen her in so long!"
What a southerner says: "She's stuck up higher than a light pole."

What they really mean: "She's extremely conceited."
What a southerner says: "Boy, it's hotter than blue blazes out here."

What they really mean: "Boy, it's really hot out here."
What a southerner says: "Who dressed her? We can see clear to the promised land!"

What they really mean: "She's very scantily clad."
What a southerner says: "You took off runnin' faster than a hot knife through butter."

What they really mean: "You took off running really fast."
Conclusion:

These are the best Redneck sayings. I hope you guys like our collection of redneck sayings with their meaning. If you have any question or suggestion then just comment below or contact us.

Thanks