Sardar Vallabh Bhai Patel is also known as the iron man of India due to his magnificent personality. He has done an immersive work in making the India we live in today! His contribution to the freedom struggle is also remembered with honor and pride. There is so much to learn from his personality and his amazing thoughts on unity and integrity.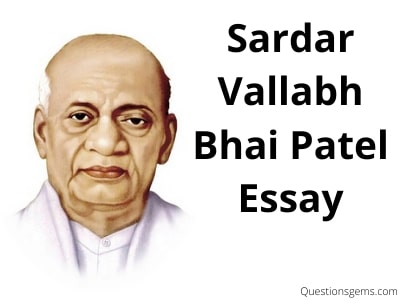 Also check- Social media essay / Essay on air pollution
Early Life of Sardar VallabhBhai Patel
Sardar VallabhBhai Patel was born in 1875, at Nadiad Gujrat. His father, Jhaver Bhai Patel was a farmer. He did his early education at Karmsad. After a while, he went to England for his higher education. Then he became a barrister. He was so good at what he did, even called the best barrister of Ahmedabad, Gujarat.
While working under the Britishers his differences with them grew more and more. And that's when his interest in politics started. After a while, he decided to quit the job and put his all efforts in the national freedom struggle. From that point, he never looked back and took every chance to serve his country and help the country to achieve freedom.
His contribution to the freedom Struggle
The first time he took part in a movement was the Kheda Satyagraha. During this time, he showed some excellent leadership skills and organized the movement very finely. Soon he was called as Sardar by the local people due to his contribution to the movements and making some excellent campaigns for the people. He also played a major role in the famous Salt Satyagraha. He was loved by people and appreciated for his leadership. He also became a senior member of the Indian National Congress. His relations with Gandhi was also good.
Integration of Princely States of India
He is best known for his efforts in making India a united nation. During the time of independence, there were a total of 550 princely states in India. They vary from each other in their shape and cultures. And most of them were opposed to the idea of being integrated with the Indian union. And that's when, Sardar Vallabh Bhai Patel was assigned the task to bring together all the princely states. And due to his strong personality, good approach and excellent communication and negotiation skills, he managed to bring together the princely states and our India become united!
Due to this he known as the Unifier of India. After the independence, he become the first home minister of India.
Due to his efforts in making India united, he was also known as the father of unity. Although he couldn't manage to unite the state of Jammu and Kashmir. But when article 370 scrapped, our PM said, today the dream of Sardar Vallabh Bhai Patel's India being united has completed.
To give him tribute for his revolutionary work, we celebrate the National Unity Day each year on October 31st which is the birth anniversary of Sardar Vallabh Bhai Patel. And recently on his birth anniversary, his statue is also unveiled which is known as the statue of unity.