When it comes to choosing a career for yourself we often struggle to find a good direction. Although people are making brave choices and starting their own businesses rather than going for a 9 to 5 job.
Starting your own business sure sounds appealing but many people find themselves with no good idea to start one on their own. In this article, we are gonna discuss about some amazing small business ideas which you can go with. These businesses can start with a low investment and you can surely make a good profit for yourself.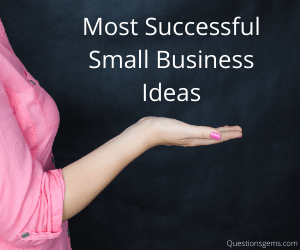 Also check-
business ideas in uk
/
business ideas in pakistan
1. Freelance developer
With growing digitization, the internet has actually given us many opportunities in terms of starting a business for ourselves. If you are struggling with ideas then becoming a freelance developer could be your shot. You build websites for others and offer them technical support. And trust many people are doing this and making themself a decent amount of money.
It may sound difficult at first but once you have got a grip of this you can actually make a great amount of money at the end of the month. I'm this something you can do from home with a low investment. You can also market yourself as a website designer and get clients online.
2. Handmade candles
If you are into arts and crafts then making handmade candles could be your best option. Candles are always in demand and nowadays people are even giving candles as gifts. All you need is a little knowledge about making candles and experiments with some different designs of candles.
You can also make scented candles (which are high in demand). Once you have got a good understanding and experience with making candles then you can also try to sell them on big e-commerce websites like Amazon. Or you can just tie up with general stores and sell them your candles. It's definitely a nice idea to start a small business and you can even start it from your home.
3. Handmade chocolate
When we attach "handmade" with anything it becomes ten times more special, isn't it? And the same law applies to chocolates as well. We all love chocolate and people love to give chocolate as a gift. But when it comes to special occasions they would actually prefer handmade chocolate.
So if you have got some knowledge with chocolate making then you can always try this one. There are many people who are selling handmade chocolate and making themselves a good profit. This one also needs a low investment. And you can sell them yourself or tie-up with any chocolate shop.
4. E-commerce store owner
As we have mentioned earlier with the growing reach of the internet more and more people are searching for good business opportunities out of it. And being an E-Commerce Store Owner will definitely pay you hefty checks.
If you make something or you like to go collect or anything or you are good at selling things then this is the right option for you. It may need some technical knowledge. You can also sell some authentic art and craft, cultural items and even pottery which is high in demand. With the right plan, it is something that has the potential to get big.
5. Photography
Photography is surely something people are highly interested in! And if you have got a passion for it then you should always get a chance to turn it as your career. Start your own photography business and start clicking pictures.
You can even take the help of social media where you can post your work and sell yourself and build a strong network. If you have got skills then it's something you can make your thing and make good money out of it.
Also check – Manufacturing Business Ideas / Business Ideas For Women Entrepreneurs
6. Travel planner
Planning a whole trip isn't everyone's cup of tea so if you have got some organization skills then becoming a travel planner is surely a good idea. It's okay if you hearing this for the first time but this business is surely growing day by day.
You also have to have good knowledge of hotel locations and time management so that you can plan a perfect trip for your clients. Apart from this, you should know how to manage money and make their trip cheaper.
7. Catering
Catering is also a great small business idea to start with. Because let's face it, we are never gonna stop partying and food is something everyone struggles with. If you know how to cook different kinds of cuisine or have a kinda money to hire a chef then you can totally go for this one.
Although you will need to invest in equipment (and staff if you need to). But once you have started getting clients, it will pay you well. You can also market your services on social media platforms or even offer cheap services at first until you get popular.
8. Becoming a tutor
If you can teach anything whether it's maths or guitar then becoming a tutor is definitely something which will pay you off. You won't need an investment and you will surely earn good money once you have found students who are eager to learn.
The same laws apply to becoming a yoga teacher or a personal teacher. Although you need to have good knowledge about these two. So if you have got good knowledge then starting with it will definitely be a good idea.
Conclusion
These are some of the great small business ideas in our opinion. In the end, it's all up to you, what you wanna consider as your business path. If you think you can start one then go for it with your full dedication and hard work and we are sure you will be successful.
You now will have an opportunity to become your own boss and provide employment and contribute to the growing economy. We hope you have found the article helpful so thank you for visiting our page.