Give me blood and I will give you freedom!
~Subhash Chandra Bose
This slogan is one of the most popular slogans of its time and even till now. These words by Subhash Chandra Bose made a big impact on youth's life back then and filled them with the emotion of patriotism towards their own country! But who was Subhash Chandra Bose? What impact does he made on our country's freedom struggle? There are so many questions which we are gonna answer. And know a little bit more about the legendary leader Subhash Chandra Bose.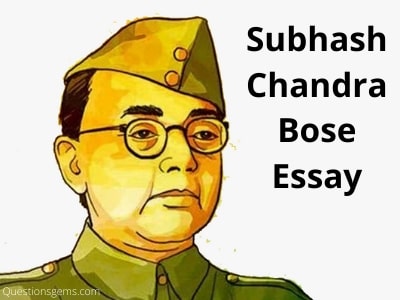 Essay On Subhash Chandra Bose
Early Life:-

Subhash Chandra Bose was born on 23rd January 1897 at Cuttack, Orissa. His father Janaki Nath Bose was a well-known lawyer and his mother, Prabhavati Devi was a religious lady. He was a brilliant student and did his graduation from presidency college, Kolkata. In 1919 he went to England for his higher education and even selected in civil services examination. But returned without completing his training to participate in the national freedom movement. After that, he never stopped and continue contributing to the freedom struggle in his own way. His contribution to the freedom of the country is still remembered.
His contributions to the freedom struggle:

Subhash Chandra Bose managed to make its mark upon the very great leaders of that time and soon elected as the president of Indian national congress. Although his thought on non-violence movements we're different than of the Gandhi and it was the reason he parted ways from Indian National Congress. Soon he started his own party and his own movements.
He was so furious the way Britishers used to treat Indians and then he decided to take the late of violence to fetch the freedom from Britishers. It was the time when he made the national armed force, Azad Hind Fauj. He even went to Germany and Japan to make the alliance with them and expand his armed forces.
Many Indian prisoners were part of this armed force and they fought courageously against the British rule. He used to motivate his fighter with courageous speeches and gave the slogan like, Chalo Delhi and Jai Hind. And who can forget the famous Tum mujhe khoon do main tumhein azadi dunga!
His decision to take women in the armed forces was revolutionary and also opposed by many leaders at that time. But he surely belied in the power of women!
His leadership and ability to strategize were so great that he was called as Netaji by many Indians.
Demise of Netaji Subhash Chandra Bose:

Netaji used to travel a lot for seeking alliances for his Indian National Army and also seeing how some of the great armies work. But during his flight journey to Japan, the plane crashed and he couldn't make it. It was shocking news for the whole nation and especially for the fighters of the Indian National Army! The accident happened in 1945, only 2 years before the freedom of India. It would have been surely nice to see him in free India but even after he died, people still remember him for his patriotism and as a freedom fighter.