The fact that we need a whole campaign to make aware people about the sanitization defines the seriousness of this issue in our country. In this regard we are gonna write an essay on Swachh Bharat Abhiyan!
Ek Kadam Swachhta Ki Or… Swachh Bharat Abhiyan!
With this phrase, the Swachh Bharat Abhiyan was launched.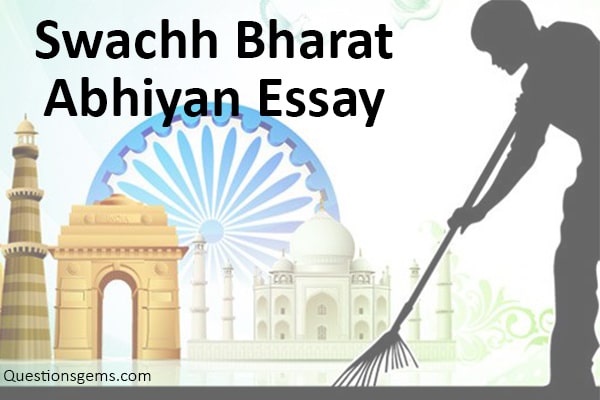 Also check- Ayushman bharat essay / Health is wealth essay
Idea behind Swachh Bharat Abhiyan
The campaign was started with the ideas and philosophy of Mahatma Gandhi. He once said, sanitization is more important than independence. And this thought has become a Gandhian philosophy! He always made the situation an integral part of his life and also made people aware of the importance of cleanliness. So following the footsteps of Gandhi, PM Modi laughed the campaign in the hope to make people understand the importance of sanitization.
Launch of Swachh Bharat Abhiyan!
On October 2nd 2014, Mahatma Gandhi's 145th birth anniversary, PM Modi announced the 'Swachh Bharat Abhiyan'. The campaign aimed to make India clean by October 2nd 2019, 150th anniversary of Gandhi! It is by far one of the most successful campaigns.
PM Modi nominated 12 celebrities in India to motivate people to connect with this campaign and spread awareness about it. Priyanka Chopra, Sachin Tendulkar, Amitabh Bachchan were some of the popular nominations and they have managed to motivate people and spread awareness about Swachh Bharat Abhiyan through their popularity.
Steps taken under Swachh Bharat Abhiyan!
As you would know open defecation and contamination of water is always has been a problem for India and many initiatives have been taken from time to time to tackle this problem. However, this one was the most successful of them.
You would be surprised to know that around 500 million people in India practice open defecation which is the highest number for any country and that's why this initiative was the need of the hour. To control this problem, the government of India has constructed 11 million public toilets. They have also constructed 90 million toilets in rural areas. For this $27 billion budget was assigned.
Government has also urged people to volunteer and come clean the public places like beaches. And this also happened. Many celebrities came forward and cleaned the beach in Mumbai. Many people seen cleaning their towns together.
This mission has contributed to the sustainable development goal 6 established by the United Nations!
The government of India has also appointed CPWD with the responsibility to dispose of waste from government offices and make them clean. Ministry of railway also planned to improve their cleaning facility by introducing many innovative steps like cleaning on demand, clean bedrolls, bio-toilets and dustbins for every coach.
A Swachh Bharat mission Run was also held where 1,500 people took participation. Which made people realize the importance of cleanliness.
Performance monitoring was also done to increase the participation of States, so that they would be motivated to do better. For a better understanding of the position of swachh Bharat Abhiyan, surveys are also held from time to time which gives us some number. According to a survey, Indore was the most clean city in India.
The Swachh Bharat Abhiyan has made an impact on the country for good. In urban areas, auto teepees were assigned for the regular collection of garbage from house to house. Access to the toilets also increased where 99% of rural areas have access to the toilets.
If you see around, some change is seen since the launch of this campaign, there are more dustbins and toilets are seen. Although India still has a long run to achieve complete sanitization but so far results of this campaign was good. And lastly, people should be aware and help in making a clean India!