Teachers are the most important person in our life, they thought us the valuable lesson for life. And we are not just talking about the academic lessons, a good teacher will motivate us to do better and to achieve better. Without a teacher, our world would never grow. Even the greatest personalities like some of the best scientists, doctors, engineers, and even artists are who they are because they had that one teacher in their life who believed in them.
And to celebrate the contribution of teachers in our society we celebrate the teachers day on 5th September every year.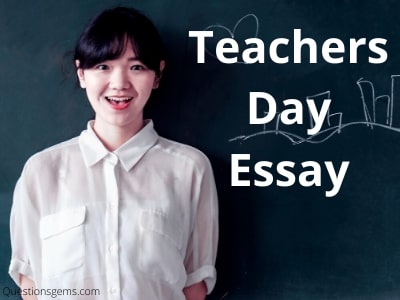 Also check- Essay on my school / Ayushman bharat essay
Why do we celebrate the teachers day?
We celebrate the teachers day on the birth anniversary of Dr. S Radhakrishnan's birthday, who was a great teacher as well as our former president. The celebration started, when the students of Dr. S Radhakrishnan wanted to celebrate his birthday so they asked his permission. But he said instead of celebrating my birthday, you should celebrate this day as "teachers day". And since then we started to celebrate the 5th September as teachers day in India.
About Dr. Sarvepalli Radhakrishnan:
He was born on 5th September 1888, in Tamil Nadu. His father's name was Sarvepalli Veeraswami and Sarvepalli Sita was his mother. He did his early education from K.V High School, Thiruttani. He completed his graduation as well as masters from the Madras Christian College. And was became a professor in the very same college. After that his career in the teaching profession only grew, he even became the chancellor at Andhra University.
He was a philosopher and a great teacher. But his carrier didn't stopped at it. He became the first vice president and the 2nd president of the country. His views on the education system in the country and his ideas to progress the country with education is what made him so great. He once said, " a student who can't respect their teacher can never progress in his life". This statement showed how much he respected the teachers in the society.
How we celebrate the teachers day?
Teachers day is an important event in the school where students, as well as teachers, participate in the event. It's the job of students to make the day extra special for their teachers. The event consists of many games and different ways to make it a successful event.
First of all, students decorate their classrooms or any other place for their teachers. They organize a whole event. They invent games where teachers can participate and have fun. Students also give cards, flowers, and gifts to their favorite teacher. Some speeches also given by students on this auspicious day.
Also check – Gender Equality And Women Empowerment Essay
Conclusion:
A teacher can change your life, he is the only one who can make your active your dreams and become a better person in your life so we all should celebrate the teachers day will pride and zeal. The teachers make our whole life worth living so it's important that we put our efforts into one day of theirs and make it special. And not to forget always respect your teacher.