The right question would be what you can't do in Las Vegas!! The city is popular for its strip clubs and casinos but trusts me there is much more to do than that. Although the major reason for coming to Las Vegas is the strip clubs and casinos, we are sure that you want to do more than that, after all, there is a little list of things that you can't do in the first place.
From getting married to experiencing the best food, there is much more than you can imagine doing in Las Vegas. This place promise to give you experience that you will never forget in your lifetime (even if it is not the best one). So if you are going to Las Vegas, you should know what you can do there and which places you should visit in the city!
So here we have brought you a full list of things that you can do in Las Vegas. Take a look and prepare yourself for the fun that you are gonna have in Vegas. And we would like to recommend you to give a visit to all the places after all it's Vegas and everything is worth seeing.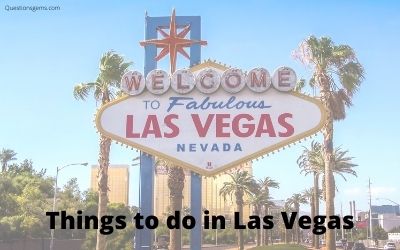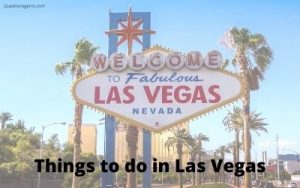 Things to do in Las Vegas
1. The Smith Center for the Performing Arts

The first and one of the most popular places in Las Vegas is The Smith Center where you can enjoy the various kinds of performing arts. There are a variety of genres that you would certainly enjoy. From orchestra to Ballet, the place has something for everyone!

The largest venue has over 2050 seats with terrific acoustic. There is also a jazz room for 200 seats. If you have a thing for performing arts then you should definitely go there it's gonna be a different experience.
2. The Fountains of Bellagio

You must have seen this fountain in a number of Hollywood movies but it's also a great place to visit. The place will definitely do a good job when it comes to impressing in person.

The place is located around The Strip. The fountains looks beautiful with good lights and music and that's why it's a place that you should definitely visit. It's free of cost so that gives you another reason to visit the place.
3. The Venetian Las Vegas

You might have heard about this place already as it's one of the best tourist destinations in the city but still, we have decided to mention it on our list. The Venetian is a popular themed resort that represents the Las Vagas with its colors and the kind of entertainment it has to offer.

The larger than life decor of Venetian is enough to keep you amused but you would certainly love the entertainment and the activities that you can do here. The colorful place and costumed characters are also something that you would enjoy here. If you wanna have a taste of luxurious life then you should definitely pay a visit here.
4. Sundance Helicopters Las Vegas City Lights Tour

The Helicopter ride in Las Vegas is definitely gonna give you the awesome view that you will remember for a lifetime. Sure it's all fun to be around the city and see stuff, but the beauty of Las Vegas is something else from a  view.

There are a number of flights available for tourists for the Vegas rides but the evening time should be the best one to explore the city from a never seen before view. The pilot will also tell you about the city as they are giving you the helicopter ride. If you have the kinda time and money for the helicopter ride then you should definitely go for it.
5. Mob Museum

Mob Museum is another popular destination in Vegas that you shouldn't miss out on. The downtown museum showcases the history of organized crimes in the United States. Not only the crimes but the place also features the hearings and trials of some of the most famous criminal cases in the history of America.

The place is has a very authentic feel and you almost see the timeline of crimes and how they have been ended up. There are a collection of weapons, films from the crime hearings and so much more to see. This rich heritage of the city is all about the fight against crime and combating them. Overall you won't be disappointed so don't miss this one either.
6. Dream Racing

How many times have you watched Fast and the Furious or a Car Race and dreamed of racing a car yourself? I bet many times, and this dream of you can come true with Dream Racing, after all, Vegas is all about doing things that you have imagined in your wildest dreams anyway.

Even if you are not a fan of car racing, this is a place that you should visit and see how much fun it is to race. Not only this but you would also be available for choosing the car of your dreams! So if you have ever fantasied racing a Lambo then you are in luck cause they do provide you the car of your dreams.

Overall this place is no less than a heaven for the car lovers. Of course, you would be assisted by expert drivers!
7. Wynn Golf Club

If you're looking for a place where you can play golf and relax for a bit then the best place to do that is Wynn Golf Club! It's a landmark in Vegas and pretty popular(like everything else on the list). The Golf Club has been redesigned by Tom Fazio and his son Logan.

The best part about the Golf Club is it's 35 foot high 100-foot wide waterfall that gives a great view. The villas and the lush green view is something that you would enjoy.
8. High Roller

High Roller is perhaps the best place to visit! It's the highest Ferris Wheel in the world (higher than Landon Eye or Singapore Flyer). It's glass-domed and gives you a 360-degree view of the most dramatic landscapes. It rises takes a slow revolution 550 feet above The Strip.

There are also other activities that you can do in the Wheel such as Yoga or Wine or Chocolate tasting.
9. Fremont Street Experience

Fremont Street Is another place that you should miss when you visit Las Vegas. Its five-block section is covered with a Canopy of LED lights which illuminates the sky in a spectacle of different colors and designs as you walk below. Every night, there is light music and sound show that you can enjoy.

It's located a few kilometers from The Strip and you can easily fake a taxi to reach there. The Fremont East where you can wander around the local restaurants, go to trendy bars and explore cocktail spots as well. It's gonna be a different yet very rich experience in Las Vegas.
10. Lake Las Vegas

This waterside resort area is also a great place to visit in Las Vegas and yes there is so much to do as well. It is located 16 miles east of the Las Vegas Strip. This one is a major complex and quite expensive too, there are hotels, golf courses, waterfront restaurants and so much more.

It's a perfect place for paddleboard sessions and Kayaking, flyboarding, and rowing. You can also take a yacht cruise or dragon boat race. There would be music performances as well.

Overall from the fun activities to relaxing ones, you will find everything here. The place is definitely a great one to have a good time here.
11. Neon Museum

The next one on our list is the Neon Museum, the bright and colorful sign of the Neon Museum has been the best place to visit in the Las Vegas and thousands of tourists come to see this place each year. It's a refuge of the city's old school neon signs where visitors can walk amid the Sin City History.

The museum has a number of Neon signs and some of the city's history by purchasing, storing, or refurbishing that has faded or been replaced by the new ones. Every sign has a different historic value and a different story that you would be told by the guide. So if you are interested then book a tour to wander among the relics, hearing tales of eccentric billionaires, long gone landmarks which have contributed to making the Vegas well Vegas!
12. The Stratosphere Tower

The Stratosphere Tower is an unmistakable building that would be able to identify easily in the city. The tower rises up to 1,149 feet and this giant building hosts so many adventurous activities as well.

This one is a popular place (also the best place for the people who love to adventure). There are a variety of heart-pounding thrill rides including the SkyJump, Big Shot, X Scream, and Insanity. The place is definitely not for the people with a fear of height. It is also indoor and outdoor decks which goes you a great view of the city.
13. Spa At the Linq

Las Vegas is a place that you can explore non-stop for days and still there would be a lot that you can miss. But there is also a place where you can relax as well and one such place is Linq where you can get a therapeutic spa. People can get a therapeutic spa with a Himalayan salt cave.

The place is perfect for a me-time or for taking a couple's spa session. You can choose your favorite music and scents for the aromatherapy and just get lost for a while. This one is a magical experience and you can never get enough it. It's doesn't just about relaxing yourself but the Himalayan Salt therapy cave can naturally soothe your allergies and congestion.
14. Mandalay Bay

Mandalay Bay is our next favorite destination in Las Vegas that you can explore. It is located as the southeast end of the Strip near the Luxor Hotel. There are a number of things available to see and do and this place too has something for everyone.

The list starts from the rolling wave pool, lazy river, a beach playground, and not to forget the Shark Reef Aquarium which is a massive 1300000-gallon tank that holds a wide variety of sharks, fish, rays, reptiles, and other marine animals. There are 100 sharks from 15 different species. Collectively there are 2000 animals on display. Mandalay Bay Resort is also a relaxing place as well as the fun place to visit in Las Vegas.
15. The Bellagio Conservatory

After going to every luxurious resort and seeing big monuments in Vegas, you should also try this Bellagio Conservatory where you get to see some of the most amazing gardens with a seasonal sculpture of flowers.

This one is free to visit the location so you would definitely go there, I mean what's the harm right? The garden is open for 24 hours. Some people describe this place as a miniature Disneyland for Plant lovers as the place holds thousands of flowers, sculptures, landscapes, etc. For a free visit destination, it's should be on the your list.
Conclusion –

So these are the things that you must do in Vegas! I am sure you find some of the crazy and at the same time exciting. So don't wait anymore and be ready to have the best time in your life in Vegas.

We would like to remind you that given the recent pandemic there might be some restrictions and policies that you should follow before going to the city so please check all the policies for the different places and have a safe visit.