If you are going to visit New Orleans then you have to have a list of things that you want to do there. The place is anyway popular for Mardi Gras, but that's not New Orleans is all about. There are hundreds of things that you can do here.
The place is full of things that would interest the music and art fans. Every year there are many festivals held where you can enjoy and have a great time. Apart from this, there are many places to see and many things to do while you are there.
The thing is there are too many things to do and visit and that's why everyone would have to sort out their priorities and decided what to do and visit while they are in New Orleans.
Here we have prepared a shortlist of things to do in New Orleans so that you get a good idea of what to do and where to go as per your preferences. Let's start the list and introduce you to New Orleans in a nutshell.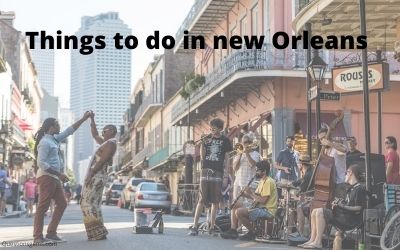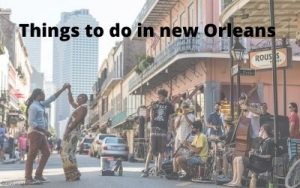 Things to do in New Orleans
1. French Quater

This place is known to be the best place to start your tour in New Orleans. French Quarter, also known as the Vieux Carré, is known as the heart and soul of New Orleans. The place has been there for 300 years and built on banks of the Mississippi River on higher ground.

The place has so much to offer and there are so many things to do, the Bourbon Street has many places to eat new food and drink. French Quater is listed as a heritage site and the names of the street are still written in French.

From the architectures to the shops and boutiques in the street is quite a view. Although the place is pretty expensive too if you decided to stay in the hotels in the neighborhood. The nightlife is also pretty amazing here and you would definitely love the night clubs, the noise of the city, and many more in the bourbon street as well.

It's located 1.7 miles from the center and you might wanna spend half a day there to fully explore things.
2. National WWII Museum

National WWII Museum is another must visit the location in New Orleans and you don't have to have a thing for history in order to enjoy the place fully. The museum is fascinating and the fact that there is a huge collection of artifacts that would definitely impress you. There are also some educational documentaries that feature all the aspects of war and how things must have been at the time is just fascinating.

There are boats, uniforms, weapons, and not to forget the theater where you get to see those documentaries and live the experience of war and the best part is these documentaries are narrated by Tom Hanks.

Although it might be a little expensive it's totally worth it. The Museum is present in the center of the city and you can easily get there. So do enjoy the place where you can live the war experience yourself.
3. New Orleans Jazz and Heritage Festivals

The Festivals in New Orleans are the best attractions for tourists and this one is definitely on the top. The Jazz and Heritage Festival of New Orleans takes place for about 9 days where you get to listen to the best music and eat the best food as well. The festival also features art and lure fans of art as well.

It takes place from the last weekend of April to the first weekend of May where 12 stages of music are featured. There is a variety of music genre is played and there is something for every music fan. The place is all for quirky costumes, hats, umbrellas, flags, and of course the world-class music, so there is hardly anything that you wanna miss out on!
4. Mardi Gras World

As we have mentioned earlier the New Orleans is known for the Mardi Gras Festival where you get to have the best time and see the best festival. But in case you have missed the festival, there is no need to feel bad because the Mardi Gras World features wrap-up things from the Americas one of the most renowned festivals.

But dint mistake it as a museum, the place is more like a warehouse where people get to see the manufacturing of new boats and other things for the upcoming festivals. You can take a tour of the place where you get to learn a lot about the festivals, the history, and tye behind the scenes for the upcoming festival.

There are also many costumes held and visitors are invited to try on the new costumes, so don't forget to take your camera with you. Visitors are offered a piece of cake. Overall the place is a must-visit and it would definitely entertain you.
5. Tennessee Williams/ New Orleans Literary Festival

As we have mentioned, New Orleans has something for everyone and this one is for the literary art fans. This literary art festival is held annually and its partially devoted to Tennessee Williams.

There is a performance of In The Bar of a Tokyo Hotel, each night and you would definitely enjoy this as well. When it comes to literary festivals, there is a "Writer's Craft" where better writing skills are taught, and apart from this, visitors would be able to read, take a walking tour, enjoy culinary parties and so much more.
6. New Orleans City Park

Next on our list of things to do in New Orleans is to visit New Orleans City Park. The 12-acre park was founded in 1854. The park is more like a botanical garden with over 2000 different varieties of plants. The park is not only popular for its different plant species but also for the man-made artifacts that you would find hanging here and there.

The New Orleans City Park offers so much do to do and see, from visiting the New Orleans Art Museum to visiting the Duelling Oaks where men once settled disputes with pistols and swords. The place is a perfect combination of natural and man-made beauty and this one is definitely a good place to spend the afternoon.
7. Studio Be

Another place where you can see public art and enjoy some of the best works from artists. The creator, BMike, collaborated with more than 40 other artists to create large murals, and its the best place to explore the exhibits about activism, resistance, and black American history.

There are graffiti and tye new spray techniques and new art techniques. There are so many things that would amuse and make you time spend there worthy.
8. Magzine Street

No tour of a city completes without shopping and that's why we have Magzine Street on our list of best things to do in New Orleans. The place is full of high-end boutiques, shops, spas, costume shops, art galleries.

There are also numerous places to eat and grab a good drink. The food options range from the street style food to the gourmet food so everyone would get something of their taste.

This place doesn't lack the art either so here too you would get a glimpse of some of the greatest pieces of artisans to work and trust me they look better with good wine and great food.
9. Audubon Nature Institute

Audubon Nature Instituts is another must visit the place where you should definitely go when in New Orleans. The place is a little away from the city center but if you have enough time to visit the place then you should definitely go there and spend some quality time with your friends and family.

There are a number of things available to see, there is a zoo, an aquarium, a butterfly garden, an insectarium, and an Entergy Giant Screen Theater and golf course. The place is full of things to do and visit and you have a decent quiet time as well. You can easily find a combo ticket and visit all the places.
10. Cemetery Tours

New Orleans's other amazing destination to visit is its cemeteries. The place is full of cemeteries and tombs that are made in French and Spanish architecture. It definitely gives you a ghost environment that might interest you.

The is known as one of the most attractive places in New Orleans. Its located from 1.6 miles from the city centers and it will take only a couple of hours to visit the place. So do pay a visit there.
11. Hogs for the Cause

If you are a pork lover then this one should be the must-visit place in New Orleans for you. Its the annual worship of pig with a charity bent. It will be a two-day festival full of barbeque, music, and lots of bacon!

The best part is, you will find over 90 barbeque teams smoking up a storm and they compete over who makes the best ribs, whole hog, pork shoulder, sauce, and pork pouring. And all of this is done for a great cause and that's is to support the children's hospital across the south. Its fun and the food is going to be irresistible.
12. New Orleans Swamp Tours

Swamp Tours is the new fun activity to do nowadays and New Orleans is one of the best places to do these. A number of swamp tour companies get you different kinds of deals and packages to take a swamp in the city.

There is a mixture of saltwater and freshwater which results in a number of different water animal species as well. If you are going in the summer then you will get to see much more wildlife than in the winter. The prices and the length of the tour are variable from one company to another.
13. Frenchmen Street

Although the French Quater and Bourbon Street are there to entertain you and give you the best time in New Orleans, but if you want to experience the authentic feel of New Orleans then you must visit the Frenchmen Street as well.

The place is all about the locals of New Orleans, you would get a taste of local food, local shops, local art galleries, and much more. The place is also considered cheaper than the French Quater. The place is open from 7 pm to 1 am so it's the perfect spot for the night owls. The live music performances and the exclusive beverage selection is also something that you would enjoy there.
14. Café du Monde

Café du Monde is one of the best Café in the French Quater and this is the must-visit cafe as well. It's established in 1862 and it has been here since the place is known for the best pairing of donuts and coffee.

The authentic taste of food and the texture that you get here is definitely one of kind and it's worth your time and money. So do pay a visit here!
15. Rock 'n'  Bowl

Rock 'n' Bowl is another place where you can have fun. Bowling is anyway a good activity to do and it's even better at this place. The bowling lanes are pretty huge and the bars are even better. So enjoy the bowling with food and drinks (the NOLA basic food is trying).
Conclusion –

So these are the things that you can try out while you are in New Orleans. We know there are so many other things there as well, which you will have an idea as soon as you reach there.

We really hope that our list has helped you to know better about the things that you are going to do in New Orleans. Although you need to be more careful with the ongoing pandemic and take full precaution for you and others' safety.

Thank you for being here, we hope our article, Things to do in New Orleans, have helped you!