Questions to ask when viewing a house by questionsgems.
–
Viewing a house is always an exciting time – you're looking at the place that could be your future home, after all.
–
So here we provide our best collection of questions to ask when viewing a house. Whenever you want to buy a house or view a house then first ask these questions to seller.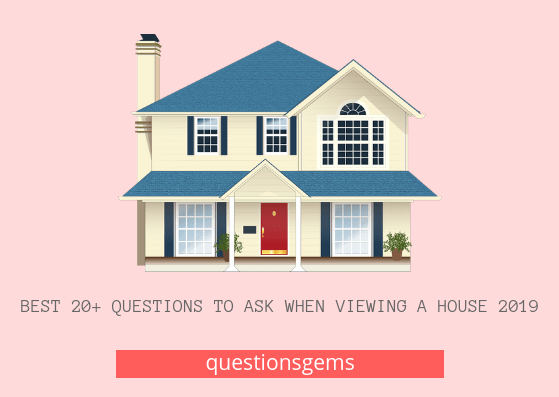 Good Questions To Ask When Viewing A House
Is there anything that you would want to know about the house if you were buying?
WHY IS THE SELLER MOVING?
WHAT ARE THE NEIGHBOURS LIKE?
WHAT'S THE AREA LIKE?
IS THE BUILDING SOUND?
IS THE PLUMBING IN GOOD SHAPE?
WHAT'S THE PARKING SITUATION?
WHAT ABOUT OTHER PROPERTIES IN THE AREA?
HOW MUCH WILL YOUR BILLS BE?
HOW GOOD ARE YOUR CONNECTIONS?
WHAT'S INCLUDED IN THE SALE?
How long has the property been on the market?
How long have the owners lived there?
Has the property repeatedly changed hands?
How did the agent decide on an asking price?
What is the minimum price the seller will accept?
What offers have they had so far?
When do the sellers have to move out?
Can you speak directly to the sellers?
Which way does the property face?
Have any major works been conducted?
Is the property listed? If so, what grade is it? And is it in a conservation area?
How much is the Council Tax? And how much are utility bills in the area?
How old is the property?
Questions To Ask When Buying A House Checklist
What is the home's sale history?
What problems has the home had in the past?
What are the utility costs?
How old is the roof?
How much are property taxes?
What's the sewer situation?
Is the electrical up to code?
What warranties are still in effect?
Is the home in a flooding area?
How is the home zoned?
ARE THERE SEX OFFENDERS IN THE NEIGHBORHOOD?
IS THERE RADON IN THE HOUSE?
Questions To Ask Seller When Buying A House
Have you had any problems with the house in the past?
Why are you selling?
How long has the home been on the market?
How much did you pay for the home (and when)?
What is included in the sale?
Are there any neighborhood nuisances or problem neighbors?
Are there any problems with the house?
Has the home had any major repairs or renovations? If so, who did them?
What do you enjoy most about living in your home?
Conclusion:

These are questions to ask when viewing a house. If you have any question or suggestion just comment below.

Thanks