AWS, also known as Amazon Website Service is one of the leading websites that you can find at present time. We all know the market value of Amazon and the job opportunities it holds for a candidate. Everyone wants to work here and explore the new technology and earn good money. It would be good for every job seeker candidate to get a job at Amazon. They have revolutionaries everything, from the business to the home delivery services.
The whole thing is monitored by AWS aka Amazon Website Services. So getting a job there would be a privilege for anyone.
Although it's not going to be that easy for anyone to get a job at Amazon as there is a lot of competition and the interview itself isn't going to be easy either. So one has to put a lot of effort when it comes to clearing the interview and getting a job. The whole thing can be a little too much for anyone given the stress and the pressure. So what you need is a little help which we are going to provide you.
Go ahead and take a look at the following list of AWS interview Questions and prepare yourself for the interview.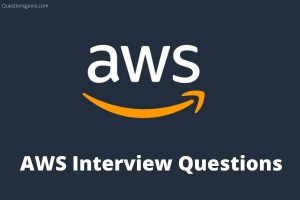 Also check- Amazon interview questions / Amazon quiz questions
[toc]
AWS interview questions
Q1.Explain what AWS is?

Ans-

AWS stands for Amazon Web Service; it is a collection of remote computing services also known as a cloud computing platform.  This new realm of cloud computing is also known as IaaS or Infrastructure as a Service.
Q2.Explain what S3 is?

Ans-

S3 stands for Simple Storage Service. You can use S3 interface to store and retrieve any amount of data, at any time and from anywhere on the web.  For S3, the payment model is "pay as you go."
Q3.What is AMI?

Ans-

AMI stands for Amazon Machine Image.  It's a template that provides the information (an operating system, an application server, and applications) required to launch an instance, which is a copy of the AMI running as a virtual server in the cloud.  You can launch instances from as many different AMIs as you need.
Q4.Mention what the relationship between an instance and AMI is?

Ans-

From a single AMI, you can launch multiple types of instances.  An instance type defines the hardware of the host computer used for your instance. Each instance type provides different computer and memory capabilities.  Once you launch an instance, it looks like a traditional host, and we can interact with it as we would with any computer.
Q5.Explain what T2 instances is?

Ans-

T2 instances are designed to provide moderate baseline performance and the capability to burst to higher performance as required by the workload..
Q6.In VPC with private and public subnets, database servers should ideally be launched into which subnet?

Ans-

With private and public subnets in VPC, database servers should ideally launch into private subnets.
Q7.Mention what the security best practices for Amazon EC2 are?

Ans-

For secure Amazon EC2 best practices, follow the following steps

Use AWS identity and access management to control access to your AWS resources

Restrict access by allowing only trusted hosts or networks to access ports on your instance

Review the rules in your security groups regularly

Only open up permissions that you require

Disable password-based login, for example, launched from your AMI
Q8.Is the property of broadcast or multicast supported by Amazon VPC?

Ans-

No, currently Amazon VPI not provide support for broadcast or multicast.
Q9.How many Elastic IPs is allows you to create by AWS?

Ans-

5 VPC Elastic IP addresses are allowed for each AWS account.
Q10.What is the role of AWS CloudTrail?

Ans-

CloudTrail is a specially designed tool for logging and tracking API calls. It helps to audit all S3 bucket accesses.
Q11.When EC2 officially launched?

Ans-

EC2 officially launched in the year 2006.
Q12.What is SimpleDB?

Ans-

SimpleDB is a data repository of structure record which encourages data doubts and indexing both S3 and EC2are called SimpleDB.
Q13.Explain Amazon ElasticCache

Ans-

Amazon Elasticcache is a web service which makes it easy to deploy, scale and store data in the cloud.
Q14.What is AWS Lambda?

Ans-

Lambda is an Amazon compute service which allows you to run code in the  AWS Cloud without managing servers.
Q15.Name the types of AMI provided by AWS

Ans-

The types of AMI provided by AWS are:

Instance store backed

EBS backed
Q16.Name the AWS service exists only to redundantly cache data and images?

Ans-

AWS Edge locations are service which redundantly cache data and images.
Q17.Explain Geo Restriction in CloudFront

Ans-

A Geo-restriction feature helps you to prevent users of specific geographic locations from accessing content which you're distributing through a CloudFront web distribution.
Q18.What is Amazon EMR?

Ans-

EMR is a survived cluster stage which helps you to interpret the working of data structures before the intimation.  Apache Hadoop and Apache Spark on the Amazon Web Services helps you to investigate a large amount of data. You can prepare data for the analytics goals and marketing intellect workloads using Apache Hive and using other relevant open source designs.
Q19.What is boot time taken for the instance stored backed AMI?

Ans-

The boot time for an Amazon instance store-backend AMI is less than 5 minutes.
Q20.Do you need an internet gateway to use peering connections?

Ans-

Yes, the Internet gateway is needed to use VPC (virtual private cloud peering) connections.
AWS interview questions and answers
Q21.How to connect EBS volume to multiple instances?

Ans-

We can't be able to connect EBS volume to multiple instances.  Although, you can connect various EBS Volumes to a single instance.
Q22.List different types of cloud services

Ans-

Various types of cloud services are:

Software as a Service (SaaS),

Data as a Service (DaaS)

Platform as a Service (PaaS)

Infrastructure as a Service (IaaS).
Q23.State the difference between An Instance  and AMI

Ans-

AMI is a template consisting software configuration part. For example Operating systems, applications, application server if you start an instance, a duplicate of the AMI in a row as an attendant in the cloud.
Q24.What are the different types of Load Balancer in AWS services?

Ans-

Two types of Load balancer are:

Application Load Balancer

Classic Load Balancer
Q25.In which situation you will select provisioned IOPS over standard RDS storage?

Ans-

You should select provisioned IOPS storage over standard RDS storage if you want to perform batch-related workloads.
Q26.What are the important features of Amazon cloud search?

Ans-

Important features of the Amazon cloud are:

Boolean searches

Prefix Searches

Range searches

Entire text search

AutoComplete advice
Q27.Can vertically scaling is allows in  Amazon Instance?

Ans-

Yes, you can vertically estimate one Amazon instance.
Q28.What is the use of lifecycle hooks in Autoscaling?

Ans-

Lifecycle hooks are used for autoscaling to put an additional wait time to a scale in or scale out event.
Q29.Explain default storage class in S3

Ans-

The default storage class is a Standard frequently accessed.
Q30.What are the roles?

Ans-

Roles are used to providing permissions to entities which you can trust within your AWS account. Roles are very similar to users. However,  with roles, you do not require to create any username and password to work with the resources.
Q31.What are the edge locations?

Ans-

Edge location is the area where the contents will be cached. So, when a user is trying to accessing any content, the content will automatically be searched in the edge location.
Q32.What is VPC?

Ans-

VPC stands for Virtual Private Cloud. It allows you to customize your networking configuration. It is a network which is logically isolated from another network in the cloud. It allows you to have your IP address range,  internet gateways, subnet and security groups.
Q33.Explain snowball

Ans-

Snowball is a data transport option. It used source appliances to a large amount of data into and out of AWS. With the help of snowball, you can transfer a massive amount of data from one place to another. It helps you to reduce networking costs.
Q34.What is a redshift?

Ans-

Redshift is a big data warehouse product. It is fast and powerful, fully managed data warehouse service in the cloud.
Q35.What are the advantages of auto-scaling?

Ans-

Following are the advantages of autoscaling

Offers fault tolerance

Better availability

Better cost management
Q36.What is meant by subnet?

Ans-

A large section of IP Address divided into chunks is known as subnets.
Q37.Can you establish a Peering connection to a VPC in a different region?

Ans-

No, It's only possible between VPCs in the same region.
Q38.What is SQL?

Ans-

Simple Queues Services also known as SQL. It is distributed queuing service which acts as a mediator for two controllers.
Q39.How many subnets can you have per VPC?

Ans-

You can have 200 subnets per VPC.
Q40.DNS  and Load Balancer service comes under which type of cloud service?

Ans-

DNS and Load Balancer and DNS services come under IAAS-storage cloud service.
Q41.Explain how the buffer is used in Amazon web services?

Ans-

The buffer is used to make the system more robust to manage traffic or load by synchronizing different component.  Usually, components receive and process the requests in an unbalanced way. With the help of buffer, the components will be balanced and will work at the same speed to provide faster services.
Q42.While connecting to your instance what are the possible connection issues one might face?

Ans-

The possible connection errors one might encounter while connecting instances are

Connection timed out

User key not recognized by the server

Host key not found, permission denied

An unprotected private key file

Server refused our key or No supported authentication method available

Error using MindTerm on Safari Browser

Error using Mac OS X RDP Client
Q43.What are key-pairs in AWS?

Ans-

Key-pairs are secure login information for your virtual machines. To connect to the instances, you can use key-pairs which contain a public-key and private-key.
Q44.What does an AMI include?

Ans-

An AMI includes the following things

A template for the root volume for the instance

Launch permissions decide which AWS accounts can avail the AMI to launch instances

A block device mapping that determines the volumes to attach to the instance when it is launched
Q45.How can you send a request to Amazon S3?

Ans-

Amazon S3 is a REST service, and you can send a request by using the REST API or the AWS SDK wrapper libraries that wrap the underlying Amazon S3 REST API.
AWS interview questions for experienced
Q46.What is AWS Certificate Manager ?

Ans-

AWS Certificate Manager is an administration that lets you effortlessly arrangement, oversee, and send open and private Secure Sockets Layer/Transport Layer Security (SSL/TLS) endorsements for use with AWS administrations and your inward associated assets. SSL/TLS declarations are utilized to anchor arrange interchanges and set up the character of sites over the Internet and additionally assets on private systems. AWS Certificate Manager expels the tedious manual procedure of obtaining, transferring, and reestablishing SSL/TLS endorsements.
Q47.What is the AWS Key Management Service

Ans-

AWS Key Management Service (AWS KMS) is an overseen benefit that makes it simple for you to make and control the encryption keys used to scramble your information. … AWS KMS is additionally coordinated with AWS CloudTrail to give encryption key use logs to help meet your inspecting, administrative and consistence needs.
Q48.What is Amazon EMR ?

Ans-

Amazon Elastic MapReduce (EMR) is one such administration that gives completely oversaw facilitated Hadoop system over Amazon Elastic Compute Cloud (EC2).
Q49.What is Amazon Kinesis Firehose ?

Ans-

Amazon Kinesis Data Firehose is the least demanding approach to dependably stack gushing information into information stores and examination devices. … It is a completely overseen benefit that consequently scales to coordinate the throughput of your information and requires no continuous organization
Q50.What Is Amazon CloudSearch and its highlights ?

Ans-

Amazon CloudSearch is a versatile cloud-based hunt benefit that frames some portion of Amazon Web Services (AWS). CloudSearch is normally used to incorporate tweaked seek abilities into different applications. As indicated by Amazon, engineers can set a pursuit application up and send it completely in under 60 minutes.
Q51.Is it feasible for an EC2 exemplary occurrence to wind up an individual from a virtual private cloud?

Ans-

Amazon Virtual Private Cloud (Amazon VPC) empowers you to characterize a virtual system in your very own consistently disengaged zone inside the AWS cloud, known as a virtual private cloud (VPC). You can dispatch your Amazon EC2 assets, for example, occasions, into the subnets of your VPC. Your VPC nearly looks like a conventional system that you may work in your very own server farm, with the advantages of utilizing adaptable foundation from AWS. You can design your VPC; you can choose its IP address extend, make subnets, and arrange course tables, organize portals, and security settings. You can interface occurrences in your VPC to the web or to your own server farm
Q52.What is Data warehouse in AWS?

Ans-

Data ware house is a central repository for data that can come from one or more sources. Organization typically use data warehouse to compile reports and search the database using highly complex queries. Data warehouse also typically updated on a batch schedule multiple times per day or per hour compared to an OLTP (Online Transaction Processing) relational database that can be updated thousands of times per second.
Q53.What is Elastic Beanstalk?

Ans-

AWS Elastic Beanstalk is the fastest and simplest way to get an application up and running on AWS.Developers can simply upload their code and the service automatically handle all the details such as resource provisioning, load balancing, Auto scaling and Monitoring.
Q54.What is Amazon Lightsail?

Ans-

Lightsail designed to be the easiest way to launch and manage a virtual private server with AWS.Lightsail plans include everything you need to jumpstart your project a virtual machine, ssd based storage, data transfer, DNS Management and a static ip.
Q55.What is EBS?

Ans-

Amazon EBS Provides persistent block level storage volumes for use with Amazon EC2 instances. Amazon EBS volume is automatically replicated with its availability zone to protect component failure offering high availability and durability. Amazon EBS volumes are available in a variety of types that differ in performance characteristics and Price.
Q56.What is mean by Multi-AZ in RDS?

Ans-

Multi AZ allows you to place a secondary copy of your database in another availability zone for disaster recovery purpose. Multi AZ deployments are available for all types of Amazon RDS Database engines. When you create s Multi-AZ DB instance a primary instance is created in one Availability Zone and a secondary instance is created by another Availability zone.
Q57.What is Amazon Dynamo DB?

Ans-

Amazon Dynamo DB is fully managed NoSQL database service that provides fast and predictable performance with seamless scalability. Dynamo DB makes it simple and Cost effective to store and retrieve any amount of data.
Q58.What is cloud formation?

Ans-

Cloud formation is a service which creates the AWS infrastructure using code. It helps to reduce time to manage resources. We can able to create our resources Quickly and faster.
Q59.Mention crafted by an Amazon VPC switch.

Ans-

VPCs and Subnets. A virtual private cloud (VPC) is a virtual system committed to your AWS account. It is consistently segregated from other virtual systems in the AWS Cloud. You can dispatch your AWS assets, for example, Amazon EC2 cases, into your VPC.
Q60.How would one be able to associate a VPC to corporate server farm?

Ans-

AWS Direct Connect empowers you to safely associate your AWS condition to your on-premises server farm or office area over a standard 1 gigabit or 10 gigabit Ethernet fiber-optic association. AWS Direct Connect offers committed fast, low dormancy association, which sidesteps web access suppliers in your system way. An AWS Direct Connect area gives access to Amazon Web Services in the locale it is related with, and also access to different US areas. AWS Direct Connect enables you to consistently parcel the fiber-optic associations into numerous intelligent associations called Virtual Local Area Networks (VLAN). You can exploit these intelligent associations with enhance security, separate traffic, and accomplish consistence necessities.
Conclusion –

So these are some of the popular AWS interview questions that you can find. There might be other questions as well but these are some of those questions that might be asked in the interview. So it won't harm you to prepare good answers to these questions. We hope that you found our article helpful. Best of luck with your next AWS interview.