Welcome to the thrilling world of Grand Theft Auto Online, where fortunes are waiting to be made at every turn. Whether you're a seasoned player or a newcomer, the allure of quick riches in this virtual metropolis is undeniable.
In this blog, we will unveil some of the fastest and most effective methods to amass wealth within the sprawling landscapes of Los Santos. From daring heists to savvy investments, get ready to discover the secrets of becoming a tycoon in the criminal underworld of GTA Online. So, buckle up, and let's dive into the exhilarating journey of fast money-making!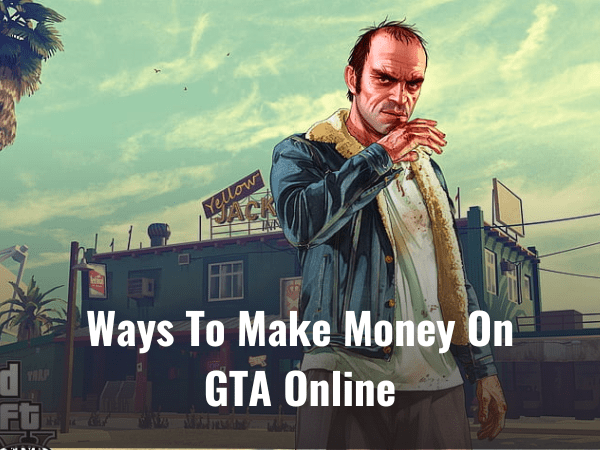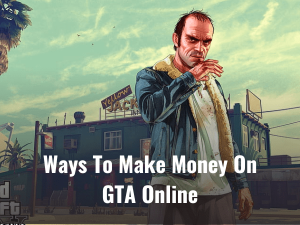 Also check – Make Money From Home / Females To Make Money Online
Fast ways to make money on GTA online
1. Heists – The Ultimate Criminal Coup:
Undertaking heists in GTA Online is one of the most lucrative ways to amass a fortune. Assembling a skilled team of fellow players is essential for success. Each heist requires careful planning, coordination, and execution to secure substantial payouts. From robbing banks to infiltrating high-security facilities, these adrenaline-fueled missions promise massive rewards. Remember to choose your teammates wisely and divide roles strategically to ensure a smooth operation. Execute the perfect heist, and you'll be handsomely rewarded with millions in cash and valuable items to elevate your criminal empire.
2. CEO/VIP Work – Entrepreneurial Endeavors:
Becoming a CEO or VIP grants you access to a myriad of profitable ventures in the corporate world of GTA Online. Start your own business, such as a high-end car dealership or a lucrative cargo company, to rake in substantial profits. From sourcing and selling contraband to overseeing the distribution of goods, running a successful enterprise demands wit and cunning. Engage in CEO/VIP work solo or with a group to maximize earnings and solidify your position as a thriving entrepreneur.
3. Motorcycle Club – Illegal Enterprises:
Venture into the underground world by forming a Motorcycle Club (MC). Establishing a profitable MC grants you access to a variety of illicit activities, such as drug production and forgery operations. Expand your criminal empire by managing a network of businesses and warehouses. Participate in MC missions and sell contraband products to boost your bank balance. However, be prepared to face rival gangs and law enforcement, as the path to riches is often fraught with peril.
4. Special Cargo – High-Stakes Trading:
Embrace the high-stakes world of Special Cargo trading to skyrocket your wealth. As a CEO or MC President, you can purchase warehouses and engage in sourcing rare and valuable cargo. Completing successful deliveries will yield substantial returns. Keep an eye out for rival players who might attempt to sabotage your cargo runs, and be ready to defend your hard-earned goods. With calculated risks and strategic planning, you can reap the financial rewards of this daring trade.
5. Nightclubs – Glittering Nightlife, Hefty Profits:
Investing in a Nightclub might seem like a hedonistic endeavor, but it can also be a profitable one. By linking your Nightclub to other businesses you own, such as gunrunning or counterfeit cash operations, you can boost the income generated from your club. The more popular your club becomes, the more passive income it generates over time. So, while you dance the night away, your bank account will be busy growing exponentially.
6. Time Trials and Races – Speeding Towards Riches:
For those with a need for speed, Time Trials and Races offer a chance to earn quick money in GTA Online. Participate in various races and time trial events scattered throughout Los Santos. Skillful driving and precise navigation are key to winning these competitions and claiming the substantial cash prizes that accompany victory. Regularly participating in these events can be a steady source of income, especially if you're a seasoned racer with a penchant for emerging victorious.
7. Vehicle Cargo – High-Octane Car Theft:
For those who possess a flair for automobile grand larceny, Vehicle Cargo missions offer a thrilling way to earn big bucks. As a CEO, you can procure and export high-end vehicles for substantial profits. Begin by sourcing rare and valuable cars, which you can then modify and deliver to eager buyers. Be cautious of potential ambushes during transport, as rival players may attempt to intercept your prized cargo. Navigate the treacherous streets, and you'll soon witness your garage filled with luxurious rides and your bank account overflowing with cash.
8. Air Freight Cargo – Flying the Skies of Profit:
Expand your horizons and take to the skies with Air Freight Cargo missions. As a CEO, establish your own air freight business and partake in daring missions to collect valuable cargo from distant locations. Piloting aircraft and navigating through airspace challenges will test your skills, but the lucrative rewards are worth the effort. Once you've acquired enough cargo, deliver it to eager buyers and enjoy handsome profits while soaring above the vast landscape of Los Santos.
9. Contact Missions – Favors for Fortune:
Embark on a variety of Contact Missions given by key characters in GTA Online to earn substantial sums of money. These missions offer an array of tasks, from rescues and asset recovery to assassinations and drug deals. Complete them solo or with friends for added fun and earnings. As you advance through the ranks and develop stronger relationships with these characters, you'll gain access to more lucrative missions and exclusive rewards.
10. Treasure Hunting – Search for Hidden Wealth:
Discover hidden treasures scattered across the sprawling landscape of Los Santos through the Treasure Hunt feature. Solving cryptic clues and embarking on challenging scavenger hunts will lead you to valuable rewards, including cash, special weapons, and rare collectibles. Keep an eye out for updates and new treasure hunt locations, as they present exciting opportunities to further enrich your virtual fortune.
11. Time-Limited Events – Seize the Moment:
Stay alert for time-limited events and special promotions in GTA Online. Rockstar Games regularly introduces limited-time activities that offer impressive rewards and bonuses. Whether it's participating in double money events, exclusive races, or adversary modes, taking advantage of these time-sensitive opportunities can significantly boost your earnings within a short span. Keep an eye on the in-game announcements to ensure you don't miss out on these lucrative events.
12. Property Investments – Passive Income Streams:
Investing in properties throughout Los Santos can be a wise move to generate passive income over time. From apartments and garages to businesses and facilities, each property type offers unique benefits. Collect rent from tenants, profit from illicit businesses, or receive dividends from well-managed assets. Property investments allow you to steadily grow your wealth without the need for constant active participation.
13. Arena Wars – The Battle of Champions:
Step into the high-octane Arena Wars to showcase your combat skills and earn hefty rewards. Engage in various adrenaline-pumping challenges, such as vehicular mayhem, monster truck battles, and deathmatches within the Maze Bank Arena. Winning events and ranking up in this ruthless competition will grant you access to unique vehicles and powerful weaponry, all while padding your bank account with substantial prize money.
14. Biker Contract Missions – Two-Wheeled Triumphs:
Expand your Motorcycle Club's influence by taking on Biker Contract Missions. These assignments range from ambushes and assassinations to heists and drug deals. Completing these missions will grant you considerable monetary rewards, along with reputation points to enhance your standing within the biker community. Team up with your MC members to tackle these missions and watch as your coffers swell with ill-gotten gains.
15. Daily Objectives – Consistent Earnings:
Never underestimate the power of daily consistency in GTA Online. Completing Daily Objectives awards you with cash, reputation points, and occasionally, unique rewards. Consistently accomplishing these objectives over time will provide a steady stream of income to bolster your wealth. Make it a habit to check and complete your daily tasks, as they present a reliable source of earnings without the need for high-stakes risks.
16. Time-Traveling with Lester – Stock Market Manipulation:
Lester Crest, the mastermind behind many heists, can also assist you in reaping huge profits in the stock market. Utilizing knowledge from the single-player campaign, invest in specific companies' stocks before executing assassination missions tied to those firms. Once the stock values rise, sell your shares to claim significant returns. With careful planning and precise execution, you can exploit the stock market for immense profits.
17. Import/Export – High-End Car Trade:
Venture into the high-end car trade with the Import/Export business. As a CEO, source rare and exotic vehicles, and then export them to international buyers for substantial profits. However, be wary of rival organizations seeking to steal your shipments, as they can significantly affect your earnings. Engage in strategic gameplay, defend your cargo, and you'll find yourself amassing a fleet of luxurious cars and a fortune to match.
18. Participate in Special Events – Rewards Galore:
Participating in special events organized by Rockstar Games can lead to fantastic rewards. From holiday-themed events to community challenges, these occasions offer unique opportunities to earn money, receive exclusive items, and unlock limited-time bonuses. Whether it's a holiday celebration, an anniversary event, or a community-driven challenge, diving into these festivities can lead to unexpected windfalls and exciting in-game experiences.
19. Passive Nightclub Income – Dance to Success:
Once you've established a Nightclub, keep an eye on its popularity and promotion to increase passive income. Upgrading your Nightclub and assigning specialized staff to accrue goods from connected businesses will maximize your earnings. As your popularity rises, so does your nightclub's revenue, ensuring a steady flow of income without your direct involvement.
20. VIP Work and Challenges – Master the Hustle:
As a VIP or CEO, you can engage in various VIP Work and Challenges to accumulate significant cash rewards. From Headhunter, where you eliminate rival targets, to Sightseer, where you scout for hidden packages, these missions test your abilities while offering substantial payouts. Additionally, participating in VIP Challenges against other organizations adds an element of competition, allowing you to seize the opportunity to claim top rewards and prove your superiority in the criminal hierarchy.
21. Time-Limited Business Bonuses – Capitalize on Opportunities:
Keep a close eye on business bonuses and double money events, as these time-limited opportunities can exponentially increase your earnings. During such periods, various businesses, such as Motorcycle Club businesses or Bunker operations, generate double the usual profits. Capitalize on these temporary boosts to maximize your financial gains and strengthen your criminal empire.
22. Robberies – Quick Cash on the Go:
While it may not be as substantial as some other methods, robbing stores and armored trucks can offer a quick infusion of cash on the fly. Simply head to convenience stores or target armored trucks throughout Los Santos and unleash your criminal prowess to pocket a modest but immediate reward. It's an excellent option for players seeking immediate cash flow between larger ventures.
23. Freemode Events – Competitive Money-Making:
Freemode Events provide an exciting opportunity to compete against other players in a variety of fast-paced challenges. From King of the Hill to Penned In, participating and winning these events offer substantial cash and reputation rewards. Embrace your competitive spirit, showcase your skills, and emerge victorious to reap the financial benefits of these adrenaline-fueled contests.
24. Double Action Revolver and Treasure Hunt Challenges – Unearth Hidden Riches:
Embark on the Double Action Revolver Challenge and the Treasure Hunt to uncover hidden riches scattered throughout the game world. Solving the mysteries and meeting the challenges' requirements will lead you to special rewards, including significant cash bonuses and unique weapons. These exciting side quests add an element of discovery and reward players with both financial and gameplay benefits.
In the cutthroat realm of GTA Online, mastering the art of making quick money is a game-changer. By capitalizing on these ingenious strategies, you can elevate your criminal empire to unimaginable heights. Remember, the road to riches might be strewn with dangers, but with tenacity and cunning, you'll carve a path to prosperity. So, seize the opportunity, assemble your crew, and embark on thrilling adventures as you witness your bank account soar. Whether it's heists, businesses, or races, GTA Online offers endless possibilities for financial success. Get ready to conquer Los Santos and beyond, and pave your way to a virtual fortune like no other!