In today's rapidly changing world, finding ways to make money from the comfort of your own home has become more accessible and appealing than ever before. Whether you're a stay-at-home parent, a freelancer, or someone seeking extra income, the digital age has opened up a plethora of opportunities. From online businesses to remote work, the possibilities are diverse and exciting.
In this blog, we will explore some creative and practical ways to generate income from the confines of your home, empowering you to take control of your financial future.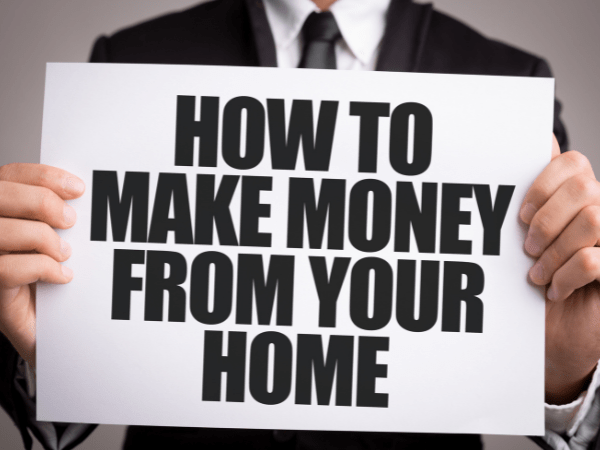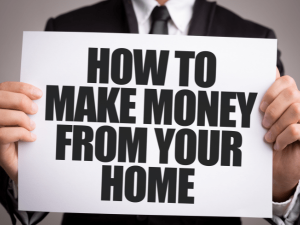 Also check – Ways To Make Money On GTA Online / Ways To Make Money As A Kid
Ways to make money from home
**1. Online Freelancing:**
One of the most popular and flexible ways to make money from home is by offering your skills and expertise as a freelancer. Whether you're a writer, graphic designer, web developer, or a virtual assistant, there are various online platforms that connect freelancers with clients from around the world. You can bid on projects, set your rates, and work on projects that align with your strengths and interests. The key to success in freelancing is building a strong portfolio and delivering high-quality work consistently, which will help you attract repeat clients and gain positive reviews.
**2. Start an E-commerce Business:**
The rise of e-commerce has revolutionized the way people shop, and it has also opened up opportunities for aspiring entrepreneurs to start their own online stores. You can sell physical products or even digital goods like e-books, online courses, or software. Choose a niche that you are passionate about or identify a gap in the market that you can fill. Platforms like Shopify, Etsy, or Amazon FBA provide user-friendly tools to set up and manage your e-commerce store. While running an online business may require initial investments and marketing efforts, the potential for scalability and passive income makes it a rewarding venture.
**3. Remote Work and Telecommuting:**
Many companies are now embracing remote work and telecommuting options, allowing employees to work from home. If you have skills in areas such as customer service, data entry, software development, or digital marketing, you can find remote job opportunities through job boards, company websites, or remote work platforms. Working remotely offers the flexibility to balance work and personal life, while saving time and money on commuting.
**4. Affiliate Marketing:**
Affiliate marketing is a performance-based marketing strategy where you earn commissions by promoting products or services from other companies. You can join affiliate programs of various brands and earn a percentage of the sales generated through your unique affiliate links. To succeed in affiliate marketing, it's essential to create engaging content that attracts your target audience and promotes products that align with their interests and needs. Building trust with your audience is crucial for long-term success in this field.
**5. Content Creation and Monetization:**
If you have a passion for creating content, whether it's writing blogs, making videos, or hosting podcasts, you can monetize your creative efforts through various channels. YouTube allows content creators to earn revenue through ads and sponsorships, while bloggers can monetize their blogs through display ads, sponsored content, and affiliate marketing. Additionally, platforms like Patreon enable you to offer exclusive content to your fans and receive financial support from your dedicated audience.
**6. Online Surveys and Market Research:**
Participating in online surveys and market research studies can be an easy and convenient way to earn extra income from home. Many market research companies pay individuals for sharing their opinions on products, services, and various topics. While the earnings may not be substantial, they can add up over time, especially if you join multiple survey platforms. Keep in mind that it's essential to sign up with legitimate survey websites to ensure you receive fair compensation for your time and effort.
**7. Sell Handmade Crafts and Artwork:**
If you have a flair for creativity and craftsmanship, consider turning your hobbies into a profitable venture by selling handmade crafts and artwork online. Platforms like Etsy provide a global marketplace for artisans to showcase and sell their unique creations. From handmade jewelry and home decor to personalized gifts and art prints, the possibilities are endless. Engage with your audience through compelling product descriptions, captivating visuals, and excellent customer service to build a loyal customer base.
**8. Online Tutoring and Teaching:**
If you possess expertise in a particular subject or skill, you can share your knowledge and earn money by becoming an online tutor or instructor. With the increasing demand for virtual education, many students and learners seek personalized lessons or group classes on various subjects. Platforms like VIPKid, Teachable, or Udemy allow you to create and sell online courses. Whether you're proficient in languages, academic subjects, music, or any specialized skill, there is a vast audience eager to learn from the comfort of their homes.
**9. Remote Consulting and Coaching:**
If you have professional expertise in areas like business, career development, life coaching, or wellness, you can offer remote consulting services. Many individuals and businesses seek guidance and support from experts to achieve their goals and overcome challenges. Utilize platforms like Zoom or Skype to conduct one-on-one coaching sessions or group workshops. As you build a reputation for delivering value, word-of-mouth referrals can lead to a steady stream of clients.
**10. Renting out Property or Space:**
If you have an extra room, property, or parking space, consider utilizing it to generate income. Airbnb and other vacation rental platforms allow you to list your space and host travelers looking for short-term accommodations. Additionally, if you have a spacious garage or storage area, you can offer it as a rental space for people seeking storage solutions. This passive income stream can help offset some of your household expenses and provide financial stability.
**11. Dropshipping:**
Dropshipping is a popular online business model that allows you to sell products without the need for inventory. As a dropshipper, you partner with suppliers who handle the storage, packaging, and shipping of products directly to your customers. Your role involves creating an attractive online store, selecting products to sell, and marketing them to potential buyers. The advantage of dropshipping is that you can test multiple products and niches without significant upfront costs, making it an excellent option for those looking to start an e-commerce venture with minimal risk.
**12. Social Media Management:**
If you have a knack for social media and are well-versed in creating engaging content, social media management can be a rewarding work-from-home opportunity. Many businesses and influencers require assistance in managing their online presence and engaging with their audience across platforms like Facebook, Instagram, Twitter, and LinkedIn. By offering your expertise in content creation, scheduling, and community management, you can help clients grow their online following and improve their brand image while earning a steady income.
**13. Virtual Events and Webinars:**
With the increasing popularity of virtual events and webinars, there's a growing demand for skilled organizers and hosts. Whether you specialize in event planning or have expertise in a particular field, organizing virtual conferences, workshops, or webinars can be a lucrative venture. You can monetize these events through ticket sales, sponsorships, or by offering exclusive content to attendees. The virtual nature of these events allows you to reach a global audience, making it an exciting opportunity for networking and knowledge sharing.
**14. App Development and Software Services:**
If you have programming skills or experience in app development, you can offer your services as a freelance app developer or start your own software company. Mobile apps and software solutions are in high demand across various industries, and businesses are willing to invest in innovative solutions to enhance their operations or customer experiences. Create a portfolio showcasing your previous projects to attract clients or develop your own apps and monetize them through app stores or subscriptions.
**15. Remote Health and Wellness Services:**
The health and wellness industry has witnessed a surge in demand for remote services. As a certified health coach, fitness instructor, therapist, or nutritionist, you can offer virtual consultations and sessions to clients seeking personalized support. Platforms like BetterHelp and Talkspace connect therapists with clients online, while fitness enthusiasts can provide live or recorded workout sessions through platforms like YouTube or Zoom. By leveraging technology, you can make a positive impact on people's lives while earning a living from the comfort of your home.
**16. Rent Your Car or Assets:**
If you own a car or other valuable assets that you don't use frequently, you can put them to work and earn extra money by renting them out. Car-sharing platforms like Turo allow you to rent out your vehicle to travelers or locals in need of transportation. Similarly, you can rent out tools, equipment, or recreational gear through platforms like Fat Llama or PeerRenters. This sharing economy approach can help you maximize the value of your possessions and generate passive income.
**17. Remote Transcription and Translation:**
For individuals fluent in multiple languages or skilled in accurate transcription, remote transcription and translation services offer a viable source of income. Many businesses, academic institutions, and content creators seek transcriptionists to convert audio or video content into written form. Moreover, companies expanding their reach globally often require skilled translators to bridge language barriers and cater to diverse markets. Websites like Rev and Upwork can connect you with potential clients in need of these valuable services.
**18. Remote Graphic Design Services:**
If you have a flair for creativity and a talent for visual communication, remote graphic design services can be a lucrative way to make money from home. Many businesses and individuals seek skilled graphic designers to create logos, marketing materials, social media graphics, and website designs. You can offer your services through freelancing platforms, design marketplaces, or by building your portfolio website to showcase your work and attract clients.
**19. Online Language Instruction:**
If you are fluent in a foreign language or a certified language teacher, you can teach language lessons online. Language learning has become increasingly popular, and people are eager to learn new languages to enhance their communication and career prospects. Platforms like italki, Verbling, and Preply connect language instructors with students from around the world. Offering one-on-one or group lessons can provide you with a flexible and rewarding source of income.
**20. Virtual Assistant Services:**
Many entrepreneurs, small businesses, and busy professionals are seeking virtual assistants to help with administrative tasks, scheduling, email management, and more. If you are organized, detail-oriented, and possess excellent communication skills, you can offer virtual assistant services. Platforms like Upwork and Remote.co offer opportunities to connect with clients seeking remote administrative support.
**21. Remote Customer Support Representative:**
Customer support is a critical aspect of any business, and many companies hire remote customer support representatives to handle inquiries, complaints, and provide assistance to customers. As a remote customer support representative, you may respond to emails, answer phone calls, or engage with customers through live chat. Look for job listings on remote work websites or check with companies directly for remote customer support opportunities.
**22. Podcasting:**
Podcasting has emerged as a popular medium for content creation and storytelling. If you have a passion for a particular topic or expertise in a specific field, consider starting your own podcast. While monetizing podcasts can take time, you can earn revenue through sponsorships, affiliate marketing, or by offering exclusive content to paying subscribers. With dedication and consistency, your podcast can attract a loyal audience and become a source of income.
**23. Virtual Event Planning:**
As virtual events continue to gain momentum, event planning services that cater to the online space are in demand. Virtual event planners coordinate and manage webinars, conferences, workshops, and online gatherings. They handle everything from scheduling speakers and content organization to technical setup and attendee engagement. If you have event planning experience or a knack for organizing online experiences, this field can be both fulfilling and profitable.
**24. Online Data Entry and Transcription:**
Data entry and transcription services are often in demand for various industries, including healthcare, legal, and market research. Companies seek accurate data entry professionals to input information into databases, while transcriptionists convert audio recordings into written documents. Freelance marketplaces and transcription-specific platforms like TranscribeMe and Rev can connect you with potential clients looking for remote data entry and transcription services.
**25. Remote Software Testing:**
Software companies and app developers rely on thorough testing to ensure their products are free of bugs and functional for users. As a remote software tester, you can find opportunities to test websites, mobile apps, and software from the comfort of your home. Online platforms like uTest and Testbirds connect testers with companies seeking user feedback and bug reports, offering a unique way to earn money while trying out new digital products.
In conclusion, the power to earn a living from the comfort of your home is now within reach for anyone willing to explore the myriad of opportunities available. Embrace your skills, passions, and creativity to launch a successful online business, offer remote services, or explore the world of freelancing.
The digital landscape provides a wealth of options to suit various interests and expertise. So, take the leap, stay committed, and witness the potential of earning money from home while enjoying the flexibility and freedom it brings. Your journey towards financial independence and a balanced lifestyle awaits!