Isn't the topic itself sounds funny? If yes, then you might find some amazing fun questions in our article. Fun is a variable term; a person can find a thing funny while the other can find it irritating and immature. If you are with a group of people who are interested in science stuff and you ask a funny question related to history, those people might find you unfit in the group. Fun is a very important part of all our lives and in any case, if you lack this quality, then it can be huge trouble for you. We can easily suggest hundreds of fun questions to ask, but it depends that the person you are asking these questions to does feels it funny or not. The main irony of fun is the fact that a thing which you might funny can be illogical and hurting to other people, and if, in any case, your mindset doesn't match up with the other person, then it can create some negative environment. We always recommend being precise in your choices, or it can land you in problems with "fun questions." Here is a complete blog on Fun questions to ask.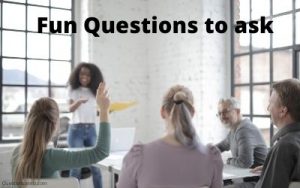 Fun Questions To Ask
What is the funniest name you have actually heard used in the real world?
What is the sexiest and least sexy name?
What sport would be the funniest to add a mandatory amount of alcohol to?
What movie would be greatly improved if it was made into a musical?
If your five-year-old self suddenly found themselves inhabiting your current body, what would your five-year-old self do first?
What is something that everyone looks stupid doing?
What is something that is really popular now, but in 5 years everyone will look back on and be embarrassed by?
What would be the hat to end all hats? What could you wear on your head that would make people stop what they are doing and stare in awe and amazement?
If animals could talk, which would be the rudest?
In 40 years what will people be nostalgic for?
What inanimate object do you wish you could eliminate from existence?
What are some things that are okay to occasionally but definitely not okay to do every day?
What is the weirdest thing you have seen in someone else's home?
Who do you know that really reminds you of a character in a TV show or movie?
What would be the coolest animal to scale up to the size of a horse?
What is the most embarrassing thing you have ever worn?
What part of a kid's movie completely scarred you?
What used to be considered trashy but now is very classy?
If you were arrested with no explanation, what would your friends and family assume you had done?
What's the most ridiculous fact you know?
What set of items could you buy that would make the cashier the most uncomfortable?
What is the funniest joke you know by heart?
What are the unwritten rules of where you work?
What is something that you just recently realized that you are embarrassed you didn't realize earlier?
What is the funniest corporate / business screw up you have heard of?
If you die and find out that everyone gets to choose a twelve-foot by twelve-foot square to stay in alone for eternity without being able to influence or contact the living world, what twelve-foot by twelve-foot square would you choose?
What's the best type of cheese?
What kind of cult would you like to start?
In one sentence, how would you sum up the internet?
First think of a product. Now, what would be the absolute worst brand name for one of those products?
If the all the States in the USA were represented by food, what food would each state be represented by?
What are some of the nicknames you have for customers or coworkers?
What would be the absolute worst name you could give your child?
 Fun Questions To Ask Your Friends
Have you pooped today already?
What's your favorite dinosaur?
Hey, can I have some money?
What are some of your guilty pleasures that you're willing to admit?
Do you hear the voices too?
What do you think is the worst way to die?
If you could eat only one food for the rest of your life, what would it be?
What conspiracy theories do you believe in?
You know, when I'm in the shower, I think about you. Do you do the same thing?
Would you rather own a dragon or be a dragon?
What's your WiFi password?
Do you brag about the random acts of kindness you perform?
What songs are on your zombie killing soundtrack?
As of right now, if you were to die, what would you leave me in your last will and testament?
Think of someone who you suspect or you know doesn't like you. What do you think they think about you?
If you were on a death row, what would your last meal be?
How many zombies have you killed in your life?
Who are you and why are you in my house?
Would you rather wear shoes every single second for the rest of your life or never be allowed to wear shoes ever again?
What's the last thing you did for the first time?
If I were to summon you via black magic, which 5 items would I need in each corner of the pentagram?
If you could do anything in the world as a career, what would it be?
What's your favorite smell?
If you had the option to never have to sleep again, or never have to eat again, which would you choose? Why?
If there were no consequences for a day, what would you do?
If you were a serial killer, what would your modus operandi be?
If you were a flavor, what would you be?
Which Pokémon starter would you choose: Bulbasaur, Squirtle, or Charmander?
What's the first thing you do when you are bored?
What's your most favorite animal in the world?
If you had to remove one color from the world forever, which would it be?
Fun Questions To Ask Your Lover / partner
Do you have to have your closet doors open or closed when you go to sleep?
Have you ever taken bottles of shampoo or conditioner from a hotel?
Do you sleep with your legs tucked under the blankets or one foot out?
Have you ever stolen anything before?
Would you rather be attacked by a grizzly or a nest of hornets?
Have you ever counted your steps while you walk?
Do you ever dance even if there's no music playing?
Do you watch cartoons?
If you had to bury treasure where would you hide it?
What is your spirit animal?
Fun Questions To Ask Your Girlfriend
If I were writing a list of "questions to ask my girlfriend," what should the first question be?
What have been the defining moments in your life so far?
What is your first memory?
Do you have any random questions to ask me?
When was the last time you laughed so hard you belly hurt?
Someone walks in a room and you smile from ear to ear; who is the person?
What's the strangest ice cream flavor you've ever tried
Fun Questions To Ask Your Boyfriend
If you were a super hero, what would your power be?
What's the best thing about being you?
When you sleep, do you prefer the room to be chilled or warmed?
Who is the funniest person you know?
You're invited to lunch with a person you've always wanted to meet; who is it?
What grosses you out?
What is your favorite holiday?
Fun Questions To Ask Your Crush
WHAT'S THE WORST DATE YOU'VE EVER BEEN ON?
WHO IS YOUR NEMESIS?
IF YOU WERE A SUBURBAN MOM, WHAT KIND OF SUBURBAN MOM WOULD YOU BE?
WHICH CELEBRITY DO YOU THINK WILL BE PRESIDENT NEXT?
WHAT EMOJI DO YOU USE WHEN YOU'RE FLIRTING?
DO YOU HAVE MOMMY ISSUES OR DADDY ISSUES OR BOTH?
WHAT DID YOU WANT TO BE WHEN YOU WERE GROWING UP?
WOULD YOU WEAR A HAT THAT SAYS "DADDY"?
DO YOU PREFER A PARTNER WHO WHINES, CRIES, OR COMPLAINS?
WOULD YOU SAY YOU'RE ONLY SLIGHTLY A NARCISSIST OR A COMPLETE EGOMANIACAL MONSTER?
Conclusion –

As we earlier said, asking a fun question can be a difficult task. You need to have a good sense of understanding and decision-making to raise a question in front of a group of people and make them laugh at your question. Isn't it very strange that humor is a very complicated term, and a person who can impress others with his sense of humor finds a special place in society? There is nothing to freak about if you read our articles to find out the question you should ask. It's always human nature to improve, and it's a very important aspect to appreciate the importance of humor and learn it. Once you have the quality of manipulating and adjusting your humor with you're situation and people you are with, you will not require to ask the question of What are the fun questions to ask. It is nothing to be ashamed of. A fun question to ask never is something constant. All you need is to improve your interactive skills, and you will land in a position where you will have hundreds of questions that are fun to ask.