If you love to go to those golf clubs and don't know how to peruse other member and they must know golf sayings works like a charm for golf lovers. And that is why we have listed out some of the popular golf sayings for you!
[toc]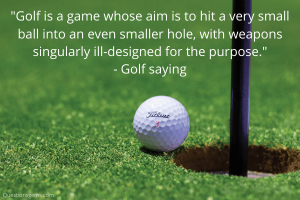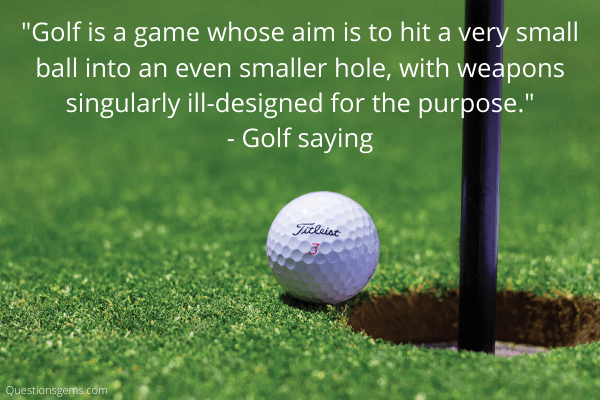 Golf Sayings
Golf is a game whose aim is to hit a very small ball into an even smaller hole, with weapons singularly ill-designed for the purpose.

Winston Churchill
Golf is a good walk spoiled.

Mark Twain.
I regard golf as an expensive way of playing marbles.

G.K. Chesterton.
Golf isn't like other sports where you can take a player out if he's having a bad day. You have to play the whole game.

Phil Blackmar.
The most important shot in golf is the next one.

Ben Hogan
Hockey is a sport for white men. Basketball is a sport for black men. Golf is a sport for white men dressed like black pimps.

Tiger Woods
If you watch a game, it's fun. If you play at it, it's recreation. If you work at it, it's golf.

Bob Hope
GOLF IS A GAME IN WHICH ONE ENDEAVORS TO CONTROL A BALL WITH IMPLEMENTS ILL ADAPTED FOR THE PURPOSE.

Woodrow Wilson
Golf is so popular simply because it is the best game in the world at which to be bad.

A.A. Milne
Golf, like the measles, should be caught young, for, if postponed to riper years, the results may be serious.

P.G. Wodehouse
Golf is like a love affair. If you don't take it seriously, it's no fun; if you do take it seriously, it breaks your heart.

Arthur Daley
They say golf is like life, but don't believe them. Golf is more complicated than that.

Gardner Dickinson
Golf tips are like aspirin. One may do you good, but if you swallow the whole bottle, you will be lucky to survive.

Harvey Penick
Golf is like life in a lot of ways – All the biggest wounds are self-inflicted.

Bill Clinton
Golf gives you an insight into human nature, your own as well as your opponent's.

Grantland Rice
Golf is not just an exercise; it's an adventure, a romance… a Shakespeare play in which disaster and comedy are intertwined.

Harold Segall
Golf is golf. You hit the ball, you go find it. Then you hit it again.

Lon Hinkle
Golf is the closest game to the game we call life. You get bad breaks from good shots; you get good breaks from bad shots – but you have to play the ball where it lies.

Bobby Jones
Golf is assuredly a mystifying game. It would seem that if a person has hit a golf ball correctly a thousand times, he should be able to duplicate the performance at will. But such is certainly not the case.

Bobby Jones
Golf is deceptively simple and endlessly complicated; it satisfies the soul and frustrates the intellect. It is at the same time rewarding and maddening – and it is without a doubt the greatest game mankind has ever invented.

Arnold Palmer
Golf? is the infallible test. The man who can go into a patch of rough alone, with the knowledge that only God is watching him, and play his ball where it lies, is the man who will serve you faithfully and well.

P.G. Wodehouse
Golf is not, and never has been, a fair game.

Jack Nicklaus
Golf is about how well you accept, respond to, and score with your misses much more so than it is a game of your perfect shots.

Dr Bob Rotella
Golf is a science, the study of a lifetime, in which you can exhaust yourself but never your subject.

David Forgan
Golf is good for the soul. You get so mad at yourself you forget to hate your enemies.

Will Rogers
Golf is like a razor. You get just so sharp and then it begins to dull a little more the more you use it.

Doug Sanders
Golf isn't a game, it's a choice that one makes with one's life.

Charles Rosin
Golf is the loneliest sport. You're completely alone with every conceivable opportunity to defeat yourself. Golf brings out your assets and liabilities as a person. The longer you play, the more certain you are that a man's performance is the outward mani

Hale Irwin
Golf is a compromise between what your ego wants you to do, what experience tells you to do, and what your nerves let you do.

Bruce Crampton
Funny Golf Sayings
I had a wonderful experience on the golf course today. I had a hole in nothing. Missed the ball and sank the divot.

Don Adams
Golf is the hardest game in the world to play, and the easiest to cheat at.

Dave Hill
Golf, like the measles, should be caught young, for, if postponed to riper years, the results may be serious.

P.G. Wodehouse
The only time my prayers are never answered is on the golf course.

Billy Graham
Nothing dissects a man in public quite like golf.

Brent Musberger
Golf is an ideal diversion but a ruinous disease.

Gerald Ford
Over the years, I've studied the habits of golfers. I know what to look for. Watch their eyes. Fear shows up when there is an enlargement of the pupils. Big pupils lead to big scores.

Sam Snead
Although golf was originally restricted to wealthy, overweight Protestants, today it's open to anybody who owns hideous clothing.

Dave Barry
Don't play too much golf. Two rounds a day are plenty.

Harry Vardon
I don't like to watch golf on television because I can't stand people who whisper.

David Brenner
Most people play a fair game of golf, If you watch them.

Joey Adams
The average golfer doesn't play golf. He attacks it.

Jack Burke
Golf is played by twenty million mature American men whose wives think they are out having fun.

Jim Bishop
The only sure rule in golf is he who has the fastest cart never has to play the bad lie.

Mickey Mantle
Golf is a fascinating game. It has taken me nearly forty years to discover that I can't play it.

Ted Ray
If you think it's hard to meet new people, try picking up the wrong golf ball.

Jack Lemmon
Show me a man who is a good loser and I'll show you a man who is playing golf with his boss.

James Murray
For me, the worst part of playing golf, by far, has always been hitting the ball.

Dave Barry
I know I am getting better at golf because I'm hitting fewer spectators.

Gerald Ford
If you drink, don't drive. Don't even putt.

Dean Martin
The uglier a man's legs are, the better he plays golf. It's almost a law.

H G Wells
I tried real hard to play golf, and I was so bad at it they would have to check me for ticks at the end of the round because I'd spent about half the day in the woods.

Jeff Foxworthy
If there is any larceny in a man, golf will bring it out.

Paul Gallico
Golf is a game in which you yell 'fore', shoot six, and write down five.

Paul Harvey
They say golf is like life, but don't believe them. Golf is more complicated than that.

Gardner Dickinson
Go play golf. Go to the golf course. Hit the ball. Find the ball. Repeat until the ball is in the hole. Have fun. The end.

Chuck Hogan
It's good sportsmanship to not pick up lost golf balls while they are still rolling.

Mark Twain
If you break 100, watch your golf. If you break 80, watch your business.

Joey Adams
The only thing a golfer needs is more daylight.

Ben Hogan
Golf without mistakes is like watching haircuts. A dinner without wine.
Inspirational Golf Sayings
"Mistakes are part of the game. It's how well you recover from them, that's the mark of a great player." – Alice Cooper
"The most important shot in golf is the next one." – Ben Hogan
"I know I am getting better at golf because I am hitting fewer spectators." – Gerald R. Ford
"The only sure rule in golf is he who has the fastest cart never has to play the bad lie." – Mickey Mantle
"To find a man's true character, play golf with him." – P.G. Wodehouse
"As you walk down the fairway of life, you must smell the roses, for you only get to play one round." – Ben Hogan
"I started watching golf for the first time yesterday. I`m really worried about myself. I was actually enjoying it." – Ewan McGregor
"If you drink, don't drive. Don't even putt." – Dean Martin
"Hockey is a sport for white men. Basketball is a sport for black men. Golf is a sport for white men dressed like black pimps." – Tiger Woods
"Actually, the only time I ever took out a one-iron was to kill a tarantula. And I took a 7 to do that." – Jim Murray
"I have a tip that can take five strokes off anyone's game: It's called an eraser." – Arnold Palmer
"If you watch a game, it's fun. If you play at it, it's recreation. If you work at it, it's golf." – Bob Hope
"I call upon all nations to do everything they can to stop these terrorist killers. Thank you. Now watch this drive." – George W. Bush
"Although golf was originally restricted to wealthy, overweight Protestants, today it's open to anybody who owns hideous clothing." – Dave Barry
"Golf… is the infallible test. The man who can go into a patch of rough alone, with the knowledge that only God is watching him, and play his ball where it lies, is the man who will serve you faithfully and well." – P.G. Wodehouse
"I regard golf as an expensive way of playing marbles." – G.K. Chesterton
"Stay true to yourself and listen to your inner voice. It will lead you to your dream." – James Ross
"It took me seventeen years to get three thousand hits in baseball. It took one afternoon on the golf course." – Hank Aaron
"Golf is a puzzle without an answer. I've played the game for 50 years and I still haven't the slightest idea of how to play." – Gary Player
"Give me golf clubs, fresh air and a beautiful partner, and you can keep the clubs and the fresh air." – Jack Benny
Conclusion:

These are the best golf sayings. I hope you guys like our collection of golf sayings. If you have any question or suggestion then just comment below or contact us.

Thanks