Do you like watching movies? I am sure you do! Actually, we all love watching a good movie on a weekend with good food. Some people like to invite a friend or two on the movie night, while others enjoy the alone time. However you like watching movies that would be your own choice. We are not here to talk about the movies but your love for the movies. Confused? When someone mentions a movie that you may have watched and if you are a movie lover, you would have definitely watched it, you just jump right into the conversation and starts to share the general trivia about the movie. Well, that does feel great.
But how well aware you are about the movies? Do you like them or you are passionate about them? Have you watched all the epic movies in the history of time? Or you are still on a movie marathon to watch all the amazing movies? It doesn't matter which state you are in, what matters is that you like watching movies and you have a good knowledge of movies as well.
How about testing your movie knowledge? If you are thinking about it then you are at the right place, because we are going to introduce you to a list of movie quiz questions, which I am sure you would enjoy answering.
Go ahead and take a look at the following movie quiz questions and see if you can answer all of them. We hope you enjoy taking this movie quiz.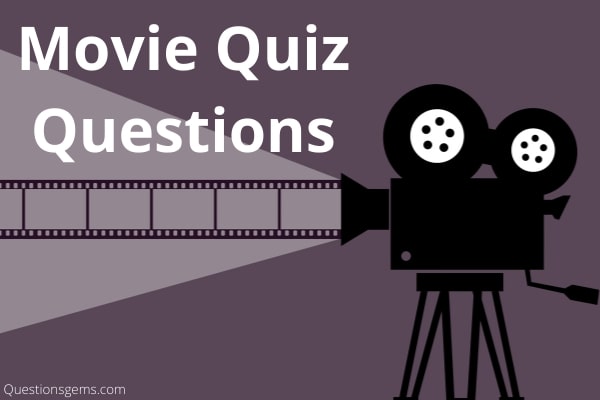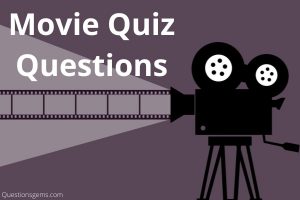 [toc]
Movie Quiz Questions
Film and Television Institute of India located at?

Ans-

Pune
Film and Television Institute of India established in the year?

Ans-

1960
First 3D animated film from India is?

Ans-

Roadside Romeo
First Indian animation film "Ek Anek Aur Ekta" in 1974 directed by?

Ans-

Vijaya Mulay
Last film directed by Satyajit Ray?

Ans-

Agantuk
First Filmfare Award for best actor awarded to?

Ans-

Dilip Kumar
Total number of award won by Satyajit Ray in National Film Award?

Ans-

32
First Indian to win an Oscar award?

Ans-

Bhanu Athaiya
Total number of Best Actor nomination for Amitabh Bachan in Filmfare Award?

Ans-

28
Filmfare awards started from the year?

Ans-

1954
From which year Indian Government sponsored National Film Award?

Ans-

1973
Satyajit Ray win Oscar in the year?

Ans-

1992
First Indian movie submitted for Oscar?

Ans-

Mother India
First Indian sound film was?

Ans-

Alam Ara
World Cinema Movie Quiz Questions
Q1. Which singer starred 1n' "The Bodyguard"?
Q2. Which actress Keaton starred in "Father of the Bride II"?
Q3. "I Saw the Light" was a 2016 biopic of which country music legend?
Q4. Which Holly won an Oscar for a silent role in "The Piano"?
Q5. Which silent movie star was played by Robert Downey Jr in 1992?
Q6. Which Welsh actor starred with Jodie Foster in "The Silence of the Lambs"?
Q7. Which Bob starred in "Mona Lisa" before finding it "good to talk"?
Q8. Which Steven directed "Schindler's List"?
Q9. Which actor Sylvester has the nickname Sly?
Q10. Who is Donald Sutherland's actor son?
Q11. What is the first name of "Pulp Fiction" director Tarantino?
Q12. Which actor won an Oscar as director of "I'Janc'es with Wolves"?
Q13. Which Nick co-starred with Barbra Streisand in "The Prince of Tides"?
Q14. What is the first name of actress Sarandon?
Q15. Which Johnny starred as Edward Scissorhands?
Answers-

1.Whitney Huston

2.Diane

3.Hank Williams

4.Hunter

5.Charlie Chaplin

6.Anthony Hopkins

7.Hoskins

8.Spielberg

9.Stallone

10.Kiefer

11.Quentin

12.Kevin Costner

13.Nolte

14.Susan

15.Depp
Conclusion –

So these are the most popular movie quiz questions that you can find. Did you do well on the quiz? If yes then congratulations! If you failed to answer a few questions then don't worry you are not alone. Now that you have taken the movie quiz, it's time to ask these movie quiz questions to another movie nerd. Go ahead and share these questions with your friends and family and have fun testing their knowledge on movies.

You can also host a movie quiz and ask for your participation in the quiz as well. It would be a pretty quiz to participate in and enjoy. Thank you for visiting us and we hope you enjoyed this movie quiz questions.