Are you a music lover? I guess you are. I, too, love music and it feels like whenever I am listing to music there is a feeling of wholeness like filling a void. Overall I am pretty sure that you too love music and knows a thing or two about music as well. Since you are passionate about music and want to gives it more time, it's natural for us to think that someone like you would participate in a Music Quiz.
Music Quiz can be one of the most exciting quizzes that you can participate in if you have a good knowledge of the subject. But if you lack that, you might terribly fail the quiz. There are so many things that one can think of when it comes to music and that's why the music quiz has a wide range of challenging questions.
Since you are here, we can guess that you are too looking forward to participating in a music quiz. Well if you are, then you are in the right place. Because we happened to have a lot of questions that can help you with the music quiz. These questions will provide you the kind of knowledge that you have been looking forward to gaining and exploring about music so that you can do well on the music quiz.
Do look at the following Music Quiz Questions or you can also think of it as your own music quiz to participate in. Either way, it's going to be exciting, so go ahead and have fun.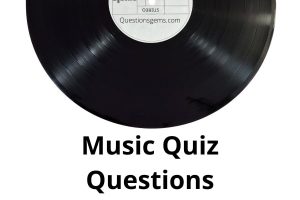 Music Quiz Questions And Answers
Q. Les Gray was the lead singer of which groupa?

Ans- Mud
Q. What was Smokey Robinson's most famous band called?

Ans- The Miracles
Q. Kenny Ball and his Jazzmen's 1962 hit was called March of the … what?

Ans- Siamese Children
Q. Who sang the hit theme song Rawhide?

Ans- Frankie Laine
Q. Which group comprised John Phillips, Denny Doherty, Cass Elliot, and Michelle Phillips?

Ans- The Mamas and the Papas
Q. London born singer Miss Adkins is better known by what name?

Ans- Adele
Q. Which singer sang the song 'Hanky Panky' form the 'I'm Breathless' album?

Ans- Madonna
Q. John Mayall's band which helped launch Eric Clapton's career was called what?

Ans- Bluesbreakers
Q. Rock Around the Clock was a hit for Bill Haley and his … what?

Ans- Comets
Q. Which comedy actor had a novelty hit with My Boomerang Won't Come Back?

Ans- Charlie Drake
Q. Who sang with Serge Gainsbourg on the hit Je t'aime?

Ans- Jane Birkin
Q. American musician Michael Lee Aday is better known by what stage name?

Ans- Meatloaf
Q. Which X-Factor winner released the winner's single When We Collide?

Ans- Matt Cardle
Q. Who rose to fame in 2008 with the release of the single I Kissed a Girl?

Ans- Katy Perry
Q. Colin Blunstone fronted which 1960s group?

Ans- The Zombies
Q. What Eastenders star sang on the novelty hit Come Outside?

Ans- Wendy Richard

Jiles Perry (JP) Richardson Jr, who died in the same plane crash as Ritchie Valens and Buddy Holly was better known by what name? Big Bopper
Q. Which singer starred as Petty Officer Cora Raikes in the film Battleship?

Ans- Rihanna
Q. Who was Dionne Warwick's most famous cousin?

Ans- Whitney Houston
Q. In which European city was Swedish pop group ABBA formed in 1972?

Ans- Stockholm
Q. Which later-to-be-famous solo singer and guitarist toured as a member of the Beach Boys in the mid 60s?

Ans- Glen Campbell
Q. Who had sang the hit song Little Old Wine Drinker Me?

Ans- Dean Martin
Q. Whose 2013 world tour was called 'The Mrs Carter Show'?

Ans- Beyonce
Q. What was Madonna's first UK top ten single?

Ans- Holiday
Q. Which country pop singer was born Eilleen Regina Edwards?

Ans- Shania Twain
Q. The live album Beauty and the Beat featured pianist George Shearring and which singer?

Ans- Peggy Lee
Q. Whose band was the Tijuana Brass?

Ans- Herb Alpert
Q. Who were Cliff Richard's backing group through the 60s?

Ans- The Shadows
Q. True or False. Miley Cyrus is the daughter of country singer Billy Ray Cyrus?

Ans- True
Q. Stewart Copeland was the drummer with which band?

Ans- The Police
Q. What famous 'two-fingered' jazz guitarist died in 1953?

Ans- Django Reinhardt (Jean-Baptiste Reinhardt)
90s Music Quiz Questions And Answers
Q. How many strings does a violin usually have?

Ans- Four
Q. Which English rock band, formed in London in 1969, takes its name from a fictional character in David Copperfield?

Ans- Uriah Heep
Q. In which American city was Elvis discovered dead in 1977?

Ans- Memphis
Q. What song, released to promote the film The Millionairess, featured its stars Peter Sellers and Sophia Loren?

Ans- Goodness Gracious
Q. Who managed the Beatles' prior to his early death in 1967?

Ans- Brian Epstein
Q. Whose nickname was a derived from the term satchel-mouth?

Ans- Louis Armstrong (Satchmo)
Q. Which group had a 1980s hit with the song Ghost Town?

Ans- The Specials
Q. Whose single 'Glad All Over' knocked the Beatles' 'I Want to Hold Your Hand' off the top of the UK charts in 1964?

Ans- The Dave Clark Five
Q. Jimmy Page is an English musician who formed which rock band in 1968?

Ans- Led Zeppelin
Q. What's the name of the motorbiker who dies in the Shangri-Las' hit The Leader of the Pack?

Ans- Jimmy
Q. Which singing-songwriting founder of the Flying Burrito Brothers died age 26, after which his body was 'stolen' by a friend and burnt in the Joshua Tree National Park?

Ans- Gram Parsons
Q. Who won (barefoot) the British Eurovision Song Contest in 1967 with Puppet on String?

Ans- Sandie Shaw
Q. Who wrote and sang the novelty hit Hello Muddah, Hello Fadduh, about Camp Granada?

Ans- Allan Sherman
Q. Who was the famous rock guitarist in the group Love Sculpture, notably featuring on their breakneck hit version of Khachaturian's classical piece Sabre Dance?

Ans- Dave Edmunds
Q. The Isley Brothers' hit was called Behind a … what?

Ans- Painted Smile
Q. Micky Dolenz, Michael Nesmith, and Davy Jones, whose missing?

Ans- Peter Tork (all members of the Monkees)
Q. In 2013, who resumed his career with his third and fourth albums The 20/20 Experience and The 20/20 Experience – 2 of 2, exploring new soul styles with 1960s and 1970s rock?

Ans- Justin Timberlake
Q. In May 2015, who dressesd up as George Michael to celebrate their 27th birthday and posted the snaps on Twitter?

Ans- Adele
Q. 1950-60s record turntables commonly offered four speeds: 33, 45, 78, and what other?

Ans- 16 (technically the speeds were 33⅓ and 16⅔ but record decks tended to show only the whole numbers)
Q. American DJ Robert Weston Smith was better known by what stage name?

Ans- Wolfman Jack
Q. Lulu sang the theme song to which 1967 film about an inner-city school, starring Sidney Poitier?

Ans- To Sir, With Love
70s Music Quiz Questions And Answers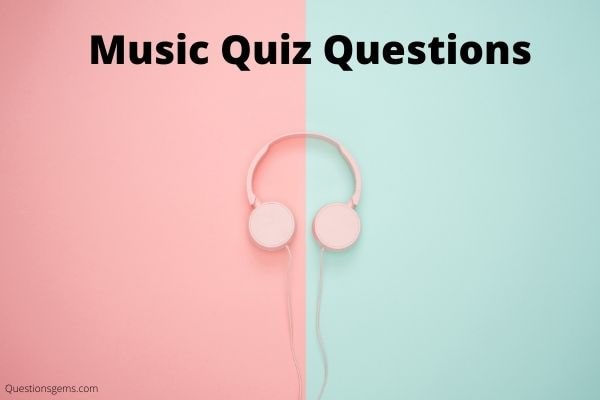 Q. What Eddie Cochran song, covered by the Who, told of frustrations with his boss and his congressman?

Ans- Summertime Blues
Q. Who was the main singing star in the musical Half a Sixpence?

Ans- Tommy Steele
Q. Which comedian's recordings featured hilarious telephone routines about King Kong and the introduction of Tobacco?

Ans- Bob Newhart
Q. Which singer's Eurovision Song Contest entry was Knock Knock (Who's There?)?

Ans- Mary Hopkin
Q. Whose big hit was I love You Because?

Ans- Jim Reeves
Q. Who wrote the instrumental A Swingin' Safari and led the orchestra which played the original hit version?

Ans- Bert Kaempfert
Q. The Copacabana nightclub was in which city?

Ans- New York
Q. Which British comedian had the massive-selling 1965 hit Tears?

Ans- Ken Dodd
Q. What long-running BBC Radio chart show began on the Light Programme in 1955, and later becoming hugely popular when presented by Alan Freeman?

Ans- Pick of the Pops
Q. What ridiculously titled song was a hit in 1954 for Max Bygraves in the UK and the Four Lads in the USA?

Ans- Gilly Gilly Ossenfeffer Katzenellen Bogen by the Sea
Q. Daniel Stein, an English DJ and record producer known for his electronic music, is better known by what name?

Ans- DJ Fresh
Q. Which animal is represented by the Oboe in Peter and the Wolf?

Ans- Duck
Q. Who reunited in 1981 for 'The Concert in Central Park', which attracted more than 500,000 music fans?

Ans- Simon and Garfunkel
Q. Which soul band's hits included 'Emma', 'So You Win Again' and 'Brother Louie'?

Ans- Hot Chocolate
Q. In which American state was Madonna born?

Ans- Michigan
Q. Who had the 1965 instrumental hit Spanish Flea?

Ans- Herb Alpert and the Tijuana Brass
Q. What was Emile Ford and the Checkmates' 1959 hit, supposedly the longest ever question in a UK No1 song title?
Q. What Do You Want to Make Those Eyes at Me For?
Q. Sean John Combs is better known by what stage name?

Ans- Puff Daddy (also accept Diddy, and P. Diddy)
Q. Which British electronic music duo are composed of Tom Rowlands and Ed Simons?

Ans- The Chemical Brothers
Q. Which American singer and entertainer was nicknamed Schnozzola, because of his large nose?

Ans- Jimmy Durante
60s Music Quiz Questions And Answers
Q. Actor Rhys Ifans is a former member of which Welsh rock band?

Ans- Super Furry Animals (also accept The Peth)
Q. Dolly Parton had a 1981 hit with which song from the film of the same name?

Ans- 9 to 5
Q. Which singer appeared in the feature film, Battleship?

Ans- Rihanna
Q. Who wrote and had a hit with the instrumental Classical Gas?

Ans- Mason Williams
Q. Who wrote Patsy Cline's hit Crazy?

Ans- Willie Nelson
Q. What city hosted the Beatles as the resident band at the Kaiserkeller and Top Ten Club?

Ans- Hamburg
Q. Which Welsh singer was born Gaynor Hopkins in June 1951?

Ans- Bonnie
Q. Who were the famous backing singers on most of Elvis Presley's early hits?

Ans- The Jordanaires
Q. The Stratocaster is a model of which guitar maker?

Ans- Fender
Q. Which piano-playing singer's first hit was The Fat Man?

Ans- Fats
Q. Which singer is married to Trudie Styler?

Ans- Sting
Q. Which British reggae bandy are best remembered for their successful 1982 single 'Pass the Dutchie'?

Ans- Musical Youth
Q. Which American rock'n'roll star caused controversy when he married a young teenager?

Ans- Jerry Lee Lewis
Q  Who made the highly rated 1959 jazz album Kind of Blue?

Ans- Miles Davis
Q. What is the better known stage name of Robyn Fenty?

Ans- Rihanna
Q. Which musical duo had the albums 'Rockney' and 'A Christmas Knees-Up'?

Ans- Chas 'n' Dave
Q. Which Radiohead album has been cited by musicians as one of the greatest albums of all time ?

Ans- OK Computer
Q. Which iconic British female singer made the highly regarded album titled '(her first name) in Memphis' ?

Ans- Dusty Springfield
Q. Whose band was the All Stars?

Ans- Junior Walker (Jr Walker)
Q. Larry Adler played what instrument?

Ans- Harmonica
Q. Which group's best-known recording is the 1967 single 'A Whiter Shade of Pale'?

Ans- Procol Harum
Music Trivia Quiz Questions
Q. Which singer-songwriter from Sale released the album 'White Ladder' in 1998?

Ans- David Gray
Q. What is the first name of compose Vivaldi?

Ans- Antonio
Q. Whose childhood hit was Fingertips?

Ans- Stevie Wonder
Q. Which guitar innovator and player has a range of Gibson Guitars named after him?

Ans- Les Paul
Q. The founding brother members of the Kinks were Ray and Dave what?

Ans- Davies
Q. Who composed the classical piece Peter and the Wolf?

Ans- Sergei Prokofiev
Q. Which singer was known as Little Miss Dynamite?

Ans- Brenda Lee
Q. Who is noted for his guitar solo on Stairway to Heaven?

Ans- Jimmy Page
Q. Who singer-guitarist's backing band was The Bruvvers?

Ans- Joe Brown
Q. Which Rolling Stones guitarist died in a swimming pool in 1969?

Ans- Brian Jones
Q. Who founded the Tamla Motown record label?

Ans- Berry Gordy
Q. Which Italian classical tenor became blind at the age of 12 following a football accident?

Ans- Andrea Bocelli
Q. 'I Will Never Let You Down', became which singer's fourth UK number one in 2014?

Ans- Rita Ora
Q. The 5.6.7.8's are a rock trio from which city?

Ans- Tokyo, Japan
Q. Who was nicknamed 'The Big O'?

Ans- Roy Orbison
Q. Which member of the Hollies went on to join the hugely successful American band commonly known by their initials CSNY?

Ans- Graham Nash
Q. What was Stephane Grappelli's instrument?

Ans- Violin
Q. Which gravel-voiced English singer was previously a gas-fitter from Sheffield?

Ans- Joe Cocker
Q. Who made the 1962 hit Monster Mash?

Ans- Bobby 'Boris' Pickett (and the Cryptkickers)
Q. Who sang the title song of the film The Girl Can't Help It?

Ans- Little Richard
Q. The 1956 inaugural Eurovision Song Contest featured Belgium, France, Germany, Luxembourg, Netherlands, Italy and which other country?

Ans- Switzerland
Q. Who originally fronted Herman's Hermits?

Ans- Peter Noone
Q. What group became famous in the 1960s for their parody impressions of other hit songs?

Ans- The Barron Knights
Q. Peter Potter in the USA and David Jacobs in the UK presented which pop music TV show?

Ans- Juke Box Jury
Q. What was the 1962 space-age instrumental hit by the Tornados?

Ans- Telstar
Q. What was Gary Glitter's earlier stage name in the 1960s?

Ans- Paul Raven
Q. What record label did the Beatles establish?

Ans- Apple
Conclusion –

So these are the most popular music quiz questions that you have been looking for. These questions are kind of great because they truly test your knowledge of music and how you answer things. The whole point of these Music Quiz Questions was to make your practice and test your knowledge of music. We hope after answering these questions you either found confidence or some right answers to the questions. Either way, this article was helpful, this we can hope. Thank you for visiting our page and we hope you loved it.