Finally, we provide you the most common nursing interview questions you are most likely to encounter along with how to best answer .. here are the best collection of nursing Interview Questions for you.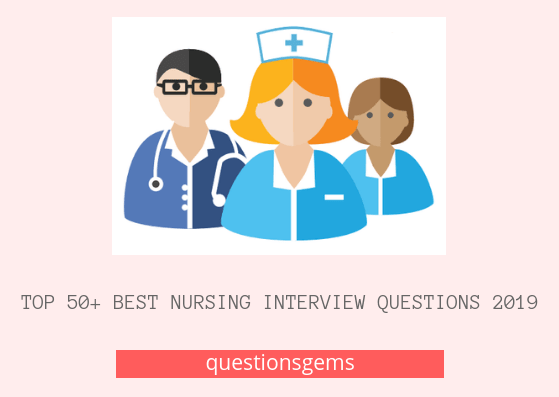 Nursing Interview Questions And Answers
Why do you want to work for this hospital/organization?

In this nurse interview question, which is often her first, Bryant is looking to find out not only that nurses have taken the time to learn about the organization, but what is particularly attractive to them.

"Sometimes people won't have an answer to this question and if other parts of the interview are great, I will still hire them.  But I am looking for people who particularly want to work at this hospital."
What are your values?

"This is one of my newest favorites [among nurse interview questions]," she explained.

"While there aren't exactly right and wrong answers to this question, I am looking for someone with values that are either shared by our current team or which will augment our current team. If their values are really different, they wouldn't enjoy the team any more than we would enjoy working with them."

Bryant reflected that if the candidate answered this nurse interview question by only mentioning superficial things, it could sway her opinion.

She also noted that candidates should have the same concerns about what values are promoted and upheld in the workplace of their potential employer.

"I would suggest that candidates ask this question of the people interviewing them, to find out if they think the team is a good fit for them," she added.
What drew you to the nursing profession?

Some nurse managers might ask this common nursing interview question in place of the one about values, or as a follow-up question. It also gives the candidate the opportunity to tell more of their personal story.

The hardest part about answering this nurse interview question is that you want to be honest, without sounding trite.  "I just want to help people" is a phrase that has been heard too often in nurse job interviews.

So think about the real motivators in your own life, practice what you want to say, and keep it relatively short.
Tell me about a time when you inadvertently caused conflict?

These types of nursing interview questions and answers may make some candidates uncomfortable, but they are asked for a purpose.

"I follow this question up with, 'What would you do differently if you had to do it over?'" Bryant remarked. "A great answer to this question shows self-reflection and a willingness to improve."
What can you bring to our team?

"I ask this question because it provides them with an opportunity to share their unique strengths that may not have already come up in the interview," she explained.

Nurses might want to provide specific examples of how they contributed to their current or previous team as part of their answer.
What are your weaknesses?/What is your area of greatest opportunity?

"I actually don't like this question all that much and only use it when necessary.  It might actually signal to the interviewee that the interview isn't going that well," Bryant commented.

But how should you respond if you are asked this question?

"Of course you want to spin your weakness into a positive and/or show that you are willing to invest in your own self-improvement."
If I called your previous supervisor, what would they tell me about you?

"I get all kinds of good stuff out of this question because applicants know that I can verify their response," she noted.  "To answer this appropriately you need to be very honest. Hopefully there are positive things and the supervisor will substantiate that."

"But they may have also had a difficult relationship with a prior supervisor and this gives them a chance to speak to that and to explain what steps they did to try to improve the relationship," Bryant continued.
How would you define a leader?

"This is an important question because all nurses are leaders. Even if they aren't formally leading their peers, they are advocating for their patients and looking for ways to improve the practice," she said. "I want to know how a nurse thinks about leadership."

The worst answers to this nurse interview question, in Bryant's opinion, would be those that show an attitude that the manager should be fixing all their problems.
What are your career goals?

"For many nurses, working in med-surg is a starting point—and that is fine.  But I want to know where it is that they want to go. Is there another specialty they are hoping to move to? Are they interested in getting certified, or being involved with the unit or joining professional organizations?" Bryant explained.

You don't have to have your entire nursing career goals planned out, but a little thought and self-reflection can help you be ready for these types of nursing interview questions and answers.
What questions would you like to ask me/us?

Bryant offered this tip: be prepared to be interviewed not just by the nurse manager, but by other members of the unit.

"When you meet with other staff nurses, this is a great time to ask questions like how they work together as a team or how many patients they have each shift," she stated. "You will spend more time with the other staff nurses than the nurse manager so you want to make sure it is a good fit for you."
 Nursing Interview Questions And Answers Scrnarios
WHAT MADE YOU CHOOSE NURSING AS A CAREER?

A: I've always loved nursing, but my interest in healthcare really started when I volunteered at a homeless shelter in college. This really inspired me to pursue a career where I could devote my time to looking after others. The more times I volunteered, the more I knew that nursing was what I really wanted to do.

I wanted to do something that is challenging, interesting and make's a real difference in people's lives. I feel very passionate about the healthcare profession and also see it as a way of contributing positively to society.

My mother was a nurse and when I was growing up I saw the satisfaction she gained by helping others. This also contributed very greater to my interest in pursuing nursing as a career.
TELL ME ABOUT YOURSELF.

A: I'm a very energetic person and a good communicator. I've been working in healthcare for the past two years and this has helped me build my confidence and taught me the importance of very good patient care,

In my last role, I juggled a variety of patient loads, assisted in a charity fundraiser and also was an advocate for senior patients. Because of this, the hospital is launching a new educational program to teach nurses how to better care for elderly patients.
WHAT DO YOU FIND MOST REWARDING ABOUT BEING A NURSE?

A: There are many things I find extremely rewarding about nursing. It can be something like seeing the joy when a mother hold her newborn infant for the first time or helping someone get back on their feet after recovering from major surgery. I also find interacting with patients and their families very rewarding.
HOW HAS YOUR NURSING TRAINING PREPARED YOU?

A: My clinical training in the ER of City Hospital prepared me for the fast-paced care required of an ER Nurse. I also had an internship position at an Oncology Center after graduating last May which provided me with hands-on experience treating patients with cancer.

When I was undertaking my nursing studies, I was also fortunate to work part-time as a research assistant for Dr. Montgomery in San Diego who was undertaking clinicals on a new treatment for heart disease.

Although I was only there for the first 12 months of my nursing program, the knowledge that I obtained has help prepared me to assist with cardiac patients in a more effective way. I am very keen to specialize in cardiac nursing care if I can get the opportunity.
WHERE DO YOU SEE YOURSELF IN HEALTHCARE IN FIVE YEARS?

A: I really think that the nursing experience that I will have gained will have helped me become a first-rate nurse. I believe in providing the best care that I can to all patients but there is nothing like the exp[experience gained from working in a medical unit for a number of years.

Ideally, I see my long-term future in hospital administration where I could put more people skills and nursing experience to good use to not only benefit the nurses under my control but also the patients and the healthcare facility overall.
WHY ARE YOU LEAVING YOUR CURRENT NURSING POSITION?

A: I'm looking for new challenges. I think it's essential that I broaden my nursing experience and set new goals for myself otherwise I will remain stagnant. I hope to learn new skills, see how other units operate and really improve myself as a nurse.

I think it's important to keep moving ahead and getting better whatever career you are in. But particularly in nursing which is changing rapidly with new nursing and healthcare technology. I see this job as being able to further develop my potential as a nurse and a person.
WHAT DO YOU THINK OF YOUR PREVIOUS BOSS?

A: My last boss at the hospital where I worked taught me the importance of time management. He was extremely deadline-driven and wouldn't take excuses if the job wasn't done properly and on time. His no-nonsense approach pushed me to work harder and manage my caseloads much more efficiently.
WHAT DID YOU LIKE LEAST ABOUT YOUR LAST JOB?

A: There was nothing I really hated. Sometimes we would be a little short of nurses on the unit and I remember a couple of nurses were not pulling their weight as much as they could.

This made my tasks a little more exhausting than they should have been as I had to shoulder the extra responsibility. After about 6 months of this I was starting to get a little worn down and felt I wasn't giving my own patients they proper attention they should be receiving. So that was a bit annoying. But, as I said, I never hated the job or became resentful.
WHAT INTERESTS YOU ABOUT WORKING AT THIS PARTICULAR FACILITY?

A: Quite honestly, it is your cardiac care unit. As I mentioned earlier, I have a particularly strong interest in cardiology and your hospital has one of the top three cardiac units in the country.

I really want to get as much nursing experience as I can with cardiac patients in a hospital that is leading the way with the latest heart research and procedures. Your facility has a very good reputation for its programs and population and I believe I can gain a lot by working here.
DO YOU PREFER TO WORK ALONE OR AS PART OF A NURSING TEAM?

A: That really depends on the situation. I love working with a good team because I believe that providing the best care and treatment in a hospital is a team effort. But I have worked alone on wards before and enjoyed the autonomy and responsibility. But ideally I would prefer to be part of a well-structured unit that works together as one.