PWC stands for Price water house Coopers, it is a multinational professional service network. This one is considered as one of the biggest accounting firms. Given the name of the company, you got to admit that for anyone in which accounting or auditing background this is a life turning chance to be a part of PWC and get a job there.
The question is how can you get a job there? Well just like any other company, you have to be eligible for the job, your qualification wise and then your next step would be the interview which is not that easy. As you can expect, being that big of a name they will surely put some effort while recruiting their employees!
If you are too thinking for going for a job there or you are going to take the interview then this article is just right for you! We have got there some basic stuff which has right here. So let's get started and get a few tips for your next PWC interview.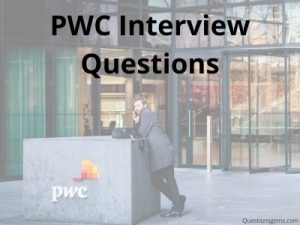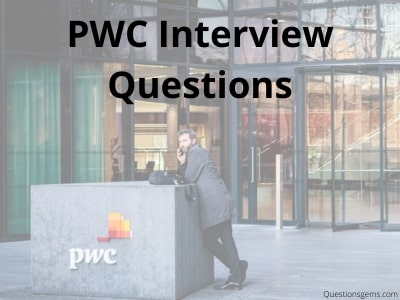 [toc]
How do I prepare for the PWC interview?
Preparing for the PWC interview is a crucial task. If you are not fully prepared then you can actually lose your dream job there.

These are the few tips you should keep in mind while preparing:-

Self-analysis – before going on for your interview, you need to do self-assessment that would mean

you gotta find your weakness and work on that.
You need to pay attention to your strengths
You have to look at your academic performance
Career interests
Personal goals
Work experience
And lastly your special skills
You need to be prepared to showcase and sell your strengths and express your qualifications in an organized manner. And you should know how your qualifications will help the employers.

Your self-assessment will help you to answer the question, as you know, the people who are taking your interview are professionals and they are looking for your strengths and weakness and their questions would be designed to do so. And if you have done your self-assessment than you will be able to answer better and highlight your strengths rather than your weakness.

Furthermore, you need to know your company and how it works and what kind of environment will there be. But most importantly you need to set goals for yourself, what job you want to start and where do you see yourself in 10 years.

Lastly, you have to have full information about the company you are taking the job in. From salary to the job responsibility or experience you are gonna get! All these things should be part of your preparation.
What do you know about PWC interview questions?
As we have mentioned earlier, the questions will be asked to know each candidate's strengths and weakness so if you have worked on that part you will be good to go! But the most important will be, why they should hire you? So you need to prepare a solid answer for this so that employers will see your qualities and they know the reason why they should have you!

Just keep in mind that you need to have faith in yourself and you need to be confident about yourself and then you can answer better!
Why do you want to work at PWC?
As we have mentioned earlier, you need to find a "why" factor. For that, you need to make a full career plan and see how its gonna help you in the long run. If you have an ultimate goal in your head then you need to find how this job will help you to reach your goal!
PWC Interview Questions
1.What do you mean by assessment year?
2.What is statutory audit?
3.How many heads are there under total income?
4.How will you decide the residential status of an individual?
5.What do you mean by vouching?
6.Introduce yourself.
7.What is the difference between smart work and hard work?
8.List some of you achievements?
9.What according to you was your greatest failure in life?
10.Where do you see yourself after 2 years?
11.Explain your personality in one word.
PWC Interview Questions For Tax Analyst
12.What is tax refund?
13.What is capital gain? Explain long term capital gains and how is it different from short term capital gains?
14.Tell me the name of big four auditors.
15.What is alternative minimum tax (AMT)?
16.Tell me something about your family?
17.Why should we hire you?
18.Why PwC?
19.Tell me about a time when you worked effectively under pressure.
20.If you could be any animal, what would it be?
21.What do you mean by amortization and impairment?
22.What is intercompany reconciliation?
23.What are the two most basics financial
24.statements prepared by the companies?
25.What is the securities transaction tax?
PWC Interview Questions For Accounting
26.What are the various systems of Accounting? Explain them.
27.Why do you know about PwC?
28.Do you enjoy doing independent research?
29.Why do you want to join this company?
30.What are the advantages to use stored procedures?
31.Do you think BCNF is better than 2NF & 3NF? Why?
32.Give me a SQL Query to find out the second largest company?
33.Discuss transparent DBMS?
34.Tell me about cloud computing and its applications?
35.What is the difference between exclusive lock and shared lock?
36.Why do you want to work in audit?
37.What are the objectives of internal audit?
38.What are the advantages and disadvantages of proprietary firms?
39.Explain about cross functional audits?
40.What are the main duties and responsibilities of a finance executive?
41.What are audit control procedures?
42.What is CARO 2003? What do you mean by management audit?
PWC Interview Questions For Freshers
43.Suggest a method of joining two tables.
44.What do you know about big data?
45.What do you mean by "normalization"?
46.What is object oriented model?
47.Define RDBMS.
48.Why is DML provided?
49.Where do we generally create INDEX?
PWC Interview Questions For Experienced
50.What opinion do your friends have about you?
51.When do you think you will complete and be able to join?(contextual question)
52.Do you have any questions for us?
53.What changes would you make at your college?
54.If you were to ask one of your professors to describe you, what would he or she say?
55.What do you think are your strengths and weaknesses?
Conclusion:

These are the best PWC interview questions. I hope these questions will help you in your pwc interview. If you have any question or suggestion then just comment below or contact us.