So you have recently applied for a dental school and got called for an interview, you must be on the ninth cloud right! But don't forget you will have to pass the interview test before entering the school!
Almost every big and reputed dental school conduct an interview for the applicants so that they can know if the applicant is worthy of school! It's not a big deal but at the same time, it's not something you want to take for granted! If you are soon going for an interview for dental school then this post is certainly for you.
In order to pass the interview, you will have to be ready for the questions they are gonna ask and answer them with confidence. Before stepping into the interview you should that you are halfway there and your fate depends on this interview so you will have to fully prepare yourself for the interview. We certainly here for you as we have listed out some of the most commonly used dental school interview questions so that you can easily prepare their answers at your own pace and ace the interview.
But before the list of some of the most asked dental school interview questions, we are gonna answer the most searched questions with regards to the dental school interview questions! So take a look!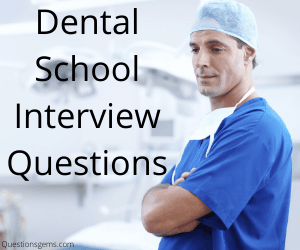 [toc]
How do I ace A dental school interview questions?
People certainly ask this question about how they can ace the interview and simply impress the interviewers! For that, you will have to take the interview as a basic interview and follow the basic do's and don'ts! You will have to keep in mind that it all ultimately depends on you and only you can impress the interviews if you are confident be about yourself!

–

If you wanna ace the interview, you will have to work on your personality and completely know about your weaknesses and strengths so you can overcome your weaknesses and portray your strengths in a seamless manner.
Here are a few important tips to ace the dental interview:-

Dress nicely

Be on time

Have a smile on your face while you talk or answer their questions

Be on time
Apart from these, the next and most important tip to ace your interview would be, prepare some questions to ask- it's not like you will have to interrogate them but you can ask them if you can see the college campus and meet the faculty. That way they will know you are highly interested and want the best for yourself!
How should I prepare for the dental school interview?
If you want your interview to go in the right direction then you will have to prepare for it!

The preparation for dental schools interview involved these things:-

Prepare your documents: make sure you have prepared your documents in a way that they highlight your achievements, this way you can make your first impression!

Know about the institution for which you are applying.

List out the commonly asked questions at dental interviews and prepare them!
Common Dental School Interview Questions
1.Tell me about yourself.
2.Why do you want to be a dentist?
3.Why do you think you would make a good dentist?
4.What would you do if you saw one of your close friends in your dental class cheating on a test?
5.How do your experiences match well with our school's mission statement?
6.What are your three greatest strengths and three greatest weaknesses? (This is a difficult question to answer and it is asked a lot in interviews. The most common answer that students give is that they overload themselves with too much stuff in their lives and wear themselves out. This is a good answer, but they hear it all the time. I would try to identify several weaknesses in yourself that are true weaknesses, but not things that make you look bad. Avoid things like: I'm always late and not prepared, or I procrastinate a lot.)
7.Why this dental school?
8.Tell me about a time…. You had to work in a group? Had to deal with a problem? Solved a problem? Had to be a leader? Were not satisfied with your performance? Had to make a difficult decision?
9.Have you had any experience with dentistry? What has it taught you about the profession? Why is it the right fit for you?
10.What differentiates you from the rest of the applicants?
Dental School Interview Questions To Ask
11.How do you think the dental profession has changed over the last 25 years?
12.What book have you read recently?
13.Who is your favorite author?
14.What types of books do you enjoy reading?
15.What would you say was the best day or experience you ever had?
16.What do you do when you are stressed out?
17.How do you see yourself, what are your good characteristics?
18.If you could have dinner with any two individuals that are not related to you and are either dead or alive, who would it be and why?
19.I like you and this all sounds great, but what can I go back and tell the admissions committee that will convince them that we want you in our upcoming class?
20.Why did you apply to our dental school?
21.What type of dental program are you interested in?
22.What did you think about our school (ie. facilities, program)?
23.In the past, what has happened to you that has made the biggest impact on your life?
24.Can you explain the (A-F) grade you received in this class?
25.We noticed you withdrew from a class, why?
26.Why did you decide to major in…?
27.Your grades slipped your ___ semester, any reason?
28.Dentists require a great deal of hand coordination. Do you have any relevant experience?
29.Do you think the role of a dentist has changed, and how so?
Best Dental School Interview Questions
30.Did you consider applying to medical school?
31.Why not medical school or another medical profession?
32.If you had unlimited money for a day what would you do with it?
33.If you are relocating, what do you think of our school's location?
34.How did your friends/family react to your interest in dentistry?
35.Do you have any friends or family who are dentists?
36.Do you have any plans after graduation?
37.What would make you happy 10 years from now?
38.If you had to change anything about yourself, what would it be?
39.How do you spend your free time?
40.What do you do to relax?
Conclusion:

These are the best Dental interview questions. I hope these dental school questions will help you in your dental interview. If you have any question or suggestion then just comment below or contact us.