Thinking about buying an old motorcycle? Well, that's a good decision. Because you can get a good deal and get a decent motorcycle for half price. It's a reasonable thing as some people find spending on a new bike expensive as they can get a good enough used motorcycle at a reasonable price.
But it is not a piece of cake, if anything it's like one of the list stressful tasks that you might have to do. Things might get more difficult if you have never bought a motorcycle or a used vehicle before. There are so many things that you will have to see and check. And if you forget to check the used motorcycle fully or forget to ask the crucial questions.
Asking the right kind of questions is a crucial element of the whole purchasing. And you just can't go wrong with questions because that's what helps you to get the perfect bike. You can know a lot about the used motorcycle if you ask the right kind of questions and at the same time you can leave out so much about a bike before purchasing it. And ghats where your purchase might go wrong.
Overall the deal is, check the bike fully and ask the right questions and get everything you wanted to know about the used motorcycle. Only then you can make an informative decision.
So here we have a number of questions to ask when buying a used motorcycle. So take a look at the following questions.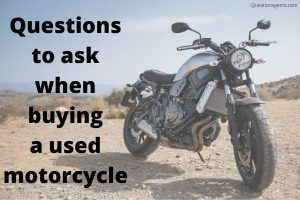 Questions to ask when buying a used motorcycle
1. How was the motorcycle maintained?
2. Are service records available?
3. Has it been in any accidents?
4. What features don't work the way they're supposed to?
5. Is there any reason you wouldn't drive the motorcycle coast-to-coast tomorrow?
6. What is the ownership history?
7. Why are you selling the motorcycle?
8. How did you arrive at this price?
9. Can I take the motorcycle to a mechanic for an inspection?
10. Do you have the title in hand?
Conclusion –

So these are some of the best questions to ask when busting a used motorcycle. No matter how much you look at the bike or how much knowledge you have on the bike, you can still miss so much if you don't know which kind of questions you should be asking. Hopefully, you got the right questions to ask when buying a used motorcycle from our article.