Buying a house is one of the biggest milestones we are going to accomplish in our lives. Buying a house requires a lot of effort from managing finances to hunting houses and finding the perfect one, it's going to be a long process. However, it doesn't have to be tiresome if you get the help you need and hire the right people to assist you with the house-hunting and buying process. This is where the solicitor or conveyancer comes into the picture.
If you are thinking of buying houses, you should first start looking for a good solicitor. A good solicitor can speed up things and make sure that things go smoothly as you find your new abode and do all the paperwork. At the same time, a bad solicitor might not cater to your needs. This is why you might want to take some time and put some effort into finding a good solicitor that can help you get your dream house without much of a hassle.
Now the question is how to choose a solicitor. What kind of questions should you be asking your solicitor? Well, that is exactly why we are here. This article would help you find a good solicitor and you have a list of questions that you should be asking your solicitor so you have a brief idea about what to talk about to your solicitor and how to select one.
Have a look at the following article featuring all the questions you need to ask a solicitor when buying a house.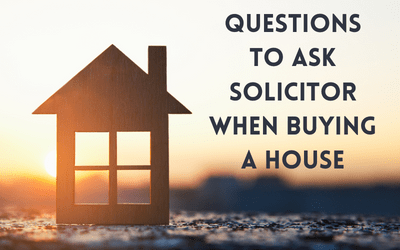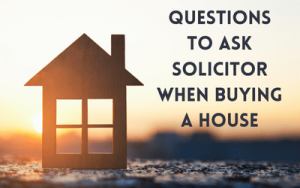 Also check –
Questions to ask when buying phone
/
Questions to ask when buying static caravan
Questions To Ask A Solicitor When Buying A House
1. How much will you charge?
Solicitors come at a cost and it depends on lots of factors. The fee of a solicitor would vary depending on the type and size of property you are looking to buy. It also depends on the company you are hiring a solicitor from. You might want to get your budget for a solicitor in check and see what you can afford and how much they can charge before signing your solicitor.
You should know that the more paperwork a property requires the more a solicitor is going to charge. Here are a few examples of properties that are going to cost a lot:
Leasehold
New-build
Shared Ownership
Right to Buy
Buy to Let
You should be clear on what kind of properties you are going to buy and negotiate that with your solicitor. If the solicitor isn't asking what kind of property you are buying, they might add some extra fee in the final billing.
You should be aware of any kind of extra or hidden fee and ask your solicitor about their:
Your solicitor's basic fee plus VAT
Itemized 'disbursements': the extra costs that they'll pay to other people on your behalf and pass on to you
These disbursements include search fees, Land Registry fees, and Stamp Duty Land Tax
You can choose a fixed-fee service where you only have to pay the price that has been listed in the agreement. You want the firm to be transparent and reliable. You can also specifically ask for any hidden or extra fee that they may charge.
2. What kind of service do you offer?
If you are thinking about whether or not you need a solicitor then you might want to ask this question. You need to know what kind of service a solicitor offers and how that can help you with your house purchasing.
Solicitors are qualified lawyers who offer a wide range of legal services. Licensed solicitors usually only offer conveyancing services as they are specialists in property law.
You can hire a decent solicitor when it comes to making a straightforward deal however with more complicated matters such as a divorce, a qualified solicitor would be a better choice. You can also look for a specialist solicitor or firm that handles the arena you are dealing with.
3. How long will it take?
People want to be done with the buying process as quickly as possible so while choosing your solicitor you might want to ask this question as well.
On average the conveyancing process may take around 8 to 12 weeks however the simpler cases will be much quicker. So the time will depend on the complexity of the deal.
The conveyancing process only happens between your solicitor and the seller or developer's solicitor and you will only be required to review, sign and return documents at various stages.
You should ask your solicitor if there is anything you can do to speed up things and make the whole process easier.
4. Who will I be dealing with?
While choosing a solicitor you might want to build a relationship with the solicitor so that you can conveniently ask them to assist you in any sort of matter. You can ask your solicitor who will be handling the day-to-day matters.
Having a personal relationship or at least a good rapport with your solicitor would allow both of you to handle things smoothly as you can talk freely about anything regarding the deals.
You should also see if they are going to be available during the holidays or weekends especially if you are planning to move around the time of the holiday. Overall, it would be better if you can talk to your solicitor and can have a good conversation.
5. How often will you update me?
Ideally, your solicitor is constantly updating you as the deal is going on. So you might want to ask them how often they will update you and what is their preferred method of contact.
You should know if they are going to contact you via video chat, voice call, text, or letter. It would ease the communication and purchasing process. Make sure they contact you as often as possible so you are updated with every step of the process.
6. What would happen if the purchase falls through?
When it comes to buying or selling properties a lot of time it may fall through. This is not uncommon as sellers may change their minds or accept a higher offer later. Whatever the reason is, you will be left with no property and may have to pay the solicitor no matter what.
To protect yourself in this kind of situation you might want to choose a solicitor that works on a 'no-completion, no-fee basis. This way you won't have to pay any legal fees if your deal falls through.
This way your solicitor would be determined to make sure that the purchase happens and you will be protected as well.
7. Are you regulated by a professional body?
You must hire a professional solicitor that works for a well-regulated firm. This would help you file a complaint in case of any grievances and protect your rights as well. It will also mean that the firm is transparent and you are aware of the fee structure and services offered by the firm and solicitor.
8. What cyber security have you got in place?
As scams and fraud have become more prevalent, you want to know that you will be protected and secured. This is where you should be asking about the cover security the conveyancing firms have.
You can ask about the security regulations of the firm and be assured that your money and the details of the deals are going to be secured. You also ask what they can do in case of fraud or scam and how your money will be protected.
9. How many conveyancing cases have you dealt with?
Experience is a great criterion when it comes to choosing a solicitor when buying a house. This will help you know how many cases they have successfully dealt with or if there are any cases that they haven't been able to successfully handle. This would give you an idea about their caliber and if they are experienced and qualified enough to deal with the situation.
You can check what kind of properties they have handled and especially if they are experienced in the house purchasing sector or not. You can also check the reviews given by their clients to get a full idea of their experience.
10. Can you help me transfer property?
If you are buying property from a family member or inheriting a house, you should consult with your solicitor so that they can make sure the transfer happens smoothly.
Conclusion
So here we have mentioned all the important questions that you need to ask a solicitor when buying a house. As we have said buying a house is one of the biggest deals in today's time. That is why you don't want to miss out on this opportunity and leave any room for errors.
Your goal is to find a solicitor that can look after your needs and make sure to provide a smooth transaction and property transfer. Be conscious of who you sign as your solicitor and don't make haste. It's ideal to consult multiple solicitors and firms before finalizing the ideal one.
That's the end of the article and we hope you got everything you have been looking for and know exactly what you need to ask your solicitor to get a good deal!