You did very well in your first interview! Well, that's why you have been called for the second interview. But being called for a second interview doesn't mean you get the job. It means they are still thinking about you and if they should hire you. Well, there are a lot of things that you have to concern about and we know you would probably be nervous as well. We are here to help you out and help you with your second interview.
You don't have to worry much. There will be certain questions that they will likely ask you during your second interview.
These questions will be like your first interview but of course, you will have to prepare yourself for the second interview just as you did with your first interview. We have got your back and we will be helping you out as well.
In the following article, we are going to list out a few second interview questions that us very important to prepare. Go ahead and take a look at the following second interview questions and be ready to crack the second interview and get your dream job.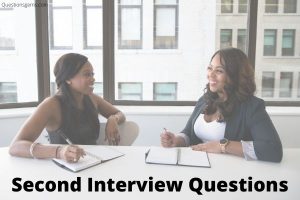 Second Interview Questions For Employers
Q1."What has been the biggest challenge in your current/previous role and how did you handle it?"

Ans-

The goal here is to gain insight into how you acted on your own initiative and demonstrated your problem-solving skills to achieve a certain objective.
Q2."Have you introduced new work procedures or tried to encourage your team to adopt new policies and processes at work?"

Ans-

The response to this question outlines your desire to innovate and be an agent of positive change in an organisation. By showing you have the company's best interest in mind you increase your chances of landing the job.
Q3."Describe a time when you have been highly decisive at work?"

Ans-

This is an opportunity for the hiring manager to find out how determined you are to reach your goals. Tell the interviewer about a time you had to make an instant decision in the workplace, the thought processes you went through, and the outcome of your actions.
Q4."When have you taken key decisions independently and without consulting your manager?"

Ans-

This is a good way for the interviewer to see how you would go about solving a problem on your own. Showing you are able to take initiative gives the recruiter insight into how you operate in the workplace.
Q5."Have you made an unpopular decision that delivered good results?"

Ans-

If the job you're applying for is one where tough decisions need to be taken, make sure you demonstrate you are able to handle challenging situations that eventually led to good business results. This is a perfect opportunity for the hiring manager to see you put the company's interests before any personal interests.
Q6."How have you coped with changing processes and circumstances at work?"

Ans-

Companies generally go through change and are looking for employees who are able to keep their productivity and motivation levels up during times of change. Make sure you are able to give an example that shows how adaptable and resilient you are.
Q7.Can you tell me about a time when you worked successfully as part of a team?
Q8.How do you deal with internal and external stakeholders?
Q9.How do you prepare for meetings?
Q10.What type of management style do you prefer?
Q11.How have you resolved a conflict with a colleague or superior?
Q12.Are you willing to delegate or do you prefer to deal with tasks yourself?
Q13.When have you had to take the lead and inspire others? How did you do this?
Q14.What challenges are you looking for in a position?
Q15.Why do you want this job?
Q16.Why are you the best person for the job?
Q17.What applicable experience do you have?
Q18.Why are you interested in working for this company?
Q19.What can you do for this company if we hire you?
Conclusion –

So these are some of the best seconds interview questions that you can find. There are a few companies that held a second interview for the candidates they wanna hire so that they can be fully sure if they are hiring a good enough person and right for the job.

These questions have been suggested by some of the professionals and experts who have a good knowledge of how these interviews go. Overall we just hope you got everything you were looking for and that this article helped you a bit. Boost your confidence by preparing these questions and get that job!