Soccer is one of the most popular sports in the world. This game alone has millions of fans and people never shy away to claim themselves as the number one fan of Soccer. This the reason why the stadiums are full when a soccer game is playing and not only that, the soccer teams from all around the words, whether a college-level team or a national level teams are so passionate about this game.
Although the credit of the popularity of this game goes to the fans. The fans have several clubs that always support their favorite soccer team. To make things more interesting, the soccer clubs also held one soccer quiz among their members or anyone interested to test the knowledge of the member on soccer.
Not only these, but soccer quizzes are held at several places, schools colleges, or any other fest which includes soccer fans!
If you, too, are a fan of soccer or about to participate in a soccer quiz then this article is for you. Here we have listed down some of the best soccer quiz questions which would test your knowledge on the soccer quiz and see if you can answer them all.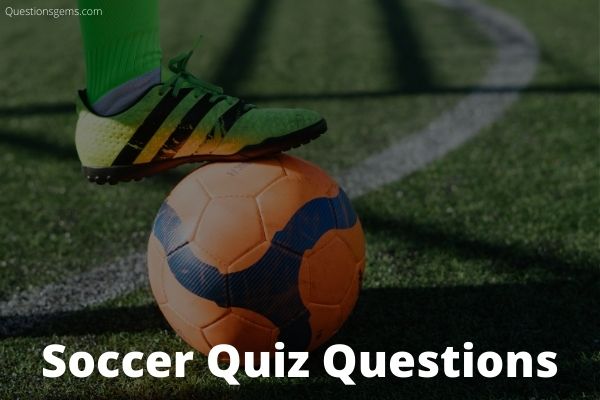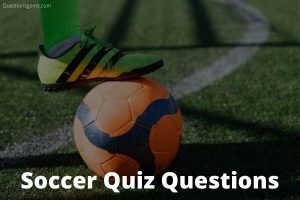 also check-
best sports quiz
/
best cricket quiz
Soccer Quiz
Q. Who won the 1994 FIFA World Cup?
A: Brazil
Q. Which of these star soccer players has never played for Real Madrid?
A: Lionel Messi
Q. According to the official FIFA rulebook, how long can a goalkeeper hold onto the ball for?
A: 5 seconds
Q. Anfield is the home of which English Premier League club?
A: Liverpool
Q. Which of these players has never played for Manchester United?
A: Bobby Moore
Q. Why did the Indian national team withdraw from the FIFA World Cup competition in 1950?
A: Because they could not play barefoot
Q. In the MLS in what city does the team Chivas USA play?
A: Carson, California
Q. What are the home colors of the FC Barcelona soccer uniform?
A: Blue and Red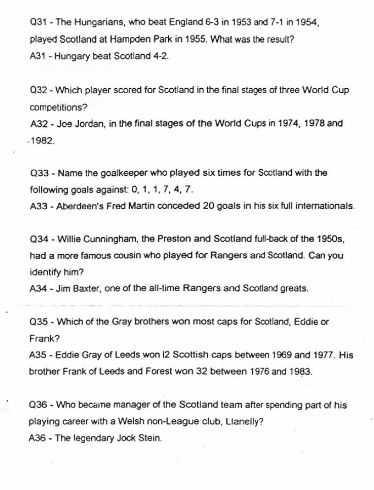 Q. Back in the Mls, who is the all time leading goal scorer in the league?
A: Jaime Moreno
Q. Which of these teams is not playing in the the EPL in the 2009-2010 season?
A: Newcastle United
Related: Personality Quiz / Earth Day Quiz
Soccer Quiz For Beginners
Q. Where is the World Cup 2018 being held?
A: Russia
Q. Who won the World Cup in 2014?
A: Germany
Q. Which team has won the most World Cups?
A: Brazil – they've won 5 times!
Q. Which country won the first World Cup in 1930?
A: Uruguay
Q. Which player has scored the most total goals at the World Cup?
A: Miroslav Klose – 16 goals for Germany between 2002-14
Q. Who is the youngest ever goalscorer at a World Cup?
A: Pelé – 17 years, 7 months and 27 days vs Wales in 1958
Q. Which of these previous World Cup winners did NOT qualify for the 2018 World Cup: Spain, Italy or France?
A: Italy
Q. How many different countries have won the World Cup?
A: 8 different teams
Q. Which player was voted best player at the 2014 World Cup: Lionel Messi or Cristiano Ronaldo?
A: Lionel Messi
Q. Which country will host the 2022 World Cup?
A: Qatar
Soccer Quiz Questions And Answers
Q. When is the first World Cup game?
A: South Africa faces Mexico on June 11 to kick off the 2010 World Cup.
Q. Which country has won the most World Cups?
A: Brazil has won the most World Cups, with five victories.
Q. Which country is going to win the World Cup?
A: Your guess is as good as ours, but currently Spain is the odds-on favorite to win. (note: other sources have Brazil as a favorite).
Q. Who is the best soccer player in the world now?
A: While it depends on who you ask and where they are from, many soccer experts consider Lionel Messi, Cristiano Ronaldo and Wayne Rooney the top three!
Q. Who is the highest paid soccer player in the world?
A: If you take into consideration salary, bonuses and endorsements, Barcelona's Lionel Messi is the highest paid player in the world at £29.6m. Or, nearly $41 million!
Q. How many soccer fans are there worldwide?
A: Estimates place the number of global soccer fans at approximately 3 billion!
Q. Who is the best goalie in the world?
A: While best is always in the eye of the beholder, cases could certainly be made for Spain's Iker Casillas, Italy's Gianluigi Buffon and Brazil's Julio Cesar.
Q. Who invented soccer?
A: The earliest evidence of soccer being played as a sport can be traced to China during the 2nd and 3rd centuries B.C., but the English are given credit for developing the modern rules of the game in the 1860s.
Q. How many hexagons are on a soccer ball?
A: There are 20 hexagonal and 12 pentagonal surfaces on a standard soccer ball.
Q. What does FIFA stand for?
A: Fédération Internationale de Football Association. Or, in English it is the International Federation of Football Association.
World Soccer Trivia Questions And Answers
Q. The World Cup in 1998 was held in France, where the host nation beat Brazil in the final. In third place was a country that made its first appearance in the World Cup and in fact didn't exist a decade earlier. Who finished third?
Answer: Croatia
Q. 1978 Argentina Which team lost to host nation in the final match after extra time?
Answer: Netherlands
Q. Which nation finished third in the first World Cup in 1930?
Answer: USA
Q. The first FIFA World Cup took place in 1930 in Uruguay. There were only 13 teams. World Cup Final score was 4-2. Who won?
Answer: Uruguay
Q. The first World Cup tournament was held in 1930. The host of the joust – Uruguay – won the final with the result of 4-2. Who did they play against?
Answer: Argentina
Q. The first World Cup Series was played in Uruguay in 1930. Which team came up, up and grabbed the Cup?
Answer: Uruguay
Q. Who was the first player to miss a penalty kick at the world cup?
Answer: Valdemar de Brito (Brazil, 1934 in Italy)
Q. The 1982 FIFA World Cup was held in Spain. One of the First Round matches was played between Hungary and El Salvador. It wasn't a game of any import; but why is it still remembered?
Answer: Hungary won 10-1 and scored most goals in a single match.
Related: Impossible Quiz / Christmas Quiz
Conclusion –
So these are some of the most popular and most asked soccer quiz questions that you can find. These questions happen to be very exciting and a little bit difficult as well. But this is only because they would test how good you are with soccer.
Overall our job here is done as we have mentioned all the good soccer quiz questions for you. We hope you answered them all, now ask these questions to your friends and other soccer fans as well!