If you are going to take a spa receptionist interview then this article is definitely for you! As we have picked some commonly asked questions in the spa receptionist interview which can help you.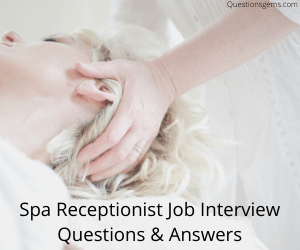 Spa Receptionist Interview Questions
1.Why do you think the spa needs a receptionist?

Ans-

This is one of the most important questions and you should totally impress them with your knowledge about the spa industry! In includes you being fully involved in the spa's busiest and know what it would mean to be a receptionist at the spa!

So you can start off your answer with the lines "spa's have become a big deal nowadays and important that your customers are presented in a good manner and hospitality. And having a receptionist would be helpful to easily connect with clients and know their needs better".

You can come up with your answer too and this is just a basic idea you can consider going with!
2. What were your duties as a Spa receptionist in the past?

Ans-

This question clearly wanna know about your experiences so you can totally prepare it before going into the interview and practice it. You can tell them about your past experiences as a spa receptionist and highlight your key duties, like you were handling the front desk, talked to customers, schedule meetings, handled phone calls, etc.

And if you haven't worked as a spa receptionist before you can simply say this one is your first time but you can totally manage the work (while listing out the work we have listed above).
3. What skills should a spa receptionist have?

Ans-

Now, these questions are asked to know " your" skills, so it's important that you mention almost every essential skill that a spa receptionist has so they can think that you have them too and you know your job and how to do it.

You can say a spa receptionist should have multitasking things and how to handle customers and provide them with good services. But most importantly a spa receptionist should be polite and pleasant with the people. You can also say that a spa receptionist should have some spa related knowledge so she can come in handy when needed for anything besides being a receptionist.
4. How would you handle angry clients?

Ans-

Now you need to answer really good for this question because let's face it no matter where you work you are gonna face some short temper customer and handling them nicely is a big part of your job.

Here you can say you have full control on yourself and you can easily manage your temper. You can also say that you will remain calm and polite no matter what the customer is saying. You can also say that I will try to calm him down by talking to him and know what going on with him!

You can also share your past experience with an angry customer and tell them how you handled the situation.
5. What duties you can handle at a spa other than being a receptionist?

Ans-

The interviewer wants to know if you are capable of any other task other than handling the front desk! You can answer these questions by letting them your other abilities. For example, you can say that you can do waxing and you have some experience in massage (or any other quality or skill you have).
6. Can you handle cashiering as well?

Ans-

If you have worked as a receptionist before and you have some experience if handling cash then you can mention it, like, yes I can totally handle cashiering and I also have some experience with this.

If you don't have experience then you can just say, yes I think I can handle cashiering as well! And I am good with handling payments too.