Some times being stupid in front of your crush is considered as sweet (sometimes!!). And people actually like the stupid pick up lines that make the other person laugh. So here we are with (not so) stupid pick up line.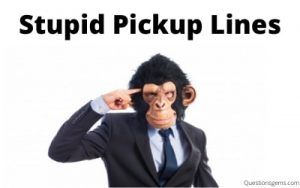 Stupid pick up lines
Your father must be a drug dealer, cuz you dope!
Hi, will you reject me if I try and pick you up?
So I heard you got the hots for me!
Are you tired? cuz you've been running around in my mind all day!
Are those space pants? cuz your legs are out of this world!
Do you mind if I stare at you up close, instead of from across the room?
"You're so sweet; you're giving me a toothache."
"Do you believe in love at first sight? Or should I walk past you again?"
"If nothing lasts forever, will you be my nothing?"
"Well, here I am. What were your other two wishes?"
"Did it hurt? When you fell out of heaven?"
"Do you have a map?  Because I keep getting lost in your eyes."
"Is it hot in here, or is it just you?"
"Does heaven know they're missing an angel?"
"I lost my phone number. Can I have yours?"
"I hope you know CPR, because you are taking my breath away!"
"Are you a camera? Because every time I look at you, I smile!"
"Remember me? Oh, that's right; I've only met you in my dreams."
"My friends bet I can't talk to the prettiest girl; want to use their money to buy drinks?"
"You must be tired; you have been running through my head all day."
"Do you like bananas? Because I find you a-peeling."
"Are you feeling okay? It looks like your lacking vitamin Me."
"Is your mother a beaver? Cuz dammmm!"
"Are you related to yoda? Cuz Yoda-Licious!"
"Is your name Jewel? Because you were meant for me."
"Did you sit in sugar? Because you have a sweet ass."
"Did you play soccer? Because you sure are a keeper."
"Did you play volleyball? Because I sure dig ya!"
"Did you play baseball/softball? Because I wanna take you home."
Stupid pick up lines for girls
"Are you from Australia? Because I can see ya down under."
"Are you a parking ticket? Because you have fine written all over you."
"That's a great pair of jeans… they'd look even better on my bedroom floor."
"You must wash your jeans in Windex, because I can see myself in them."
"You must be from Tennessee, because you are the only 10 I see!"
"I'm not actually this tall. I'm sitting on my wallet."
"Is your name WiFi? Because I'm really feeling a connection."
Hey baby, got any cavities?
Are you a model?
If beauty were measured in seconds, you'd be an hour!
Can I buy you a drink, or do you just want the money?
I've got a thirst baby, and you smell like my Gatorade!
Hey, I'm bored. Entertain me and I'll buy you a beer.
Hi, the voices in my head tole me to come over and talk to you.
Hey honey, I got money!
Are you Sweadish? cuz you're the sweetish girl I've met!
"If looks could kill, you'd be a weapon of mass destruction."
"Girl, if you were words on a page, you'd be fine print."
"Hi, do you have a few minutes for me to hit on you?"
"Like a broken pencil, life without you is pointless."
"Don't tell me if you want me to take you out to dinner. Just smile for yes, or do a backflip for no."
"If I had four quarters to give to the four prettiest girls in the world, you would have a dollar."
"You're so beautiful that you made me forget my pickup line."
"Do you have a tan, or do you always look this hot?"
"You could spam me all night and I still wouldn't unsubscribe."
"What do you say we bounce like a bad email?"
Stupid pick up lines for her
My name is Peter Pan, cuz I can take you to Never Never Land.
If I followed you home, would you keep me?
Do you have a map? I just keep getting lost in your eyes.
Are you O.K.? because it's a long fall from heaven.
I'm sorry, I'm an artist and it's my job to stare at beautiful women!
I know I don't look like much now, but I'm drinking milk.
What does it feel like to be the most beautiful girl in this room?
You must be from Tennassee! Because you are the only TEN I see!
Do you alway wear your shoes over your socks?
Did you ever realize screw rhymes with me and you?
Hey I'm looking for treasure, Can I look around your chest?
My two favorite letters of the alpabet E Z.
Theres a party in my pants and your invited.
I'm addicted to yes, and I'm allergic to no. So what's it gonna be?
Hey, I lost my underwear, can I see yours?
Hey, why go for the best when you can go for the rest?
Come here or my dick will start CUMING for you! Don't be so picky…. I wasn't!
I just shit in my pants… Can I get in yours?
I lost my virginity… can I have yours?
I may not be able to knock bottom, but I'll scrape the shit out of the sides!
My body is telling me yes. I hope yours is doing the same thing.
Is there a magnet in your pants? (Why?) Cause I'm attracted to your buns of steel!
Here is $30. Drink until I am really good looking, then come to talk to me.
Girl, you better have a license, cuz you are driving me crazy
Stupid pick up lines for him
Oh no, I'm choking! I need mouth to mouth, quick!
The only thing I want between our relationship is latex
It may be a needle, but it works like a sewing machine
Do you need a napkin? Because you look DIRTY!!!
Save a horse, ride a cowboy.
I'm gay but you might just turn me straight.
What's your favorite silverware?..because I like to spoon!
Take good care of your mother, because one day she'll be my mother-in-law.
Is that a tic-tac in your blouse or are you just glad to see me?
Be unique and different, just say yes.
If I flip a coin what are my chances of getting head?
Hey there you look good, how many guys do I have to wait behind?
Nice socks, can I try them on?
Blonde, James Blonde… Jr.
Hey, somebody farted. Lets get out of here!
You've got the whitest teeth I have ever seen!
Excuse me, I seem to have lost my phone number, can I please borrow yours?
Can I have directions?… to your heart?
Hi, are you legal? No, your too hot to be legal.
I'm not drunk, I'm just intoxicated by you.
Nice socks, can I try them on?
Can I carry your books?
Conclusion:

These are the best stupid pick up lines. I hope you guys like our collection of stupid pick up lines. If you have any question or suggestion then just comment below or contact us.

Thanks