Teaching is one of the most respected professions that we can take. Being a teacher such a big deal. As you would be making the future of the world. But is it's not an easy job and unfortunately people also take it for granted. But there are a few people out there who are very passionate about this job and they are trying very hard to become a teacher.
But it is definitely not as easy as it sounds. To become a teacher you should possess some qualities and you should have them in you as well. And that's why most of the schools and colleges have these interview tests which need to be passed by the candidates to get the job.
This article is for those who are going to take an interview for the job of a teacher in near future. We know you must be nervous and if it's your first interview then you must be wondering what kind of questions are asked in a teacher interview. Don't worry, we are here for you. We have decided to help you out with your next teacher interview by providing you some of the most commonly asked teacher interview questions.
In the following article, we have included some of the commonly asked questions for a teacher interview that can certainly help you. Go ahead and read them and prepare yourself for your next interview.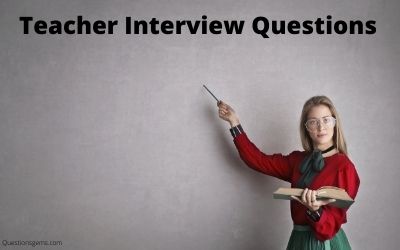 [toc]
 Teacher Interview Questions And Answers
Why did you decide to become a teacher?

It seems trite and like a softball question, but don't let that fool you. If you don't have a substantive answer, then why are you even applying? Schools want to know you're dedicated to enriching the lives of students. Answer honestly and with anecdotes or examples that paint a clear picture of the journey that took you to become a teacher.
What type of classroom management structure would you implement if you were hired?

If you're a veteran teacher, discuss how you handled your classroom in the past. Give specific examples of things that worked the best and why. If you're new, then explain what you learned as a student teacher and how you'll map out a plan to run your first classroom. No matter how long you've been teaching, familiarize yourself with the school district's philosophies on classroom management and discipline. Mention how you'll incorporate their philosophy and stay true to your own. If you're unable to find out much about the school's policies beforehand, ask the interviewer to explain.
How have you used, or how will you use, technology in the classroom?

Technology is at the forefront of education, so your interview is the time to show off that you're savvy. Talk about why you're excited to use technology with students. Explain how using SMART Boards improved your students' test scores or describe the incredible website your last class created together. And, it's great to throw in that you wear a Fitbit or that you control all the electronics in your house with your iPad. Innovative thinking around technology is something your administration is looking for—and so are your students.
What is your teaching philosophy?

This question is tricky. Don't answer with a cliché, generic response. In fact, your response is your teaching mission statement. It's the answer to why you're a teacher. It's helpful if you write out your mission statement before the interview and practice reciting it. Discussing your teaching philosophy is a chance to show off why you're passionate, what you want to accomplish, and how you are going to apply it in this new position, in a new classroom, at a new school.
How will you motivate parents to become involved in the classroom and in their child's education?

The home-school connection is imperative yet tough to maintain. Administrators lean on teachers to keep open lines of communication with parents. They even see you as a "publicist" for the school, reinforcing the culture, strengths, and values of the school to parents. So, answer this question with concrete ideas. Share how parents will volunteer in your classroom and how you'll maintain regular contact, providing updates on both positive and negative events. It's great to also share your plan for providing resources to parents when students are struggling.
What ways do you assess and evaluate students?

Here's your chance to preview your lesson plans and reveal your methods for keeping on top of students' social, academic, and physical development. Explain the types of quizzes you give because you know that they're most telling about students' strengths and weaknesses. Give insight into how you use oral reports, group projects, and seat work to determine who's struggling and who's ahead. And, share how you implement open communication with your students to discover what they need to succeed.
What interests you about our school?

Research, research, and research more before your interview. Google everything you can about the school. Do they have a theater program? Are the students involved in the community? What type of culture does the principal promote? Use social media to see what the school proudly promoted most recently. Then, ask around. Use your network of colleagues to find out what (current and former) teachers loved and hated about it. The point of all this digging? You need to know if this school is a good fit. If it is a good fit, you'll demonstrate how much you want the job by explaining how you would get involved with all the amazing school programs you've heard so much about!
How will you meet the needs of the students in your class who may be advanced or say they're "bored"?

School leaders don't want to hear canned responses about how you can differentiate; they want you to give some concrete answers and support your ideas. Perhaps you help get kids prepared for scholastic competitions once they've mastered the standard (spelling bee or chemistry olympiad, anyone?). Maybe you offer more advanced poetry schemes for your English classes or alternate problem-solving methods for your math students. Whatever it is, make sure that you express the importance that all students are engaged, even the ones that are already sure to pass the state standardized test.
How will you motivate students who seem uninterested in learning or are unwilling to participate in class?

Teaching in an age when we must compete with Fortnite, Snapchat, and other forms of instant entertainment makes this question valid and necessary. How will you keep students' heads off their desks, their pencils in their hands, and their phones in their pockets? Share specific incentive policies, engaging lessons you've used, or ways you build relationships to keep students on task. An anecdote of how a past student (remember to protect privacy) that you taught was turned on to your subject because of your influence would also help your credibility here.
Which activities, clubs, or sports are you willing to sponsor if you are offered a position?

While this expectation may be more real for middle and secondary teachers, being the new kid on the block often comes with a conversion of your title from Mr. or Ms. to Coach. If athletics aren't one of your strengths, you can still get an edge on your competition by sponsoring science club, yearbook, or academic team. You might also share a special skill, like knitting or creative writing, and offer to teach it to interested students.
 Most Asked Teacher Interview Questions
First, tell us a little bit about yourself.  (Almost every teacher interview begins this way.)
Describe your college experiences.
Tell us about your experiences working with students at this age level.
Describe your philosophy of teaching?
Why do you want to become a teacher?
List three of your strengths your strengths and explain each one.
Describe three of your weaknesses as a teacher.
In what ways do you encourage creativity in your classroom?
Tell us about a lesson in which you've used differentiated instruction.
How do you teach kids to utilize higher-order thinking skills in your classroom?
What do you do to prepare your students for state or standardized tests?
Do you make learning fun for students?  How?
If I walked into your classroom on a typical afternoon, what would I see going on?
How do you measure student performance in your classroom?
Describe a successful lesson.  Tell why it was successful.
What would you do if a student wasn't handing her homework on a regular basis?
How much homework do you give?
Besides lecture, what methods of teaching do you use?
Tell us about your discipline philosophy.
What are your classroom rules?  How do you make students familiar with the rules?
What daily or weekly routines would be incorporated in your teaching?
One student hits another student.  What do you do?
A student throws a pencil across the room.  What do you do?
Explain what you would do if a student was swearing in your class?
What would you do if a student was complaining about an assignment you've given?
What would you do if a parent complained about an assignment?
Describe some methods of "positive reinforcement" that you might use in your classroom.
Would you describe yourself as a "tough" teacher or an "understanding" teacher?  Explain.
How would you create a behavior modification for a student with ongoing behavior problems?
What are some ways you can avoid behavior problems?
Without giving any names, describe the most challenging student you've ever taught.
What would you do to calm an angry parent?
Do you have an example of a parent newsletter that you can show us?
In what ways do you communicate with parents on a regular basis?
A parent calls you because they are worried about their child's low grades.  What would you say to the parent?
A parent writes a note and tells you that their daughter could not complete their homework assignment because she had a dance recital the night before.  What do you do?
How do you keep parents informed of their childs' progress?
How do you use technology to enrich your lessons?
How computer literate are you?
Do you think it is appropriate for children in school to be using the Internet?
Give an example of a time when you've worked on a team.
Describe one time when you've acted as a leader.
How do you feel about team-teaching?
What can you do for a student that is extremely gifted?
Describe a gifted student.
How would you recommend a child for special education services?
Most classes have students with a wide-range of reading abilities.  What can you do to meet the needs of students with high reading abilities and low reading abilities at the same time?
Tell us a little about your student teaching experiences.
What is your least favorite age/grade/subject to teach?  Explain.
What is your favorite age/grade/subject to teach?  Explain.
What are some of the most important things you learned when student teaching?
What was the most satisfying moment throughout your student teaching?
What was the most frustrating thing about student teaching?
Describe one college course that taught you the most about being a good teacher.
Who influenced you to become a teacher?
Conclusion –

So these are some of the most commonly asked questions during a teacher interview. These questions are handpicked by some experts so you can actually trust these questions and give you little time to prepare these questions before your interview for the teaching job.

Thank you for being here, we hope you liked the article and it was helpful for you.