If you have chosen Orlando as your next destination then you are not going to regret it. Orlando is a rural city in subtropical Florida which is popularly known for its theme park. But the place has much more to offer than the amusement park. With time the city has evolved and become a hot place for tourists to explore the new side of the city.
There is a wild side of the city as well with a number of fin activities to do. There are a number of things that you can do and you should know them before going to the city so that you get to have the best time of your life.
In this article, we have listed out some of the best places to visit and some of the best things to try out. So go ahead and take a look at the following list so that you have the idea of what you need to visit in Orlando.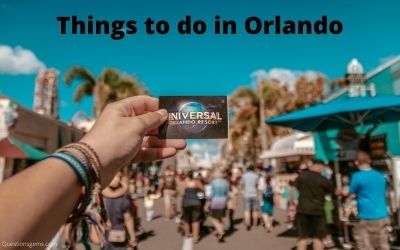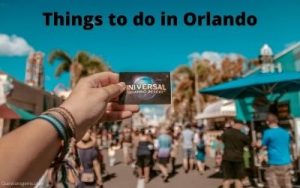 Also check –
Things to do in atlanta
/
Things to do in las vegas
Things to do in Orlando
1. Walt Disney World Resort
It's a little cliché but its totally worth it. The Walt Disney World Resort in Orlando. This place holds four of the five most visited theme parks in the United States, these are the magic kingdom, Disney's Animal Kingdom, Epcot, and Disney's Hollywood Studios.
There are so many cool rides and it also includes two waterpark's, three golf courses, 34 resorts and hotels, the dining and plenty of entertainment, and of course the numerous sporting venues where you can do a lot in your interests.
With each passing year, the resort is getting bigger and bigger and there are a number of new things to visit and do in the resort. The price is also getting higher so hurry up and visit this amazing wonderland.
2. ICON Orlando
The next best thing in Orlando after the Disney Resort is definitely the ICON. This is a 400 ft tall wheel that you would find on the east coast. The wheel is so big that you get to see the beauty of Florida.
People can easily hire an entire capsule for their own and they get the privacy which makes sure that you get a 360-degree view of the city. It's the perfect spot for a date. There is also a dining area under the foot of the wheel where you get to grab some good food and drinks and entertainment as well. But the sky thrill fun is all you want, so if you are in Orlando do not miss the big wheel of the city!
3. Kennedy Space Center
Kennedy Space Center is definitely a great place to visit especially for those who have a thing for space stuff!
It's NASA's main launch center for human spaceflight since 1968. It just an hour away from Orlando and you can reach there and get a bus tour of the space center.
The center has a number of things to see such as the Space Shuttle Atlantis Exhibit and you would know about a number of missions carried out by the orbiter. There are some of the high engines as well as the buildings that you can get sight of. It's worth your time and you will learn a lot of things about NASA as well.
4. Universal Orlando Resort
Into Marvels, Harry Potter, and lots of other fiction and fantasy stuff? Then this one is too good to miss out. The Universal Orlando Resort has it all from witches and wizards to Marvel superheroes. The place is popular and great for families, film fans, kids, adults, and well basically for everyone.
The place will make you Awe-struck with its amusing building and sculptures from popular fantasy and sci-fi films. All you need to do is make a plan because the line of fans and other visitors is gonna be a long one and you don't wanna wait there for a long time.
5. Winter Park
Winter Park is a place for shoppers as there are so many boutiques (around 140). There is something for everyone, from the high-end footwear to the local stuff, you are going to have it all.
The place also hosts a number of events and festivals throughout the years where people can enjoy the culture and the festivals.
Not just the shops, there is also a Winter Park Museum where you get to explore many new things. The dining and the restaurants are also something that you would enjoy here. Go ahead and take a look at this beautiful shop where you will have a good time exploring new stuff.
6. Universal's Island of Adventure
After all who doesn't like the gun rides? We are pretty sure if you are in Orlando you must have head about the island adventure where you get to have the best adventure rides.
The best part about this place is the Hogwarts express where you get to live the dream of being a part of Hogwarts. The water rides and the hulk coasters age other main attractions of the place.
7. International Drive
If you want to experience something like Las Vegas then this should be your favorite spot in Orlando. Every adult would love this place and love to wander around to see some amazing places and do some grown-up activities. There are a number of nightclubs, malls, hotels, and major attractions in the upper hand.
The International drive is constantly growing and it's becoming more and more amusing with each passing year so there is a lot to see and do here.
8. Disney Springs
Disney Springs is also a major destination of Orlando where you get to a number of activities as well. This one is an entertainment hub of the city where you would find a number of restaurants, hundreds of shops, and not to forget almost 25 shows and events that take place daily. The activities keep going from the sunup to sundown so no matter when you go there you would definitely find good entertainment here.
The bird's eye view of the magic from the largest hand-painted helium balloon is pretty good and you can also pick up a framed print as well. There are plenty of food covers where you can try out new dishes so don't hesitate to go empty stomach there because you will have a lot to eat. The cabaret, signature cocktails, and adult-only entertainment with aerialists would also keep you interested. Overall this one would make sure you get to have some grown-up entertainment and fun.
9. Orlando Museum Of Art
Museums never get old when it comes to the best places to visit in a new city and the same is true for Orlando. Here you get to see some of the phenomenal arts.
Yes, there are other things to do, but if you are someone who respects art and explores various kinds of it then you should definitely go there. This museum is one of the cultural heritage of Orlando. You will find contemporary art, African art, vibrant local art as well as a glance of the collection of Tiffany glass, jewelry, and ceramics.
10. Lake Eola Park
Next on our list of things to do in Orlando is to visit Lake Eola Park where you get to experience a good time. It's an urban park which is bordered by towers and buildings around it. This is popular for its 23-acre lake (which is a sinkhole). People do enjoy the fountains here with the LED lights and it looks like a great light show as well.
There are also flowerbeds, neat lawns, paved perimeter path, and the pathways mostly shaded with palm trees. All of this looks so beautiful and relaxing and you just have a pretty good time with nature.
You can also take a cruise on the Lake Eola by renting one of the swan-shaped pedal boats. It's fun and you should definitely try it out.
11. Gatorland
Now we have got to some wild things, this place is popular for alligators for which Florida is quite famous. This place is called as alligator capital of the world given the number of alligators present here.
There are a number of reptile species present which differ in shapes and sizes. The rare species are something that would amaze you the most. If you are not scared by the reptiles than you should definitely go there and see what these creatures look like and how amazing they can be.
12. Clearwater Beach Day-trip
Missing beach? Well, Orlando has some good beach experience to offer as well. There are a number of good options such as Daytona Beach, Cocoa beach, etc. And if you are willing to travel further then there is great coastal golf where you can enjoy the beach time.
Clearbeach is one of the magical beaches that you can find in Orlando, it's filled with white sand, shallow water, light surf, and a beautiful sunset that you can catch if you decided to stay there for a while. This one is a place which you can't get enough of and it would surely make you feel good.
13. Legoland Florida
Who isn't a fan of Lego? I am sure we all are and that's why the Legoland is on our list! It's a child-oriented theme park with a resort around it. The place grew more and more since it's the establishment. Legoland has become one of the historic places and it has been known to be one of the best tourist destinations of Florida.
The Legoland consists of 145 acres of land with green space where a number of rides are present along with amusement lands. The mainland USA features many popular buildings of the USA including the empire state building, Kennedy Space Centre, Star Wars universe, etc.
Kids from age six to thirteen can qualify for the Legoland Drivers license and have fun with the rides. There are also some watersides present in case you are visiting the place in summer.
14. The Mall at Millennia
If you have had a good time experiencing all the rides at the amusement parks and resorts then this might be a time to shop a little bit! The place is no less than a heaven for hardcore shoppers or brand freaks. The place has got all the high-end brands from Loius Vitton to Prada. And everyone would find there like their favorite brand here.
There are also some of the great places to eat at the mall and places like Cheesecake Factory, Changs, Capital Grille and many more should be enough for you to get a decent lunch.
15. Boggy Creek Air-boat Adventures
No, we are not done with adventures in Orlando, and this one is kinda one of the popular activities to do in Orlando. People can rent an Air-boat and have an adventurous experience in the marshes and mangrove forests.
There can be a number of reptiles in the water you might find exciting or creepy at the same time. Boggy Creeks also offers private trips, sunset cruises, and the sessions that you can control as per your preferences.
The bottom line is going through marshes and mangrove forest full of alligators and replies is kinda adventurous, so if you into it then do try it out!
Conclusion –
So these are the best things to do and some of the best places to see in Orlando. Even though it's not one of the biggest cities but it's definitely going to live up to your expectations and give you some of the best experiences.
Although we would like to advise you to check the policies post the COVID-19 pandemic so that you have a safe trip.
The city holds everything from good restaurants to some of the best museums where you can explore the arts. The bottom line is you are going to have a great time and with the aforementioned list of things to do in Orlando, you now have a clear idea of where to go and what to do.