There is nothing better than traveling to a good place by yourself or with your friends or family. And the last few months have been a horror for the travelers as with the pandemic going on and the world kinda lockdown for a really long time and we were just stuck in one place! But the good news is, the world is open again and it's welcoming us to explore the new places (or the old ones again).
And what could be a better place than San Diego, I am sure after spending a long time in our houses we all want to go to a good beach and enjoy the perfect weather of San Diego!
Yes, you have decided to go to San Diego but do you have any idea what you are gonna do? Which places you must see? And the things that can be done even after all this? We are pretty sure that you want all these answers and we are not gonna disappoint you either.
Here we have made a list of places you can visit or things you can do in San Diego! So that you don't miss out on anything while you are in the city!

Also check –
Things To Do In Bangalore
/
Things To Ask Alexa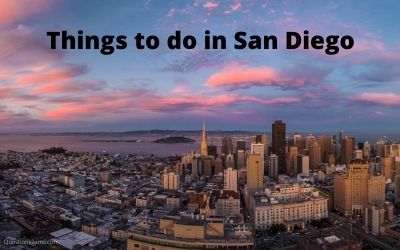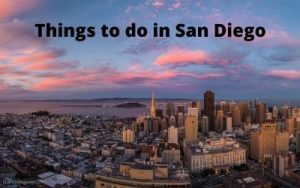 1. Visit Balboa Park
One of the first things that you need to do in San Diego is to visit Balboa Park. It's one of the best tourist destinations in the city and that's why it shouldn't be missed by you.
The park is cover-up 1200 acres of land and there are literally so many things to see in there. For example, the world-class zoo, museums, cultivated areas, live shows, etc. There is also a botanical garden with more than 350 plant species.
The park is open now for tourists and people can visit the place as well. Although there might be guidelines and restrictions which change from time to time given the status of a pandemic you easily check out the recent policies and visit the beautiful place.
2. Little Italy
When it comes to eating and having a good time with your friends then Little Italy is a place you choose. Little Italy consists of some of the finest Italian restaurants, wine bars, and boutique shopping.
If you are not a fan of Italian cuisine then there are also some none Italian restaurants opening up lately which you can check out. The place is also popular for street shopping and numerous. The place is also popular for its nightlife and it attracts many people as well. The farmers market on Saturdays is also something you might enjoy.
Overall the place is pretty charming and you should definitely pay a visit here cause there will be a lot of things to do.
3. Take a ferry to Coronado and visit the beach as well
If you are a fan of ferries then this should be a golden opportunity for you. You can easily take a ferry ride to Coronado which is about 15 minutes and it's definitely going to be fun as well. There would be like a do many things to do from renting a bike to going shopping or to just chill out by the beach as well.
The beach is relaxing and you might not need to go anywhere but to see the beauty of the beach and enjoy the bonfire at the dawn. The fares are cheap and there is a lot you can do without spending so much money either.
Also check – Things To Ask A Girl / Things To Ask Siri When Bored
4. Swim with Sharks
Don't worry it's nothing like the Fear Factor. The sharks we are talking about here are the leopard sharks that are not only tiny in size (5 feet approx) but they won't attack humans either.
During the warmer season, the leopard sharks are found near La Jolla Beach Shores, and people from all around the world come to see them as well. If you are interested in this kind of activity then you should definitely go for it. It's fun and you might wanna spend a lot of your time doing this. Although you do have to have a few types of equipment to do this even if you don't have that you should be able to rent this equipment from the local shops.
5. Surfing
When we talk about San Diego, the first thing that comes to our mind is the beaches and the coastal shores and with that, surfing becomes one of the best sports activities to do in San Diego.
There are tons of surf spots present in the San Diego that we decided to skip the list but the good thing is no matter in which part of the city you are in, you will always have access to a beach as well as a surf spot. And every major sport has a shop where you can rent everything that you need for surfing.
6. Nude beaches
There is a nude beach available for people to go and if you are into that kinda stuff then you might enjoy this as well. Although the nude beaches spent allow any kind of sports activity.
7. Belmont Park
Another popular place to visit in San Diego is Belmont Park. It's an amusement park and with everything that you would have imagined of, amusing rides to the oceanfront entries. There is also a mini-golf course which attracts a lot of people as the golf is definitely one of the best things to try out (even though you suck at it!).
There is a popular roller coaster that makes sure you have the craziest ride in your life and of course the food here is amazing and something that you would love to try out. So if you have a thing for amusement parks then you should definitely visit the place.
8. San Diego Old Town and the state historical park
Yes, the city has so many sides, from taking you to a beach adventure to entertain you with all the cool activities in the cities, but one of the most beautiful parts of the city is the old town! An old town is a must-visit place in San Diego. The old town has some of the oldest buildings in the city (from 1820 to 1870).
The State Historical Park also features some historic buildings including the five original adobe and some detailed replica. There is also some remaining of Spanish architecture.
When it comes to activities to do, there is a Mexican food place to go to and enjoy the taste of real Mexican food. Tourists can also pet burros, take a tour of the art galleries, etc. There is also some annual festival going on where you can enjoy a lot.
9. USS Midway Museum
USS Midway Museum is also something you shouldn't miss out on if you are in San Diego. The museum is all about the naval community of San Diego. It's a 971-foot long floating museum who would. It is also one of the biggest museums for aircraft carriers and naval aviation anywhere in the world.
There are 30 restored aircraft that includes 8 propeller planes, 14 jet, and 8 helicopters. There is a big gallery, crew's sleeping quarters, engine room, and many more to see. This one is perfect for those who are interested in the military and war stuff.
10. Sunset cliffs
If you are all about a nice oceanic view during the sunset then this place is no less than a heaven. And even if you are not a fan of oceanic scenario, you would definitely enjoy the sunset. Located on the west flank of Point Loma, it is a glorious 68-acre park protecting rough-hewn ocean bluffs, caves, natural arches, and tidepools.
It's a picture-perfect place and there is a lot of attention-seeking places which are worth our time. So do go to a sunset cliff and enjoy the view in peace.
11. San Diego Zoo
San Diego Zoo is rated one of the best in the world and there are more than 650 species of animals. It's counted among one of the first cage less zoos where the animals live in their natural habitat and the tourists visit them on a bus. It's about 100 acres of land and there are many endangered and rare animals to see as well.
The zoo visit might take half of your day but it's definitely worth the time given the beautiful animals and the environment in which they live. If you are visiting the city in summer then there is a nighttime zoo series event organized as well. There are a number of restaurants present across the park where you can get good food and beverages.
12. San Diego Zoo Safari Park
Since there is a zoo that we have already covered but the Safari trip needed some separate attention. With the Zoo Safari, you will get to visit so many things and experience the thrill of safari as well. The Safari Park is full of Asian Savannas, Lion Camps, tigers, rhinos, antelope, giraffe and so much more. It's a fun activity to do if you have never experienced a safari before.
13. La Jolla Cove
La Jolla Cove is undoubtedly one of the best places in San Diego that you can see and there are high chances that your tourist guide or a local friend had recommended it already. Just in case you don't have any idea about this place we decided to put this one on our list as well.
It's a quick 20-minute ride from the downtown of San Diego. This place is full of amazing places to visit and eat and have fun. From some of the elite restaurants to one of the oldest bookstores in the city, this place has something for everyone.
La Jolla is surrounded by water from the three sides so there would be plenty of breathtaking oceanic views and beaches to chill out. So it's definitely counted as a must-visit place.
14. Whale Watching
Watching Whales is another fun activity that you can do in San Diego. You should know that from December to April the Gray Whales migrates from Northern Alaska to California to give birth in the warmer climate. You can view all the whales, the dolphin is and other sea creatures on a cruise heading to Embarcadero. You will surely like the oceanic view from a cruise with both indoor and outdoor sitting. So do go for it if it's something that would interest you.
15. Birch Aquarium
Burch Aquarium is another famous place that you should be visiting if you like to explore underwater life. The marine life of the pacific ocean is something that might interest you. There is a 260000-liter kelp forest tank, coral reefs, and loggerhead turtle that was rescued. People can also feel the heat caused by the climatic change.
Overall the experience of seeing the marine life and all the different kinds of sea creatures is something worthy, so if you have free time then do pay a visit here too, you are not going to regret it.
Conclusion
Here we have completed our list of things that you can do, see and eat in San Diego! With changing times, that is, after the global pandemic everyone is kinda confused about a few things and that's why we have decided to bring to you this article where we can help all the travelers and make sure that they have the best time in San Diego.
The world might be opening again but you have to keep in mind that the risk of COVID-19 is still out there, so be a responsible traveler and make sure you are keeping yourself and others safe by following the guidelines for traveling. Don't worry the trip will be still fun even with the mask on and the frequent use of sanitizer (as it will be a safe one). Thank you for being with us and we hope you liked the article and found it helpful.