Are you a college student looking to make some extra cash while juggling classes and assignments? Look no further! In this blog, we'll explore practical and innovative ways to boost your finances and turn your college years into an opportunity for financial growth.
From online gigs to leveraging your skills, these money-making ideas will help you not only cover your expenses but also set you up for a more secure future. Let's dive into the top ways to make money in college and make the most out of your academic journey!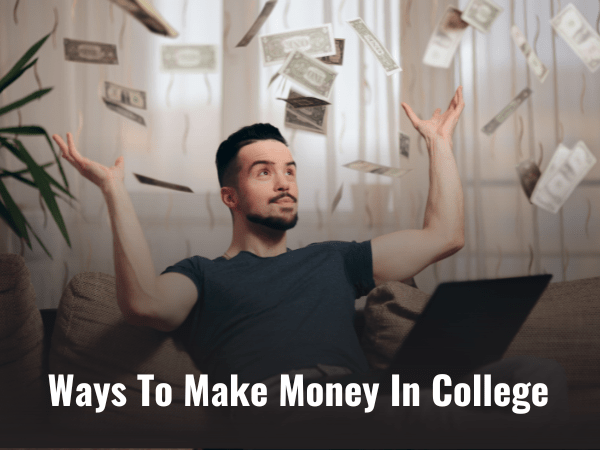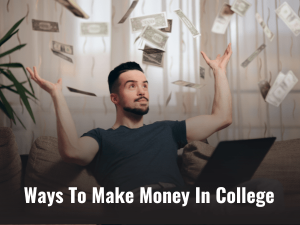 Also check – Captcha Entry Job Sites To Earn Money / Questions To Ask A Hard Money Lender
Ways to make money in college
1. **Freelancing and Online Gigs:**
Embrace the digital age by offering your skills and services online. Whether you excel in graphic design, writing, programming, or social media management, platforms like Upwork and Fiverr provide a global marketplace for freelancers to find clients and earn money. With flexible working hours, you can take on projects that fit around your class schedule, making it a convenient way to make money while honing your talents.
2. **Campus Jobs and Part-Time Work:**
Many colleges offer on-campus job opportunities, such as working in the library, cafeteria, or administrative offices. These positions often provide a steady income, and being on campus makes it easy to manage your work and study commitments. Additionally, local part-time jobs in nearby businesses or retail outlets can be another viable option to earn extra cash.
3. **Tutoring and Academic Assistance:**
Leverage your academic prowess and help fellow students succeed by offering tutoring services. You can tutor in subjects you excel in or provide assistance with writing, test preparation, or language skills. Many students are willing to pay for personalized guidance, and tutoring can be a rewarding way to share knowledge while earning money.
4. **Sell Handmade or Digital Products:**
If you have a flair for crafting or digital creations, consider setting up an online store to sell your products. Handmade items like jewelry, art, or personalized accessories can find a market on platforms like Etsy, while digital products such as e-books, stock photos, or printables can be sold through various online marketplaces.
5. **Participate in Research Studies:**
Colleges and universities often conduct research studies that require student participants. These studies may involve surveys, experiments, or focus groups, and compensation is typically provided for your time and participation. Keep an eye on bulletin boards, email notifications, or websites for opportunities to earn money while contributing to academic research.
6. **Ridesharing and Delivery Services:**
If you have access to a car or a bicycle, signing up as a rideshare driver or a delivery courier can be a lucrative option. Companies like Uber, Lyft, DoorDash, and Uber Eats allow you to earn money by giving rides to passengers or delivering food to customers. The flexible nature of these gigs allows you to work whenever your schedule allows, making it ideal for college students.
7. **Rent Out Spare Room or Parking Space:**
If you live off-campus or have an extra room in your apartment, consider renting it out to fellow students or through platforms like Airbnb. This can be an excellent way to generate passive income, especially if you live in an area with high demand for temporary accommodation. Additionally, if you have a parking space that you don't use, you can rent it out to others who need a convenient parking spot.
8. **Event and Campus Photography:**
If you have a passion for photography and own a decent camera, offer your services to capture special moments during college events, parties, or graduation ceremonies. Campus organizations and students often seek professional photographers to preserve their memories, and you can earn money while doing something you love.
9. **Create and Monetize a Blog or YouTube Channel:**
Share your knowledge, experiences, or hobbies through a blog or YouTube channel and monetize it through advertisements, sponsorships, or affiliate marketing. Building a loyal audience takes time, but if you consistently produce engaging content, it can become a source of passive income while providing a creative outlet for your interests.
10. **Rent Textbooks or Sell Class Notes:**
College textbooks can be expensive, so consider renting out your textbooks to other students during the semester or selling digital copies of your comprehensive class notes. Many students prefer affordable alternatives to buying new textbooks, and your study materials could be a valuable resource for others while earning you some extra cash.
11. **Become a Campus Brand Ambassador:**
Many companies and brands look to reach college students through brand ambassadors. As a campus brand ambassador, you'll represent a specific brand on your campus, promoting their products or services through events, social media, and word-of-mouth. In return, you can receive commissions, free products, or other incentives, making it a fun and rewarding way to earn money.
12. **Offer Fitness or Wellness Classes:**
If you're passionate about fitness or wellness, consider becoming a fitness instructor or offering classes like yoga, Zumba, or meditation. Many students seek to stay healthy and active, and offering these services can be a fantastic way to make money while helping others achieve their health goals.
13. **Pet Sitting or Dog Walking:**
Love animals? Offer pet sitting or dog walking services to fellow students or local residents. Many pet owners may need someone trustworthy to look after their furry friends while they're away or busy, and this can be a delightful and profitable way to spend your time.
14. **Organize and Host Events:**
Put your event planning skills to use by organizing parties, fundraisers, or other gatherings for various campus clubs or organizations. You can charge a fee for your event management services and potentially earn additional income through ticket sales or sponsorships.
15. **Sell Custom Artwork or Crafts:**
If you have a talent for art or crafting, turn your creativity into cash by selling custom-made artwork, personalized gifts, or handcrafted goods. You can set up an online store, participate in local craft fairs, or collaborate with campus clubs to design custom merchandise.
16. **Participate in Market Research Surveys:**
Join online market research panels or sign up for survey websites that pay you for sharing your opinions on various products and services. Although individual survey payments may be small, they can add up over time, providing an easy way to earn some extra spending money.
17. **Invest in Stocks or Cryptocurrency:**
If you have some savings or are willing to take calculated risks, consider investing in the stock market or cryptocurrencies. While investing comes with inherent risks, it can also be a path to potential long-term financial growth if you educate yourself and make informed decisions.
18. **Rent Out Photography or Audiovisual Equipment:**
If you own professional photography gear, video cameras, or audio equipment, rent them out to fellow students or local artists who might need them for projects or events. Offering affordable rental rates can make your equipment an attractive option, and it allows you to earn money while supporting creative endeavors.
19. **Sell Secondhand Items:**
Declutter your living space and make money by selling secondhand items you no longer need. Clothes, textbooks, electronics, furniture, and other gently used goods can be sold through online platforms like eBay, Facebook Marketplace, or local buy-and-sell groups.
20. **Remote Virtual Assistant Services:**
If you're organized and proficient in administrative tasks, consider offering virtual assistant services to entrepreneurs or small business owners. Tasks may include email management, scheduling, data entry, and social media management, providing you with a flexible income stream that you can manage from anywhere.
21. **Offer Language or Music Lessons:**
If you're fluent in a second language or skilled in playing a musical instrument, share your expertise by offering language lessons or music tutoring to fellow students or community members. Many people are eager to learn new skills, and your teaching abilities can translate into a rewarding source of income.
22. **Run Errands and Task Services:**
Busy college students often need help with running errands, such as grocery shopping, laundry, or picking up packages. Offer your services as a personal errand-runner, charging a fee for each task you complete, helping others save time while earning money.
23. **Start a Dropshipping Business:**
Explore the world of e-commerce by starting a dropshipping business. This model involves selling products directly to customers without holding inventory. When someone places an order, the product is shipped directly from the supplier to the customer, eliminating the need for warehousing costs.
24. **Car Advertising and Sponsorships:**
If you own a car and drive frequently, consider signing up for car advertising programs. Companies pay drivers to wrap their vehicles with advertisements, turning their cars into moving billboards. It's an effortless way to earn money while going about your daily routine.
25. **Offer Personal Styling or Image Consulting:**
If you have a keen eye for fashion and personal style, offer personal styling or image consulting services to help individuals look and feel their best. This can be especially popular around special events like proms, weddings, or job interviews.
College life doesn't have to be all about scraping by on a limited budget. By embracing these money-making strategies, you can unlock the potential to thrive financially while pursuing your education. Whether it's freelancing, starting a small business, or tapping into the power of digital platforms, the opportunities are endless.
Take the initiative, believe in your abilities, and seize the moment to build a stable financial foundation for yourself. By doing so, you'll not only ease your financial burdens but also gain invaluable life skills and experiences that will stay with you long after your college days. So, get started today and embark on a journey of financial independence that aligns perfectly with your academic pursuits!