In the ever-evolving digital landscape, smartphones have become indispensable tools for modern living. From communication to entertainment, these pocket-sized marvels offer endless possibilities. However, they also harbor a unique potential: the ability to make money.
In this blog, we will explore a myriad of creative and practical ways to leverage your phone's capabilities and turn it into a powerful money-making tool. Whether you seek a side hustle, extra income, or a full-fledged online venture, these ingenious methods will unlock the gateway to financial freedom, right at your fingertips.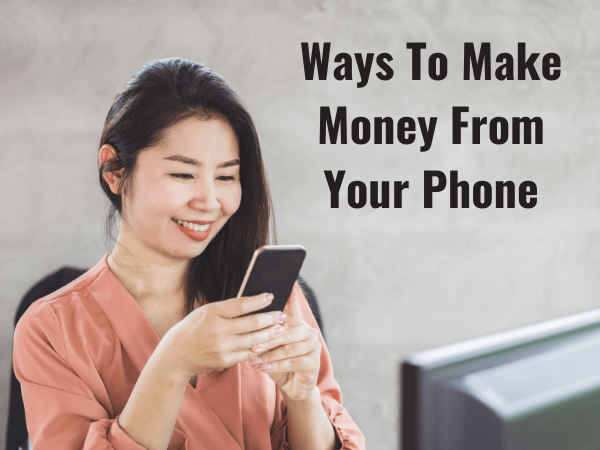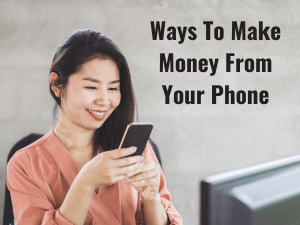 Also check – Signs A Man Is Using A Woman For Money / Signs That Money Is Coming Your Way
Ways to make money from your phone
1. **Mobile Apps and Surveys:** One of the most popular ways to make money from your phone is by using mobile apps that reward you for completing surveys, watching videos, or participating in various tasks. Companies are constantly seeking consumer opinions, and these apps act as intermediaries, paying users for their valuable insights. While the rewards may seem small initially, consistent participation can lead to a steady stream of extra income. Popular apps like Swagbucks, Survey Junkie, and Google Opinion Rewards offer legitimate opportunities to earn money and gift cards simply by sharing your opinions and completing simple tasks.
2. **Online Marketplaces and Reselling:** Turn your smartphone into a virtual storefront by tapping into online marketplaces like eBay, Etsy, or Poshmark. Whether you're selling handmade crafts, vintage items, or lightly used clothing, these platforms provide an excellent opportunity to declutter your space while making money on the side. All you need is a good-quality camera to capture product images and an engaging description to attract potential buyers. Regularly scouting for valuable finds at thrift stores or garage sales can help you build a profitable reselling business right from the comfort of your phone.
3. **Freelancing and Gig Economy Platforms:** If you possess marketable skills like writing, graphic design, programming, or social media management, freelancing through platforms like Fiverr, Upwork, or Freelancer can be a lucrative way to make money from your phone. These platforms connect clients with freelancers worldwide, allowing you to offer your services remotely. With a well-crafted profile and a portfolio showcasing your expertise, you can secure projects and earn a sustainable income while having the flexibility to work on your own terms.
4. **Affiliate Marketing:** Harness the power of social media and content creation to explore the realm of affiliate marketing. By promoting products or services through unique referral links, you can earn a commission for every successful sale or lead generated. To succeed in affiliate marketing, focus on creating valuable content that resonates with your target audience and integrates seamlessly with your niche. Platforms like Amazon Associates, ClickBank, and ShareASale offer a vast array of affiliate programs to choose from, making it an accessible and potentially lucrative venture.
5. **Mobile Photography and Stock Images:** If you have an eye for photography, capitalize on it by selling your photos as stock images. Platforms like Shutterstock, Adobe Stock, and iStock allow you to upload and license your images to a global audience, earning royalties every time someone downloads your work. Your smartphone's high-quality camera, coupled with editing apps, can produce stunning visuals suitable for commercial use, making it a convenient and creative way to make money on the go.
6. **Content Creation and YouTube:** With the exponential growth of video content, YouTube has become a significant platform for creators to monetize their talents. Whether you have expertise in cooking, fitness, technology, or entertainment, creating engaging videos can attract a dedicated audience and earn you revenue through ads, sponsorships, and merchandise sales. While building a substantial following takes time and effort, consistent content creation and genuine audience interaction can turn your YouTube channel into a profitable source of income directly from your phone.
7. **Ebooks and Self-Publishing:** If you have a flair for writing, consider creating and self-publishing ebooks on platforms like Amazon Kindle Direct Publishing. With your phone, you can draft, edit, and format your book using various writing apps and tools. Topics can range from fiction to non-fiction, self-help to niche interests. Once published, your ebooks can reach a global audience, generating passive income as readers purchase and download your work. Utilize social media and promotional strategies to boost visibility and increase sales, turning your writing skills into a profitable venture.
8. **Language Translation and Interpretation:** Fluency in multiple languages can be a valuable asset for making money from your phone. Websites like Gengo and ProZ offer opportunities for language enthusiasts to provide translation and interpretation services. Whether you're translating documents, websites, or acting as an interpreter during video calls, your linguistic abilities can earn you money while connecting you with clients from around the world.
9. **Virtual Tutoring and Online Courses:** Share your expertise and knowledge by becoming a virtual tutor or creating online courses. Websites like VIPKid and Teachable allow you to teach English or various subjects to students across the globe. Your phone becomes a platform for conducting virtual classes, and with dedication and effective teaching methods, you can build a reputation as a skilled educator, leading to a stable source of income.
10. **Dropshipping and E-commerce:** Embrace the world of e-commerce by starting a dropshipping business. With dropshipping, you don't need to hold inventory; instead, you act as a middleman between suppliers and customers. Create an online store using platforms like Shopify, and promote products through social media and other marketing channels. When a customer places an order, the supplier ships the product directly to the customer, and you earn a profit from the price difference. Running an e-commerce business from your phone provides flexibility and convenience, allowing you to manage your store on the go.
11. **Mobile Game Development:** If you're tech-savvy and have a passion for gaming, delve into mobile game development. Utilize game development tools and platforms like Unity, Unreal Engine, or GameMaker Studio to create engaging games. Monetize your games through in-app purchases, advertisements, or premium versions. By publishing your games on app stores like Google Play or the Apple App Store, you can potentially reach millions of users and earn revenue from downloads and in-game purchases.
12. **Social Media Management and Influencer Marketing:** Leverage your social media expertise to manage accounts for businesses or become an influencer yourself. Brands are always on the lookout for social media managers who can curate engaging content and grow their online presence. Alternatively, if you have a dedicated following on platforms like Instagram, TikTok, or YouTube, brands may approach you for sponsored posts and partnerships. Being an influencer offers various opportunities to earn money, from sponsored content to affiliate marketing and merchandise sales.
13. **Rent Out Your Property:** If you have an extra room, property, or even a parking space, you can use mobile apps like Airbnb or Turo to rent them out for additional income. Managing bookings, communication with guests, and handling payments can all be done from your phone, making it a convenient way to monetize your available space or assets.
14. **Podcasting:** Turn your passion for storytelling, discussions, or sharing knowledge into a podcasting venture. With podcasting platforms like Anchor, you can easily record, edit, and publish episodes directly from your phone. Engaging content and consistency can attract a dedicated audience, leading to opportunities for monetization through sponsorships, advertisements, and listener support. Explore topics you're passionate about, invite guests for interviews, and connect with your audience through your unique podcasting journey.
15. **Remote Customer Support:** Many companies offer remote customer support positions that you can manage entirely from your phone. Whether it's answering inquiries, resolving issues, or assisting customers via live chat or email, remote customer support roles provide a flexible way to earn money without the need for a physical office. Look for companies that offer remote customer support opportunities or work as a virtual customer service agent through platforms like Upwork.
16. **Data Entry and Virtual Assistant Tasks:** Various businesses require assistance with data entry and administrative tasks, which can be done from anywhere using your smartphone. Virtual assistant platforms like Time etc and TaskRabbit offer opportunities to work as a remote assistant, managing schedules, organizing data, and performing other administrative duties for clients. Offering your services as a virtual assistant allows you to work on a freelance basis, catering to multiple clients and earning money on your own schedule.
17. **Online Investing and Trading:** For those interested in finance and investment, consider exploring online investing and trading platforms. Apps like Robinhood, E*TRADE, and Acorns enable you to buy and sell stocks, exchange-traded funds (ETFs), and cryptocurrencies directly from your phone. While investing carries risks, with proper research and understanding of market trends, you can potentially grow your wealth and achieve financial goals through smart investment strategies.
18. **Online Coaching and Consulting:** Share your expertise and experiences by offering online coaching and consulting services. Whether you're a fitness trainer, life coach, or business consultant, you can provide personalized guidance to clients through video calls, emails, or messaging apps. Platforms like Coach.me and Clarity.fm connect coaches and consultants with individuals seeking assistance, creating an opportunity to make money while helping others achieve their goals.
19. **Online Surveys and User Testing:** Participate in online surveys and user testing to earn money and provide valuable feedback to companies. Websites like UserTesting and UserZoom allow you to test websites, apps, and products, providing insights that help businesses improve their user experience. Completing surveys and user tests from your phone during your free time can lead to additional income without a significant time commitment.
20. **Pet Sitting and Dog Walking:** If you love animals, consider pet sitting and dog walking as a way to make money from your phone. Apps like Rover and Wag connect pet owners with trusted individuals who can take care of their furry friends. You can set your availability, specify services you offer, and earn money by providing companionship and care to pets in your local area.
21. **Rent Your Car:** If you have a car that you don't use frequently, you can rent it out to others for additional income. Platforms like Turo enable you to list your car for rental, set your rates, and manage bookings directly from your phone. Renting out your car can be a practical way to make money when you're not using it and can even help offset the costs of owning a vehicle.
22. **Language Learning and Teaching:** Use language learning apps like Duolingo or Babbel to enhance your language skills and potentially become a language tutor. Many individuals worldwide seek to learn new languages, and your proficiency in a particular language can be a valuable asset. Offer language lessons through video calls or chat platforms to teach others, earn money, and promote cross-cultural connections.
23. **Remote Tech Support:** If you're tech-savvy, consider providing remote tech support to individuals or businesses. Use screen-sharing apps to troubleshoot computer issues, assist with software installations, and resolve technical problems for clients. Online tech support can be a rewarding and profitable way to use your expertise and help others while working from your phone.
24. **Podcast Editing and Production:** If you have audio editing skills, offer your services as a podcast editor or producer. Many podcasters are in need of professional editing to enhance the quality of their episodes. You can collaborate with podcasters remotely, edit their recordings, add sound effects, and ensure a polished final product, all from your phone.
25. **Social Media Advertising:** If you have a keen understanding of social media advertising platforms like Facebook Ads and Instagram Ads, offer your services as a social media advertiser. Many businesses seek assistance in running targeted ad campaigns to reach their desired audience. Create engaging ad content, monitor campaign performance, and provide valuable insights to help businesses optimize their advertising efforts.
26. **Remote Transcription Services:** Transcriptionists are in demand for converting audio or video files into text format. If you have good listening and typing skills, offer your services as a remote transcriptionist. Websites like Rev and TranscribeMe connect transcriptionists with clients, allowing you to work on transcriptions directly from your phone.
27. **Online Art and Design Sales:** If you're a talented artist or designer, use your phone to showcase and sell your artwork or designs. Platforms like Etsy, Redbubble, and Society6 allow you to create and upload digital art, illustrations, and designs, which customers can purchase as prints, merchandise, or digital downloads.
28. **Remote Health and Fitness Coaching:** If you're passionate about health and fitness, become a remote health coach or personal trainer. Offer personalized coaching sessions, workout plans, and dietary advice to clients through video calls, emails, or messaging apps. Apps like MyFitnessPal and Fitbit can aid in tracking progress and maintaining client communication.
29. **Online Music Lessons:** If you're skilled in playing an instrument or have a good singing voice, consider offering online music lessons. Utilize video call platforms like Zoom or Skype to teach students remotely, and provide personalized guidance to help them improve their musical talents.
30. **Online Psychic Readings and Tarot Card Readings:** If you have psychic abilities or expertise in reading tarot cards, you can offer online readings to clients. Platforms like Kasamba and Keen provide a marketplace for psychic services, where you can connect with individuals seeking spiritual guidance and insights.
In conclusion, the smartphone revolution has not only transformed how we connect with the world but also how we can generate income from it. From simple tasks to launching your own digital business, the possibilities to make money from your phone are truly boundless. As long as you combine dedication, resourcefulness, and a willingness to explore new opportunities, the potential for financial growth is within reach.
Embrace the digital age, harness the power of your phone, and embark on a rewarding journey towards achieving your financial goals. So why wait? Let your smartphone be more than just a communication device – let it be your gateway to a prosperous and fulfilling future.