Cricket Quiz Questions by Questionsgems.
Cricket is a not a very similar game in the world and is almost like baseball. It is for the lightweights that can run so fast and score. How well do you know the rules that govern this game and how it is played? Take up the quiz to find out.
We provide you some good collection of questions. So enjoy the questions and play the game.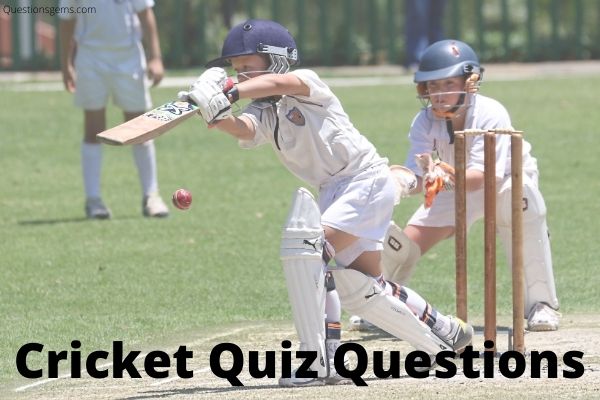 Cricket Quiz
Which cricketers have the record for the highest run patnership at the World Cup ?

Saurav Ganguly and Rahul Dravid
Against which country did India score their lowest total at the World Cup ?

Australia
Who was the wicket-keeper of the Indian Cricket Team during the World Cup 2003 tournament?

Rahul Dravid
Which Cricketer has scored the most runs at the World Cup ?

Sachin Tendulkar
In which year were the World Cup matches reduced to 50 overs from the previous 60 overs?

1987
Which cricketer has the best bowling figures in an innings at the World Cup ?

Ashish Nehra
How many runs did India make in its historic World Cup win over West Indies in 1983?

183
Against which country did India score their highest total at the World Cup?

Bermuda
Which cricketer has scored the most ducks at the World Cup ?

K Srikkanth
Who was the highest wicket taker for India during the historic 1993 Prudential World Cup held in England?

Kapil Dev
India's first win in a World Cup match was against?

West Indies
Who was the captain of the Indian team during the first World Cup in England in 1975?

S.Venkataraghavan
During the 'Wills World Cup' of 1996, India was eliminated at the stage of

Semi-Finals
How much did Sunil Gavaskar score for India in its very first World Cup match played against England in 1975?

36 off 174 balls
Who was the Indian player who never represented India in any international game but still got selected for a World Cup?

Sunil Valsan
Kapil Dev did NOT play for India during the World Cup tournament held in

1975
IPL cricket quiz
How many finals has Mahendra Singh Dhoni played in the IPL?

7
Which cricketer has scored the fastest hundred in the IPL?

Chris Gayle
Which team has successfully defended its title in the IPL?

Chennai Super Kings
Which cricketer scored four hundreds in the 2016 IPL?

Virat Kohli
Which cricketer hit the winning runs for Rajasthan Royals in the 2008 IPL?

Sohail Tanvir
How many teams has Parthiv Patel represented before IPL 2018?

6
Which cricketer has won the most number of IPL titles?

Rohit Sharma
How many foreign (overseas) captains have won IPL?

3
Which cricketer has bowled the most number of dot balls in the IPL?

Praveen Kumar
How many number of hat-tricks have taken place in the IPL?

17
How many balls did Yusuf Pathan take to score hundred against Mumbai Indians in IPL 2010?

37