Arts is such a great subject because you have so many opportunities and new subjects to learn. But with that many subjects you will have so much confusion about what to do next and what not to do! And that's where your dilemma If what to choose as your career after 12th arts starts! It may be a hard decision but you can choose wisely of you have adequate information. And that's what we are gonna do in this article. Here we have gathered some great options for you, which you can choose after 12th arts, which has many great opportunities.
Here we have listed all the top career options which you can go for after 12th arts. We hope you find something good for you.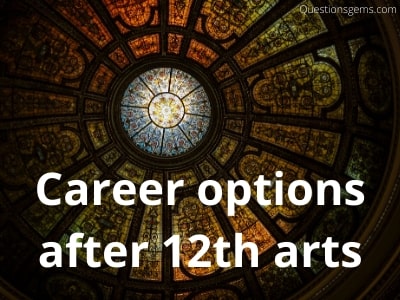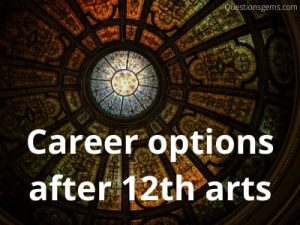 Career Options After 12th Arts
1. BA

BA stands for Bachelor's of Arts and it one of the most pursued courses after 12th arts. It's 3 years long and you are supposed to do it easily cause it's not so tough. The thing with BA is you can easily prepare yourself for any government jobs and you can also pursue any other career option parallel to this one (like dancing, artistic career option, or business).

Another plus point of choosing BA as your stream is you can easily find good colleges and the availability of seats is great too. As a job you can find many opportunities here too, you can go for government jobs, bank jobs, Armed Forces, Police Forces, Administrative Forces, the teaching profession, etc. After BA you can go for MA.
2. BFA

BAF stands for Bachelor's of Fine Arts, it is too a course for 3 years just like BA. It's a professional course where you will study for visual forms of arts like painting, music, dance, photography, sculpting, etc. So if you are creative and want to pursue your career as an artist then you should definitely consider this course and make a career in this.

When it comes to college you will find many government as well as private institutes where you can take admission for fine arts courses. The college tuition fee is also lower and you can easily afford them. For creative people, it's one of the best course to pursue their career as an artist.
3. Journalism and Mass communication

Journalism and Mass Communication is also very high in demand and productive course that you can do. With the growing media sector, you will find many great opportunities to have a job. And the good thing is it's not just about the traditional media forms like TV and printing but you will also learn about online media as well. A mass communication degree will also be helpful for you. This course also takes 3 years.

So if you have ever associated with journalism and media then this should be your first choice. One must have good communication skills for this kinda course. This course may be a bit more expensive than other courses that we have listed depending on the college you choose. But the job opportunities will be higher too. So don't think twice if you have an interest in journalism and mass communication.
4. Hotel Management

Hotel Management is also a popular career choice after 12th arts. This course is basically a job-oriented course where the students will be trained for management abilities for a hospital or a hotel. This one too is a 3-year course.

Speaking of job opportunities, the tourism sector in India is growing day by day which means there will be more hotels and skilled staff needed. Here you will also need to have good communication as well as management skills. Fees are moderate and may vary from college to college. Overall if this is something you are interested in then go for it.
5. Event Management

Event management is also a growing field where art students can make a good career. Here students will be taught management skills as well as how to make necessary connections and other essential skills. This one is also a 3 year-long course.

So if are looking to start a business for event management then this should be really helpful for you. Some important subjects in event management course are study of main events, planning, human resources management, accounting, public relations, etc. Here the fee will depend on the college and you can easily find the college which suits your needs.
6. Law Courses

Law is a prestigious that you can pursue after 12th arts and make a good career out of it. Of course, you will need to have an interest in the law. Unlike other courses in our list, this one lasts for 5 years.

In this course, you can study about constitutional laws, property law, banking law, company law, family law, corporate law and many more. So if you have decided to pursue a career in law then find a good subject that you are highly interested in. The fees for this course is moderate and vary from college to college.
7. BBA

BBA stands for Bachelor's of Business Administration. Although many people associate this course with commerce stream but anyone can pursue it and make a career for themselves. It's too a 3-year course.

Here you will study about management and administration of business. Here you can find jobs in finance post, managerial post, in the corporate sector and business firms. After doing BBA you can go for MBA and find a good job for yourself. This course is in demand as a private corporate sector is growing day by day.
8. Fashion designing

Fashion designing is another prominent course for arts students. Although it's only for creative people who want to pursue a career in the fashion industry. The course of fashion designing last for 4 years. Here the students are given basic training and theoretical knowledge about the fashion.

Students can directly apply for fashion designing who have successfully completed their 12th boards. The fee for fashion designing vary but sometimes it can be high depending on the college. Overall it's a great career choice if you have the right knowledge and skill for it.
9. Retail and Fashion Merchandise

This one is also related to the fashion industry but here you will be responsible for marketing, merchandising, and selling of goods other than designing them. So if you want to connect with the fashion industry or marketing sectors then you should pursue this one. This one also a 4-year course like fashion designing. And students can directly pay for it after their 12th arts. Go for a good college with good faculty and more career options or placements. It's an interesting career option to pursue.
10. Graphics Designing

Graphics designing is also very much in demand thanks to growing website businesses and online marketing. The professional course for graphic designing will last for 3-4 years depending on your major. Here you can also choose courses like animation graphic designing which is very high in demand right now. Its fee is affordable and you can easily find colleges for this one.
11. Teaching profession

We surely are lacking good teachers and professional ones, so if you are interested in being a teacher then you should definitely go for it. You will have to do a B.Ed course where they will teach you various teaching skills. There are various teaching posts for different subjects are available.
Courses After 12th Arts
BA – Bachelor's of arts
BFA – Bachelor's of fine arts
Journalism & mass communication
Hotel management
Event management
Law courses
BBA – Bachelor's of business administration
Fashion designing
Retail & fashion merchandise
Graphics designing
Teaching profession
Conclusion:

Here our list of career options after 12th arts ends. We hope you liked it and it was great. We would suggest you to go and dig a little more about the stream you liked the most. Find good colleges and talk to the seniors so that you can make a better decision. Lastly thank you for visiting our page and keep coming for more such content.