So you have graduated! Congratulations on completing a whole phase of your life. It may be an emotional time for some of you but it's surely not a time to stop! It's time to make a career for yourself and begins a new journey of your life full of hope and dedication. And for that you need to decide what you wanna do after graduation!
It is one of the crucial decision of your life to take and let me tell, you can take it for granted! There are numerous career options to choose from. There were days when people just had it a few options but nowadays, with our growing economy and expanding technology the scope for career has also expanded! Let's take a look at our article to find out which are the best career options after graduation!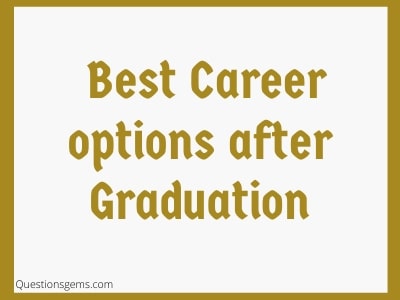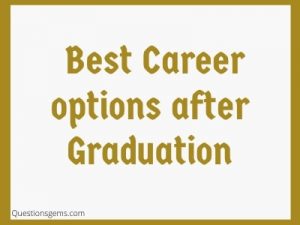 Also check-
Career options after engineering
/
career options after mbbs
Career Options After Graduation
1. Digital Marketing
Anything which is associated with social media and digital platform is considered as one of the best career option nowadays. Here you can a lot of things and achieve a good career for yourself. In the business world, digital marketing has been considered as one of the best things.
This one is probably one of the best career options for those who want to do something different and related to the web. You can easily join a digital marketing course where you will about several techniques, how to promote a product or service and ways to handle clients.
In the business world, marketing is very important and without good marketing, they can't take their business to the new heights. Here you will be assigned the tasks for marketing and show your creativity on the digital platform. You can find a number of great jobs in digital marketing such as SEO and SEM specialist, Google ads expert, content maker, market g manager and so on.
2. MBA
Everyone must have heard about MBA! It is one of the top career choices made by students after graduation. The Masters of Business Administration holds a good scope for those who want to do business afterward.
Here you will learn the practical knowledge of business and how it is being administered in the real world. This one is a 2-year course. Although there are many great colleges present where you can apply for MBA and make sure you choose a top-rated college to get a decent job afterward.
3. Post Graduate Diploma Course in Human Resource Management
This one is also a prestigious career option which holds many opportunities for your career in the corporate world. This course will teach you about the HR discipline and grow your understanding of the subject.
HR is very important for a company as it is responsible for taking care of the employee's of the company. And they make sure they benefit both the employees as well as the organization. It is also a 2-year course. There are so many things to explore and many job opportunities also await for a candidate holding a human resources management diploma.
4. Financial Planning and Analysis
Financial Planning and Analysis is also a prominent course to do after graduation. There are so many organizations and even individuals who want help when it comes to financial planning. The scope for a career in this field is surely bright.
Here you will learn how to manage budget and come up with financial solutions for people who need your help. You can work for a government organization, a company or even for common people as well. The salary of financial planner range from 3 lakh to 12 lakh per annum.
5. Computer Information System Management
If you come from a science background then being a Computer Information specialist will be a good option for your career. Our dependency on computers is increasing in every field and that's why you will have good job opportunities in this field. There will be like 50k new jobs by 2022 and that's why you need to consider this as your career option after graduation.
6. Data Science
Data Science is one of the most demanded jobs right now. You can simply apply this job after you have done your graduation or even post-graduation. You can do a number of jobs like a data analyst, investment manager, insurance manager, and so on. Although the job requires deep expertise in multiple functional roles. You can surely dig up a little bit more about it and see if it fits right as your career option.
7. PGDEMA
It stands for Post Graduate Diploma in Event Management and Activation. As you would have gotten the idea from its name that this course is about event management. So if you are someone who has the ability to organize an event and good at planning and managing everything at once then this should be your best career option.
It's a one year course and you will learn about how to organize an event and handle the client and their needs. It is surely something you wanna consider as your career. And anyone who have graduated can apply for the course.
8. Hotel Management
With our expanding tourist sector, the Hotel industry is also thieving. And that's why several hotel owners are looking for skilled staff who can handle their customers with excellence leaving no scope for complaint. With a professional degree, you can easily work at any hotel and make a good amount of money for yourself. The course lasts for about one or two years. And there are also really great colleges present in the country.
9. Interior Designer Course
Are you interested in remaking the houses or offices by comply changing their interior! If yes then you should go for this job. Here you will be able to learn about the interior designing and how to take care of the needs of your client. This one has become a high profile job nowadays, so it's one of the best career option for you.
Courses After Graduation
Digital marketing
MBA – master of business administration
Post graduate diploma course in human resource management
Financial planning & analysis
Computer information system management
Data science
PGDEMA
Hotel management
Interior designer course
Conclusion:
So these are the best career option after graduation. Take your time and choose the one that suits you the most.