Almost every 3rd guy take science maths as his major in 10+2 and later they choose to pursue engineering. Since we have so many engineers and jobs are comparatively less, it's obvious to get worried about your future after graduating from engineering!
Luckily there are so many options to consider after graduating from engineering which you would definitely like to make a career in. All you need is to be well informed about the options and the job opportunities they hold on the future. We have listed out some of the best career options after engineering for you. Take a look and choose the best one for yourself.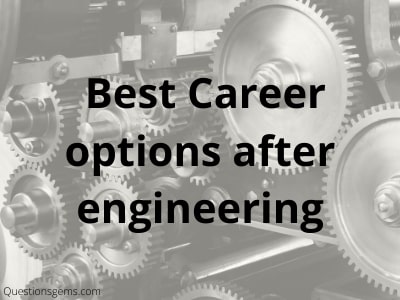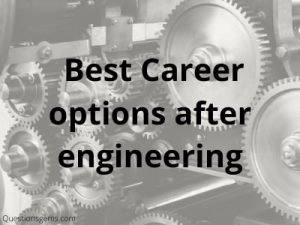 Career Options After Engineering
1. M.tech

This one would be your first option after doing engineering. Not all the engineering students pursue higher studies after their graduation. And that's where your chances of being successful at engineering becomes more. If you are one of those people who actually love engineering and want to accomplish something in this field then you should go for it.

You can easily get a college for M.tech. Here you can also take the GATE ( Graduate Aptitude Test in Engineering). This exam will lead you to the admission in the most prestigious engineering college like IIT and NITs. This requires a deep knowledge of your subject and a better understanding of your field.

If you aren't interested in taking GATE then you can always go for JAM, it will lead you the researcher and academics job. The scope for a candidate with an M.tech degree is always higher than one with a B.tech degree!
2. MBA

MBA is the ho to course for every graduate and this also goes for an engineer graduate. If you are not that interested in engineering then you can always take a turn to the management courses. The Masters of Business Administration is a 2-year course. Here you will learn the various aspects to run a business. You will gain some practical knowledge about the business world.

After doing MBA from a prominent college you can get jobs at big companies or even start your own business. The jobs will be high paying and you can easily make a good career for yourself. There are a number of colleges present in the country which are really good. Or you can take the CAT exam and get admission in the top colleges if your score is good.
3. Civil Services

In the year 2016, amongst the top 20 civil services candidates, 19 were engineers? Well we are stating this fact to show you that civil services is one of the best career option after engineering. Although you will need to crack one of the toughest exam conducted by UPSC. Around ten million people take this exam and only thousands get selected. So you better be dedicated towards it.

It took place in 2 stages the preliminary exam followed by mains (written and interview). You may need to prepare for a couple of years before taking this exam but it's worth it. At the end, you will get a chance to serve the country and bring change through your administration.
4. Start your own business

This may sound cliche but there is nothing more satisfying than being your own boss and work on your terms. If you have ever thought about starting a business then you should totally consider it as your career option. You can study the business and specify the field in which you are interested. For example, if you cook then study about cooking, if you are good at gymming then study about that as well. There are so many opportunities present which you can explore and make a good career in. It is a complete opposite of engineering but if you think you can don't then go for it!
5. Public Service Undertakings

If you wanna contribute to the growing research and technical organization of the country then you should definitely consider Public Service takings as your career option. Government-run PSUs should be your first priority after doing graduation as the jobs are high paying as well as worth doing.

Although the competition for the job is quite high and you need to be fully prepared for it. For this, your GATE scores will be the eligibility criteria as you would get the job on the basis for your GATE score. Do your own research for the several PSUs in the countries and look what opportunities these holds for your career.
6. Become an expert

There are many jobs present which needs highly qualified and skilled candidate who are expert in their field. For that, you can choose a subject in which you are highly interested and pursue higher studies for it. There are many diploma courses present for different kinds of jobs which you can take. These diploma courses last for 1 to 3 years.

The highly demanded jobs are from blockchain technology, data science, robotics, artificial intelligence and so on. The jobs pay well and they are also one of the most exciting jobs for an engineering student.
7. Ethical Hacking

Just as we mentioned above, studying a specifics field would pay you more. Ethical Hacking is becoming of the most prominent job opportunity for those who are interested in it. You will need to have sound knowledge of coding, programming and computer languages for it. So if it's something you find exciting then go for it!
Courses After Engineering
Mtech
MBA
Civil services
Start your own business
Public service undertakings
Become an expert
Ethical hacking
Conclusion:

So these are the best career options after engineering that you should consider. Although we would advise you to make an informed decision by checking other facts about these career options. You can also talk to someone who has persuaded these options as their career. The reason we have listed them is, they have a lot of scope and in some cases jobs are increasing steadily in these sectors.

So that was our article about the best career options after engineering, we hope you liked it!