Being a doctor is a dream of every student who has taken PCB subjects in their 10+2 classes. Getting admission in a medical college is considered as one of the toughest task. Since students fight too hard to get in the Medical College, they surely want a good career after that.
Although people still believe that there isn't many career choice after MBBS, besides becoming a well-known doctor. But this isn't the case, thankfully with the country's developing technology and economy, there are numerous career options present for a candidate who holds an MBBS degree. In this article, we are going to list out some of the best career options after MBBS. So take a look and see if you can find anything interesting and worthy enough to make a career for yourself.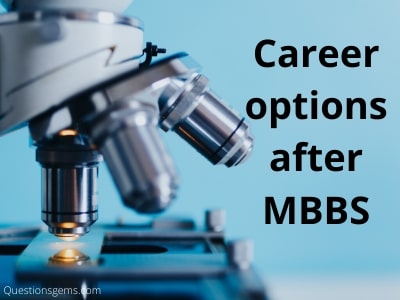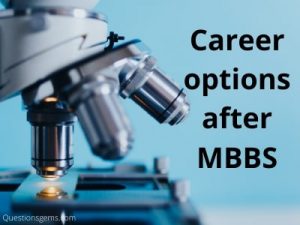 Career Options After Mbbs
1. MD/MS/Diploma

Doing MS/MD/Diploma would be your first shot if you wanna pursue your medical career after doing MBBS. You can for a specialized course and become an expert in your favorite field, such as obtaining a post-graduate diploma in internal medicine, general surgery, gynecologist, and so on.

Although you will have to pass the entrance exam, PGMEE's, to take admission for these courses after doing MBBS. It held every year. MD/MS course takes 3 years while the Diploma courses last for 2 years. After doing MD/MS you will become a specialist who will treat patients and save lives.
2. MBA

MBA program is meant for everyone and it also goes for the MBBS graduates. We all know the importance of an MBA degree holder in today's world where globalization is at its peak and companies are expanding their reach to more and more places. Though an MBA course is beneficial for everyone but for a candidate who has done MBBS, it a golden chance! How? Well, there are so many companies who are looking for a doctor with an MBA degree such as pharmaceutical and hospitals. Although you may have to take the CAT exam to enter in the top MBA institutes. So if you want to try your luck in the corporate world then you should go for MBA after MBBS.
3. Master in Health Administration

This course is similar to an MBA but its entire focus will be on Health Administration! Here students will learn how a clinic, hospital, insurance companies work. It's all about the health fields in the corporate world. And the candidate will learn how to function these institutes with their administration skills. The pay scale in this field is huge and so take a look into this one too and see if it excited you to run medical Institutes and even hospitals.
4. Health Informatics and Analytical

Just like in the business world where they analyze trades and stuff, you will be responsible for analyzing the health-related data. This health-related data is crucial for providing effective and efficient health care services to the people.

There are many institutes which runs the health informatics and analytic courses where you can take admission. And become specialist of data analysis to help the future of medicine. This job will also pay you well.
5. Clinical Research

Clinical Research is also a great career option after MBBS. The scope of career in Clinical Research is very high as we still need to work on our research field of India. Here you can have a promising career as a researcher. But for that, you will need to have a good knowledge of your field and specialty. There are many government-run organizations present which are running various kinds of clinical research to develop a drug or cure a disease and you can be a part of that too. You can also go for a Ph.D. degree in your subject.
6. Masters in Medical Science and Technology

With growing advancements of science and technology field, your career scope with a Master degree in Medical Science and Technology definitely increased. This means you will have an opportunity to explore the upcoming specialization. Since it combines both medical science and technology, you will be able to work in a new field and be a part of new innovations in your field. So if you are someone who wants to be a part of revolutionary medical science then you should definitely go for it.
7. Combined Medical Services

Combined Medical Services Examination is held by UPSC in our country. This exam held every year so you can try to be a part of it. By clearing the exam you will be recruited in the institutions of railways, municipal corporation as medical officers. Here you will get a prominent job with utmost respect of being a public servant/doctor in various fields. You will be responsible for the administration of a hospital.
8. Work in Public Health Centers

If you want to serve your nations by providing your service as a doctor then you can try to work in public health centers in the rural parts of the country. So you can treat the needy people of rural and remote areas who need your help as a doctor.
9. Masters in Public Health

You can take a Masters course in Public health so that you will be able to understand it's significance and techniques. It's a good alternative after doing MBBS for those who doesn't want to pursue their career in the MD/MS!
MS/MD/Diploma
MBA
Master in health administration
Health informatics & analytical
Clinical research
Masters in medical science & technology
Combined medical services
Work in public health centers
Masters in public health
Conclusion:

So these are the best Career Options after MBBS that you can go for. We all know staying in the medical line can a hard and it's one of the toughest jobs. So if you don't wanna pursue that, you have many alternates to go for! We would advise you to take tips from the people who are already pursuing these career options so you can get a better idea.

So that was our article about the best career options after MBBS which you should consider to make a career in. We hope you found the article helpful. Thank you for visiting the page.